Discover instant gratification with our Apple Microwave Crumble recipe. As a skilled chef and devoted food blogger, you're about to embark on a journey that marries culinary expertise with the cozy comfort of homemade desserts. Get ready to whip up a dessert that satisfies your sweet tooth in minutes.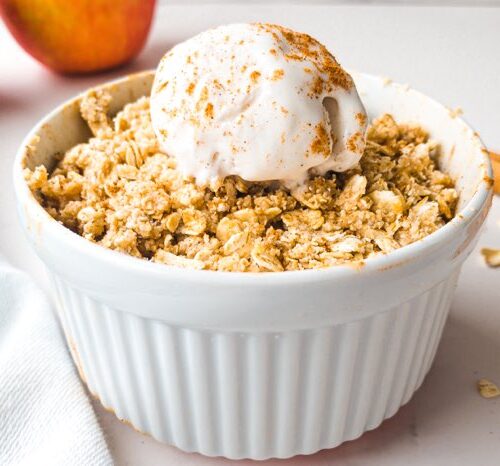 Apple Microwave Crumble
In the world of instant desserts, the Apple Microwave Crumble takes center stage. As a passionate food blogger and expert chef, you're sharing a recipe that captures the essence of homemade goodness, even in the midst of a busy day. Each bite is a testament to your ability to create comfort and joy in a matter of minutes.
Ingredients
4

large pieces

Cored apples, sliced

6

oz

Brown sugar

4

oz

Butter, melted

2.5

oz

Porridge oats

1

tsp

Ground cinnamon

2

oz

Plain flour

1/2

tsp

All-spice
Instructions
Initiate microwave dessert making by taking baking dish being microwave safe (Preferably 8x8 or 9x9) and completely butter it up and then spread sliced apples in it.

In the next step, take medium mixing bowl and fill it by mixing up brown sugar, butter, flour, oats, all-spice and cinnamon. Mix them all in gradual manner.

Now it's time to place nicely mixed up bowl mixture over sliced apples in greased baking dish.

Then allow it to gradually microwave at HIGH for the next 12-13 minutes; wait till apples become soft. Take out and allow few minutes for the lovely dessert to cool down. Enjoy!!
Notes
Explore the realm of quick and delicious desserts with Apple Microwave Crumble. This recipe brings together the sweetness of apples and the irresistible crunch of crumble topping. Your culinary mastery turns a handful of ingredients into a treat that's as delightful as it is effortless.
Tips and Tricks for Perfecting Your Apple Microwave Crumble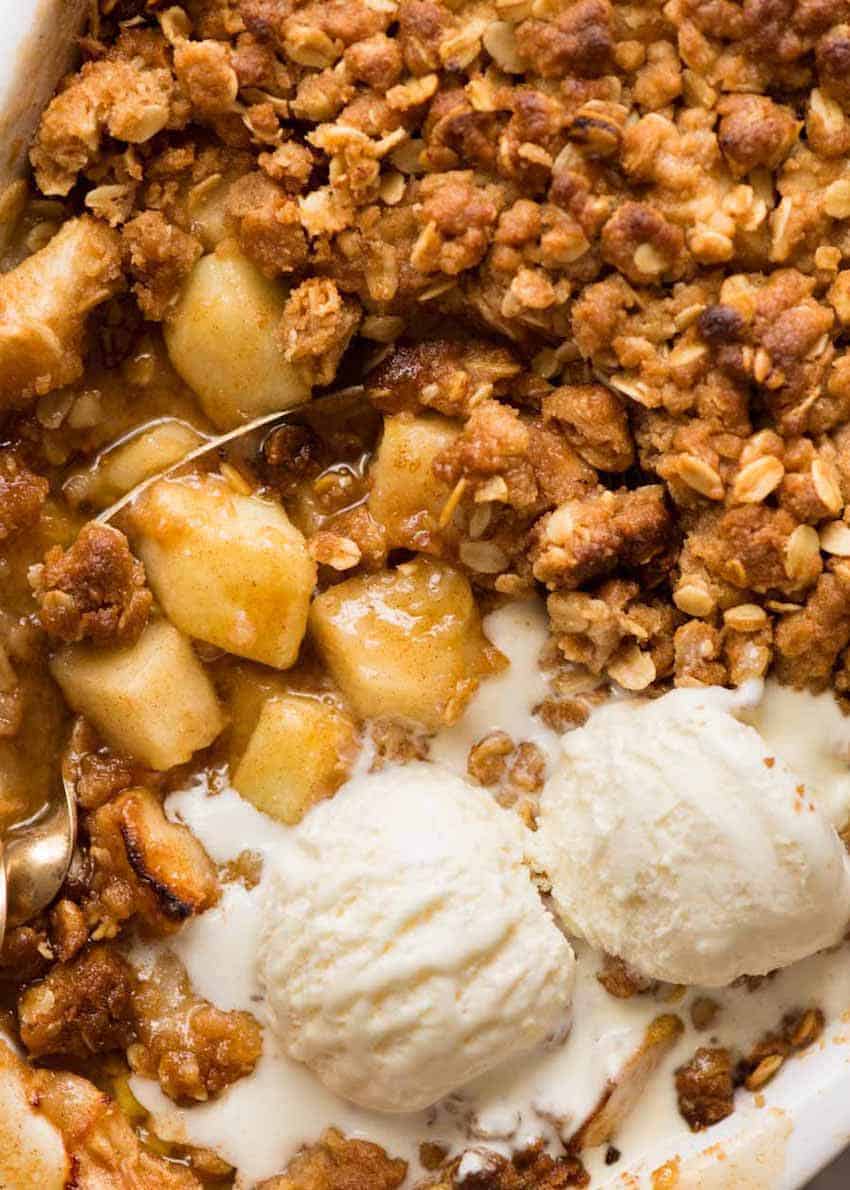 Apple Selection: Choose firm and slightly tart apples like Granny Smith or Honeycrisp for a balance of flavor and texture.
Uniform Slices: Cut the apple slices evenly to ensure they cook uniformly in the microwave.
Quick Oats: Opt for quick oats in the crumble topping for a smoother texture that cooks well in the microwave.
Crumble Consistency: Achieve the perfect crumble texture by mixing the topping until it resembles coarse breadcrumbs.
Microwave Wattage: Adjust cooking time based on your microwave's wattage. Start with a shorter time and add more if needed.
Stirring: Give the apple mixture a gentle stir after microwaving to ensure even cooking and distribution of flavors.
Cooling Time: Allow the crumble to cool for a minute before indulging to avoid burns and let the flavors settle.
Toppings Galore: Experiment with toppings like a sprinkle of cinnamon, a drizzle of honey, or a dollop of Greek yogurt.
Nutty Twist: Add a handful of chopped nuts to the crumble topping for extra crunch and flavor.
Texture Play: Mix in a handful of raisins or dried cranberries to add a burst of sweetness and texture contrast.
Serving suggestions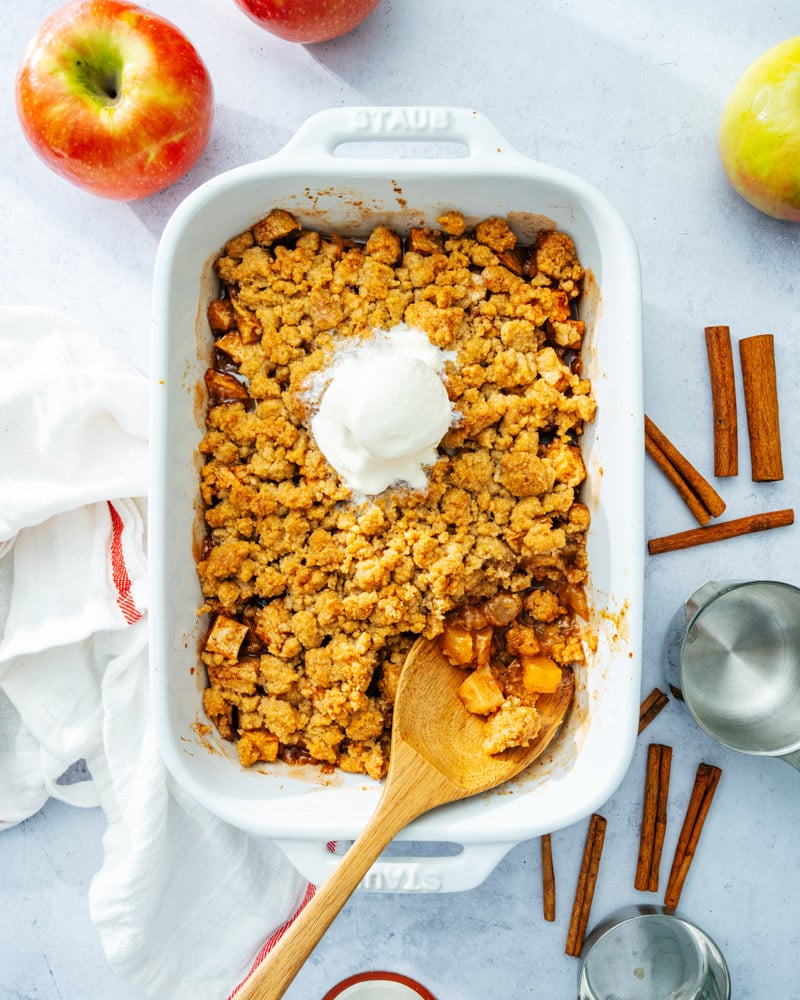 Solo Indulgence: Treat yourself to a moment of bliss by savoring the Apple Microwave Crumble on its own. Let the warm, spiced aroma envelop your senses as you relish each spoonful.
After-Dinner Delight: Transform your after-dinner routine into a decadent experience. Serve the Apple Microwave Crumble as a sweet ending to a savory meal for a satisfying balance of flavors.
Family Dessert Night: Create cherished memories with your loved ones by serving this dessert family-style. Let everyone customize their portion with toppings like ice cream, whipped cream, or a sprinkle of cinnamon.
Quick Dessert Gathering: Impress guests with a quick and delicious dessert option. Serve the Apple Microwave Crumble in individual ramekins for an elegant touch at your next gathering.
Breakfast Treat: Start your day on a cozy note by enjoying the Apple Microwave Crumble for breakfast. Pair it with a dollop of Greek yogurt or a drizzle of maple syrup for a wholesome morning indulgence.
Office Snack Delight: Brighten up your workday with a microwave crumble break. Prep the ingredients at home, then microwave it in the office for a comforting snack that's sure to be the envy of your coworkers.
Lazy Weekend Comfort: Embrace the leisure of weekends by baking the Apple Microwave Crumble for a lazy brunch or a relaxed afternoon treat.
FAQs of Apple Microwave Crumble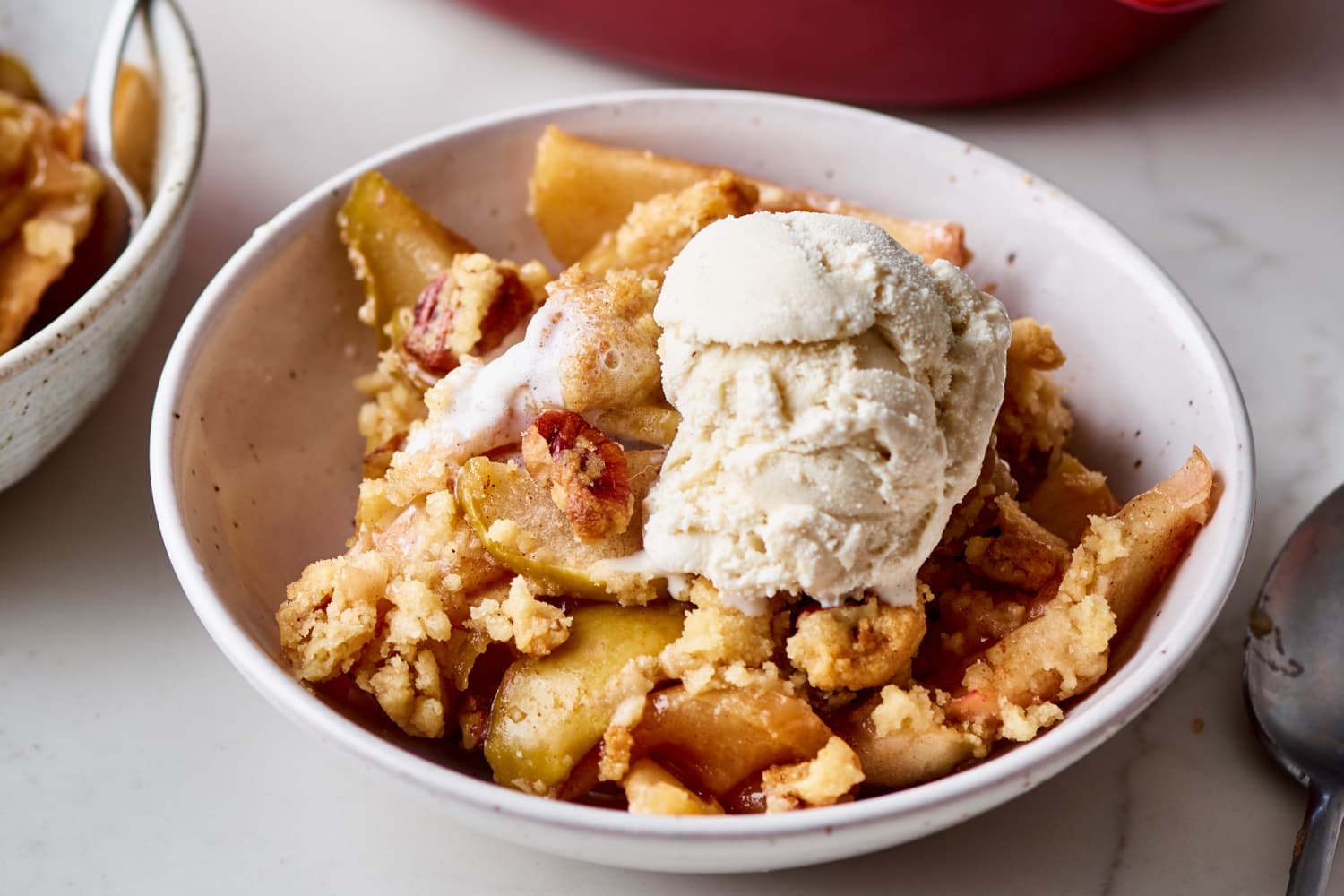 Can I use different types of apples? Absolutely! Experiment with varieties like Granny Smith for a tart kick or Honeycrisp for a sweeter flavor.
Can I substitute the oats in the crumble topping? Yes, you can use a combination of chopped nuts and seeds for a gluten-free and nutty alternative to oats.
Can I make this crumble ahead of time? While it's best enjoyed fresh, you can prepare the crumble topping in advance and store it separately to sprinkle over microwaved apples later.
What other toppings can I add? Get creative! Add a pinch of cinnamon, a drizzle of caramel sauce, or even a handful of dried cranberries for extra flavor.
How do I store any leftover crumble? Store leftover crumble in an airtight container at room temperature for up to a week. Use it as a topping for yogurt or oatmeal.
In the world of desserts, your Apple Microwave Crumble shines as a testament to your culinary prowess. As a seasoned chef and passionate food blogger, you've seamlessly combined convenience with indulgence.With each bite, you're offering a taste of your expertise. Whether for a quick treat or a comforting moment, this dessert embodies your love for crafting joy in the kitchen.