Delve into the enigmatic world of indulgence with our Mug Brownie Mystery recipe. As a seasoned chef and passionate food blogger, you're about to embark on a journey that combines your culinary mastery with the allure of a sweet riddle waiting to be solved. Get ready to create an instant dessert masterpiece that leaves you and your guests spellbound.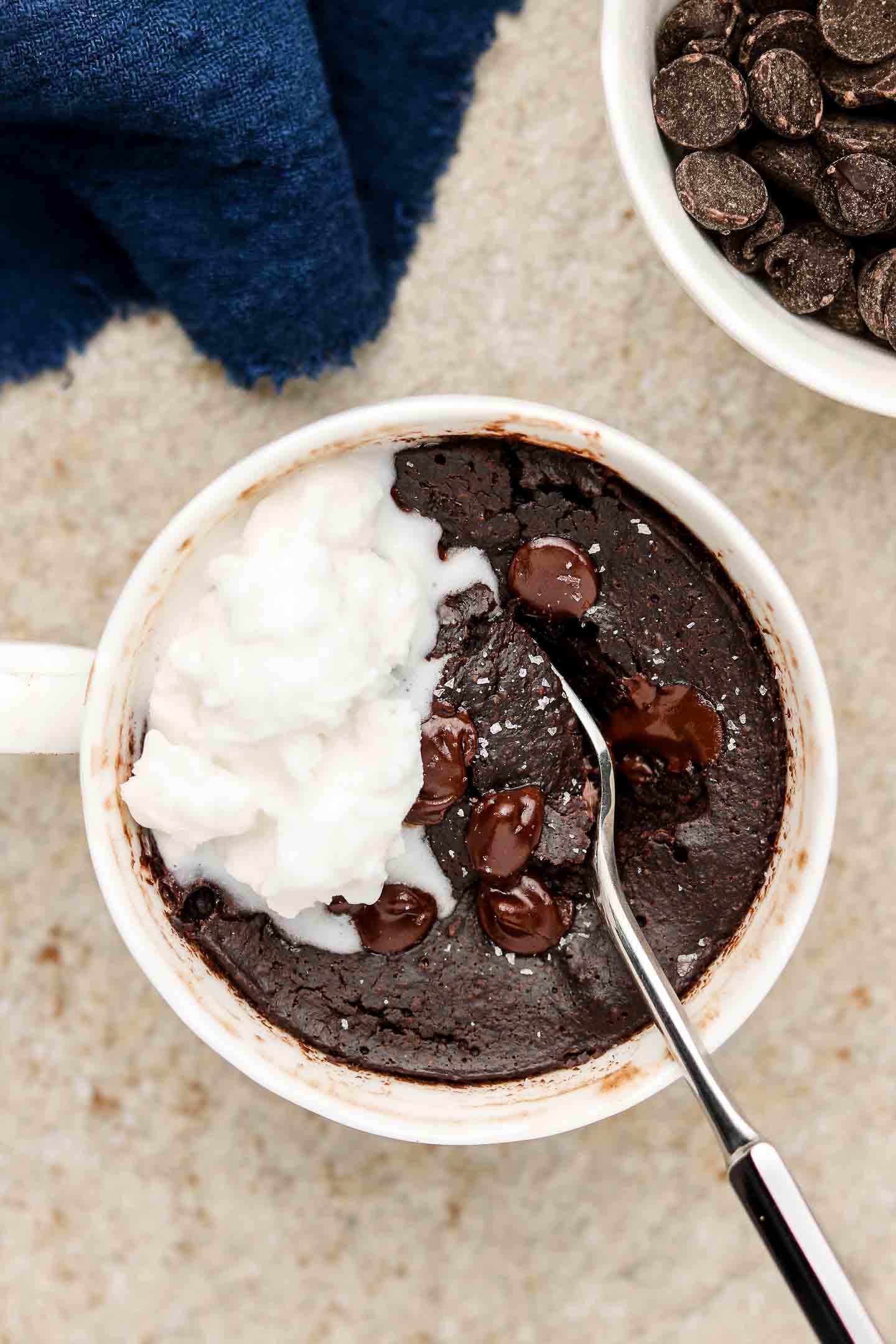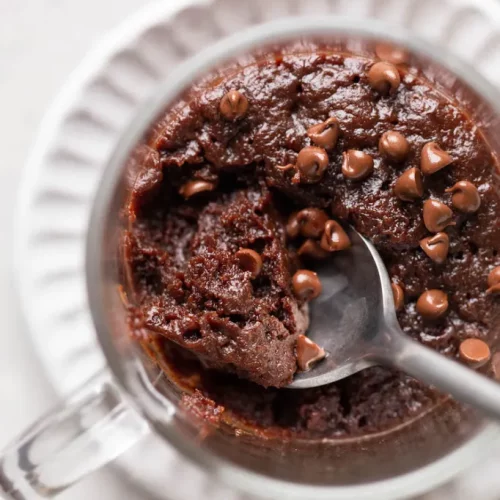 Mug Brownie Mystery
You're about to uncover the magic of Mug Brownie Mystery - a dessert that combines your culinary flair with the joy of indulgence. As a dedicated food blogger and expert chef, you're poised to share the thrill of creating a sweet enigma that captivates the senses. Every gooey bite is a testament to your expertise and passion for delighting palates. Prepare to be amazed as you lift the veil on this instant dessert masterpiece.
Ingredients
1/4

cup

Flour

2

tbs

Cocoa

1/4

cup

Sugar

pinch full

Salt and cinnamon

1/4

cup

Water

2

tbs

Canola oil

1

small scoop

Ice cream

1 to 2

drops

Vanilla extract
Instructions
Initiate microwave dessert making by taking a mug being microwave safe. Fill it by mixing up flour, cocoa, salt, sugar, and cinnamon. Mix them all in gradual manner.

Then mix in water, vanilla and oil. Stir nicely to mix well.

Then allow it to gradually microwave at HIGH setting for the next 1.5 to 2 minutes. The mug mixture should become moist. Take out and allow few minutes for the lovely dessert to cool down.

Enjoy with vanilla scoop or whipping cream!!
Notes
Unleash your culinary prowess with this quick and mysterious delight. The Mug Brownie Mystery offers the perfect blend of simplicity and decadence, inviting you to create a warm, gooey brownie in a matter of minutes. As you infuse your expertise into this dish, prepare to embrace the art of a hidden treat ready to delight your taste buds.
Tips and tricks for Mastering the Mug Brownie Mystery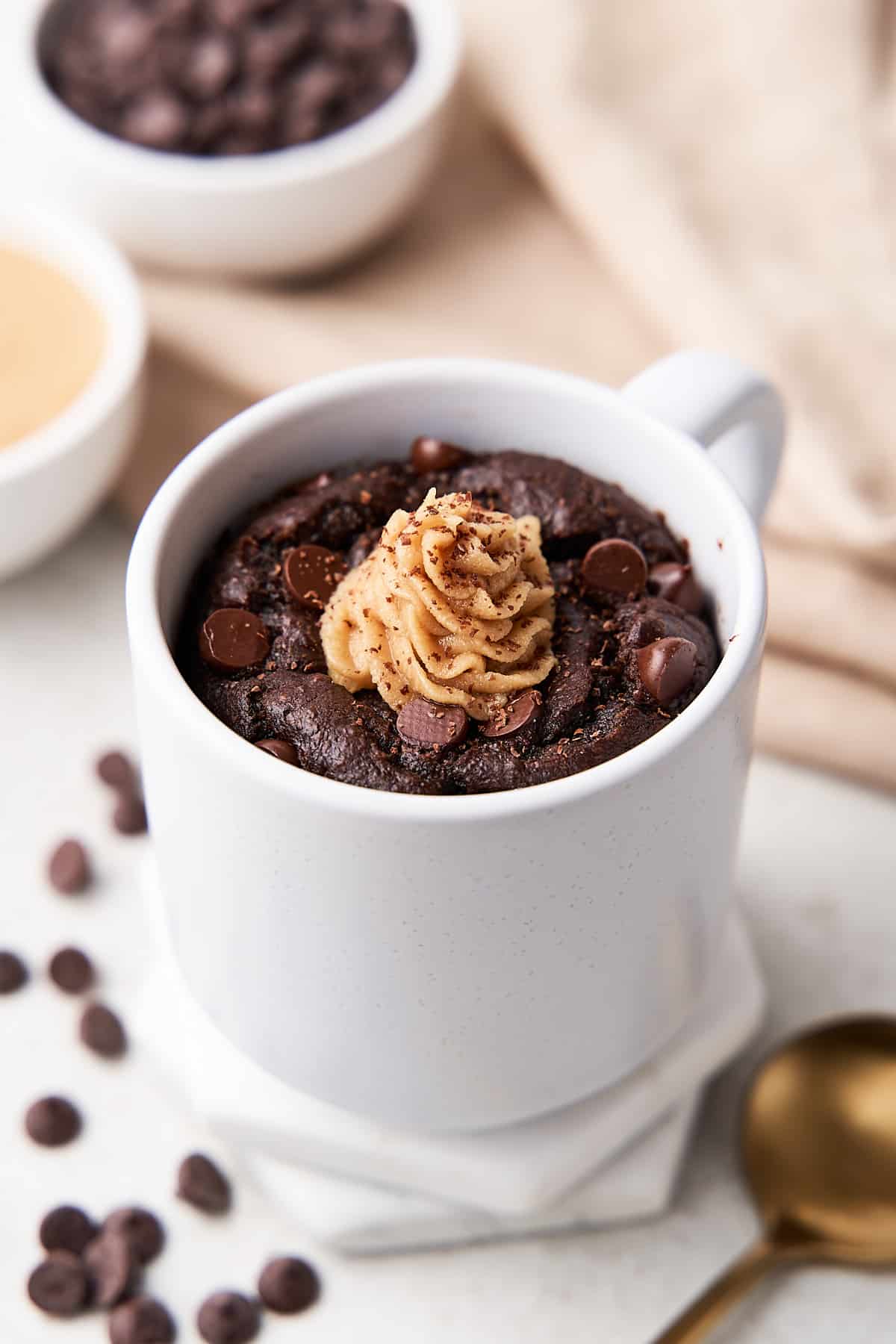 Ingredient Quality: Use high-quality cocoa powder and chocolate for the best flavor. The richness of these ingredients will make your mug brownie truly indulgent.
Mixing Technique: Stir the batter well to ensure all the ingredients are fully incorporated. Pay extra attention to the corners of the mug to avoid any dry pockets.
Don't Overmix: While thorough mixing is essential, avoid overmixing as it can lead to a tough texture. Mix until the ingredients are just combined.
Microwave Power: Microwaves vary, so start with a shorter cooking time and gradually increase if needed. The goal is a moist and gooey brownie, not a dry one.
Microwave Safety: Make sure the mug you use is microwave-safe. If the mug feels hot after microwaving, allow it to cool for a minute or two before enjoying.
Toppings and Mix-ins: Elevate your mug brownie by adding a sprinkle of sea salt, a handful of chocolate chips, or a swirl of caramel sauce before microwaving. These extras take your dessert to the next level.
Texture Check: Keep an eye on the brownie while it's microwaving. You want it to be just set on the edges but slightly gooey in the center.
Let It Rest: Allow the mug brownie to cool for a minute or two after microwaving. The residual heat will continue to cook it slightly, and it will be easier to handle.
Serving Creativity: Top your mug brownie with a scoop of ice cream, a dollop of whipped cream, or a drizzle of your favorite sauce for an Instagram-worthy dessert.
Experiment with Flavors: Feel free to add a pinch of instant coffee for a mocha twist, a dash of cinnamon for warmth, or a drop of peppermint extract for a refreshing kick.
Serving suggestions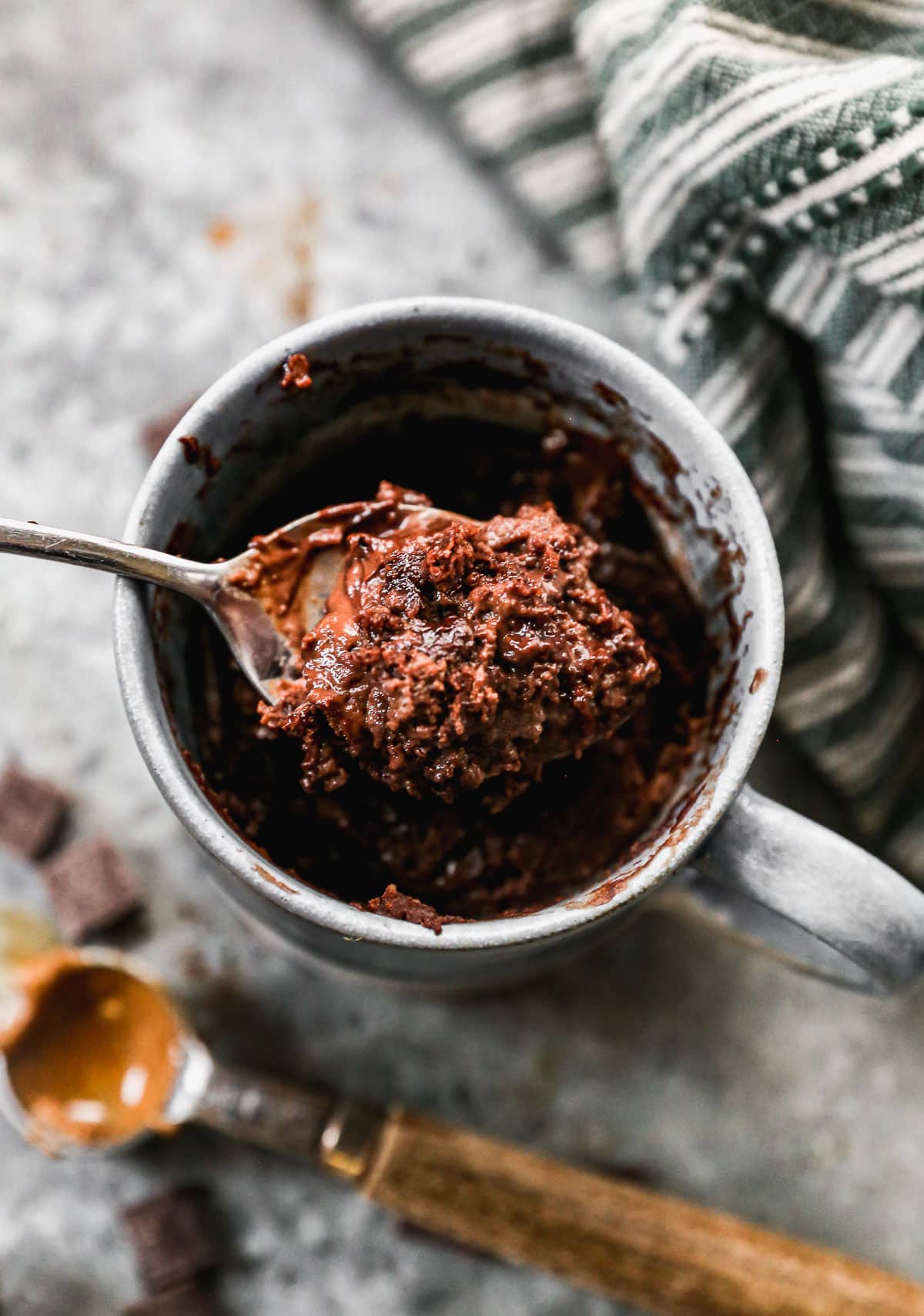 Date Night Delight: Impress your significant other with a romantic evening in. Serve the Mug Brownie Mystery in elegant dessert bowls, topped with a scoop of velvety vanilla ice cream and a drizzle of rich chocolate sauce. The intimate setting and decadent flavors create a perfect ambiance.
Girls' Night In: Host a cozy girls' night with a dessert spread that includes the Mug Brownie Mystery. Set up a topping bar with whipped cream, crushed nuts, sprinkles, and caramel sauce, allowing everyone to customize their mug brownie creations.
Quick Office Treat: Brighten up your work-from-home day by indulging in a Mug Brownie Mystery during your coffee break. Pair it with a steaming cup of your favorite coffee for a delightful and comforting treat.
After-Dinner Sweet Fix: Finish off a sumptuous dinner with a touch of indulgence. Present the Mug Brownie Mystery in elegant dessert plates, accompanied by fresh berries and a dusting of powdered sugar for a sophisticated touch.
Late-Night Craving Cure: For those midnight cravings, whip up the Mug Brownie Mystery in no time. Enjoy it straight from the mug or transfer it to a cozy bowl, and let the gooey deliciousness satisfy your sweet tooth.
FAQs of Mastering the Mug Brownie Mystery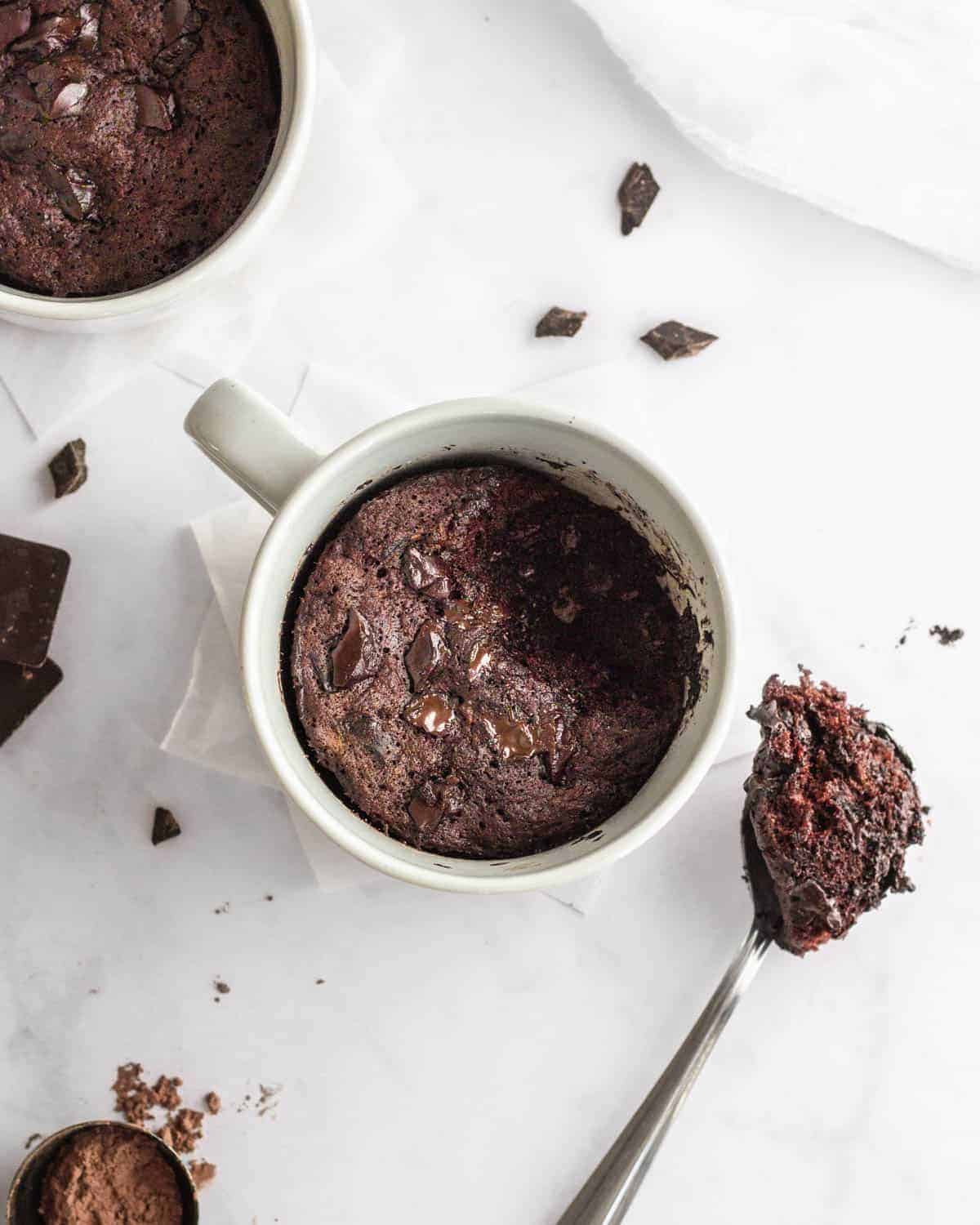 Can I customize the flavors? Absolutely! Experiment with mix-ins like chocolate chips, nuts, or even a swirl of peanut butter for a personalized touch.
What's the ideal mug size? A standard 12-ounce mug works well. Ensure there's enough space for the brownie to rise while microwaving.
Can I make it ahead of time? For the best results, it's recommended to prepare and enjoy the Mug Brownie Mystery right after microwaving. Freshness and texture are key to its charm.
How do I prevent overflow in the microwave? Microwaves vary, so keep an eye on the brownie while it's cooking. If it looks like it's rising too quickly, pause the microwave momentarily and resume cooking.
Can I use a gluten-free flour substitute? Absolutely, feel free to experiment with alternative flours like almond flour or coconut flour for a gluten-free version.
In the realm of instant indulgence, the Mug Brownie Mystery stands as your creation. As a culinary aficionado and food blogger, you've shared this swift yet delightful dessert secret, fusing simplicity with taste. With each spoonful, you've woven a story of expertise and passion. Whether a personal treat or a delightful surprise, the Mug Brownie Mystery reflects your artistry in crafting joy from scratch.