Indulge in the delightful union of wholesome oats, tart cranberries, and creamy white chocolate with our Oatmeal Cookies. Discover how this scrumptious trio elevates the classic oatmeal cookie into a symphony of flavors and textures, perfect for every craving.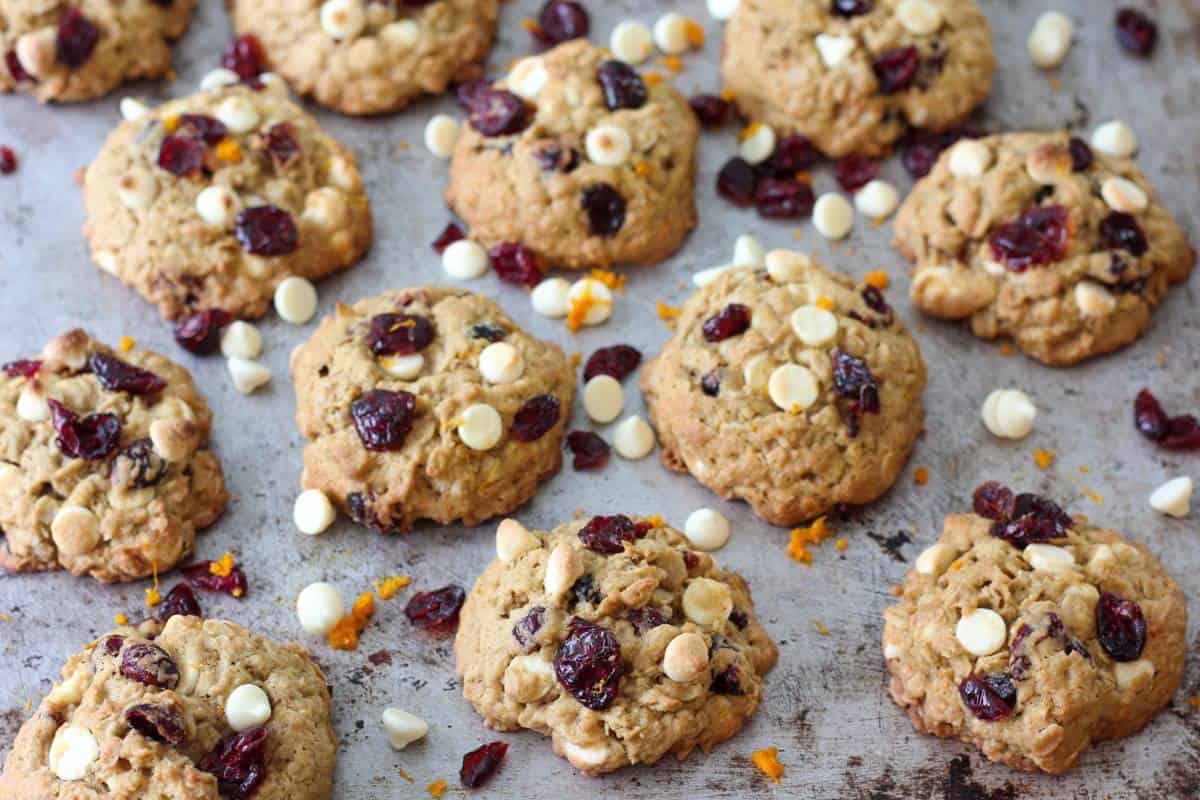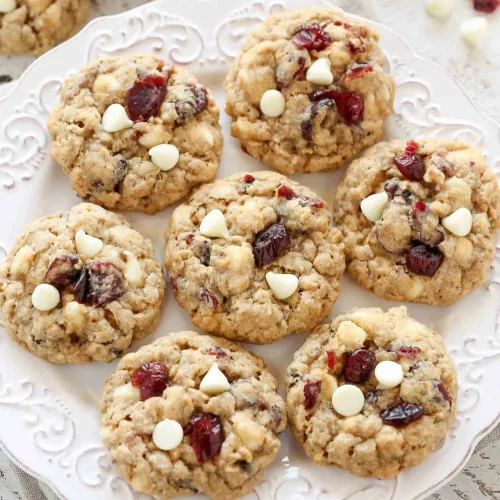 Oatmeal Cookies with Cranberry and White Chocolate
With Oatmeal Cookies adorned with Cranberry and White Chocolate, you're in for a treat that beautifully marries hearty oats with the tang of cranberries and the creamy sweetness of white chocolate. Each bite is a reminder that a classic can be elevated to new heights of deliciousness. So, whether it's a quiet afternoon indulgence or a cheerful gathering, these cookies promise to be the star of the show.
Equipment
1 oven

parchment paper

1 bowl

1 fridge

cookie sheet

1 spatula
Ingredients
1/2

cup

unsalted butter, cold but softened

1/2

cup

white sugar

1

tbsp

powdered jaggery

1

egg

1

tsp

vanilla extract

1/4

tsp

salt

1/2

tsp

baking soda

1

cup

all purpose flour

1 1/2

cups

rolled oats

1/2

cup

dried cranberries

1/2

cup

white chocolate chunks (bar chopped into chunks)
Instructions
Preheat the oven to 175 C (350 F). Line a large cookie sheet with parchment paper.

In a large bowl, cream together the butter, sugar and jaggery with a whisk or wooden spoon until smooth and creamy. If you're doing it by hand, this would take around 3 minutes.

Add the egg, vanilla extract, salt and baking soda. Mix well.

Add the flour a little at a time and mix until fully incorporated.

Fold in the oats, dried cranberries and white chocolate chunks. At this point, the dough will be very thick and slightly sticky.

Refrigerate the dough for 30 minutes or place it in the freezer for 10 minutes*.

Grease your hands with a small amount of butter or oil. Roll 1.5 to 2 tablespoons of dough into a ball and place on the cookie sheet. Repeat for the rest of the dough, leaving about 2 inches space between each ball of dough*.

Use a spatula to flatten the cookies slightly until they are about 3/4 inch tall*. They will spread slightly as they bake.

Bake the cookies for 16 to 18 minutes*. The cookies are done when the tops are a light golden brown and the edges are slightly darker.

Leave on the cookie sheet for about 10 minutes, then transfer to a cooling rack to continue cooling. When they are fully cooled down, store in an airtight container. They will remain fresh up to 3 days.
Notes
The combination of chewy oats, sweet white chocolate, and tangy cranberries offers a perfect balance of flavors and textures.
Rolled oats provide heartiness and a touch of nutty flavor to the cookies.
Cranberries' tartness cuts through the sweetness of white chocolate, creating a harmonious blend.
Nutritional ingredients of Oatmeal Cookies with Cranberry and White Chocolate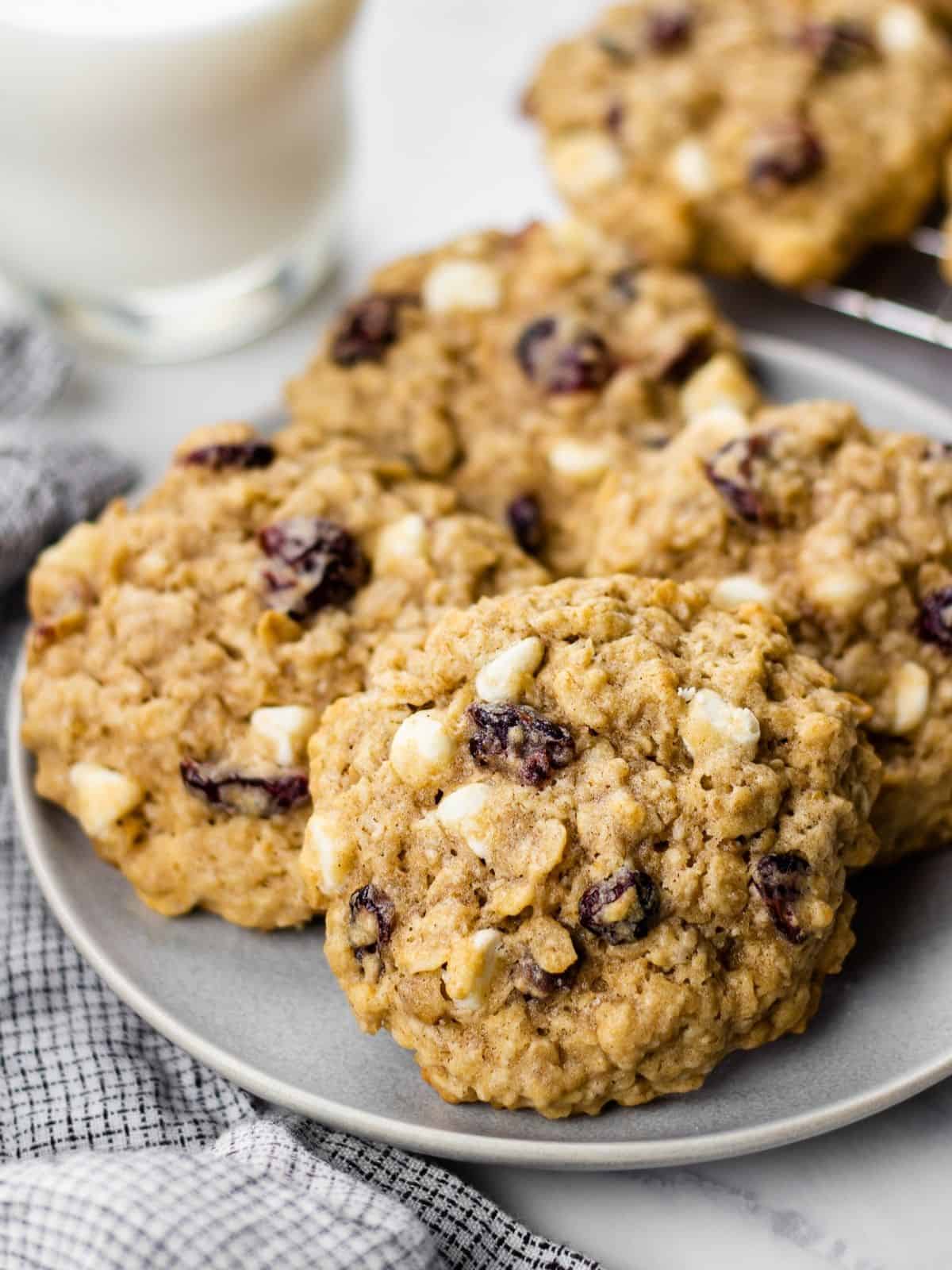 Calories and Macronutrients:
The calorie content of each cookie can vary based on its size and ingredients.
These cookies provide a balance of macronutrients, including carbohydrates from oats and flour, fats from butter and chocolate, and a touch of protein.
Dietary Fiber:
Rolled oats are rich in dietary fiber, contributing to the cookies' heartiness.
Dietary fiber supports digestion, helps maintain stable blood sugar levels, and provides a feeling of fullness.
Healthy Fats:
The inclusion of butter and white chocolate adds a source of healthy fats.
Healthy fats are essential for overall health, including brain function and nutrient absorption.
Carbohydrates:
The combination of oats, flour, and sweeteners contributes to the carbohydrate content.
Carbohydrates provide the primary source of energy for the body.
Sugars:
The sweetness in these cookies comes from a combination of white chocolate, cranberries, and added sugars.
Moderation in sugar consumption is advised for a balanced diet.
Vitamins and Minerals:
Oats provide a variety of vitamins and minerals, including iron, magnesium, and B vitamins.
The presence of these nutrients supports various bodily functions.
Antioxidants:
Cranberries offer antioxidants, including vitamin C and various phytochemicals, which help protect cells from oxidative stress.
Calcium and Phosphorus:
Dairy-based ingredients like butter and white chocolate contribute to the cookies' calcium and phosphorus content.
Calcium supports bone health, while phosphorus is essential for energy metabolism.
Things to pay attention to when cooking Oatmeal Cookies with Cranberry and White Chocolate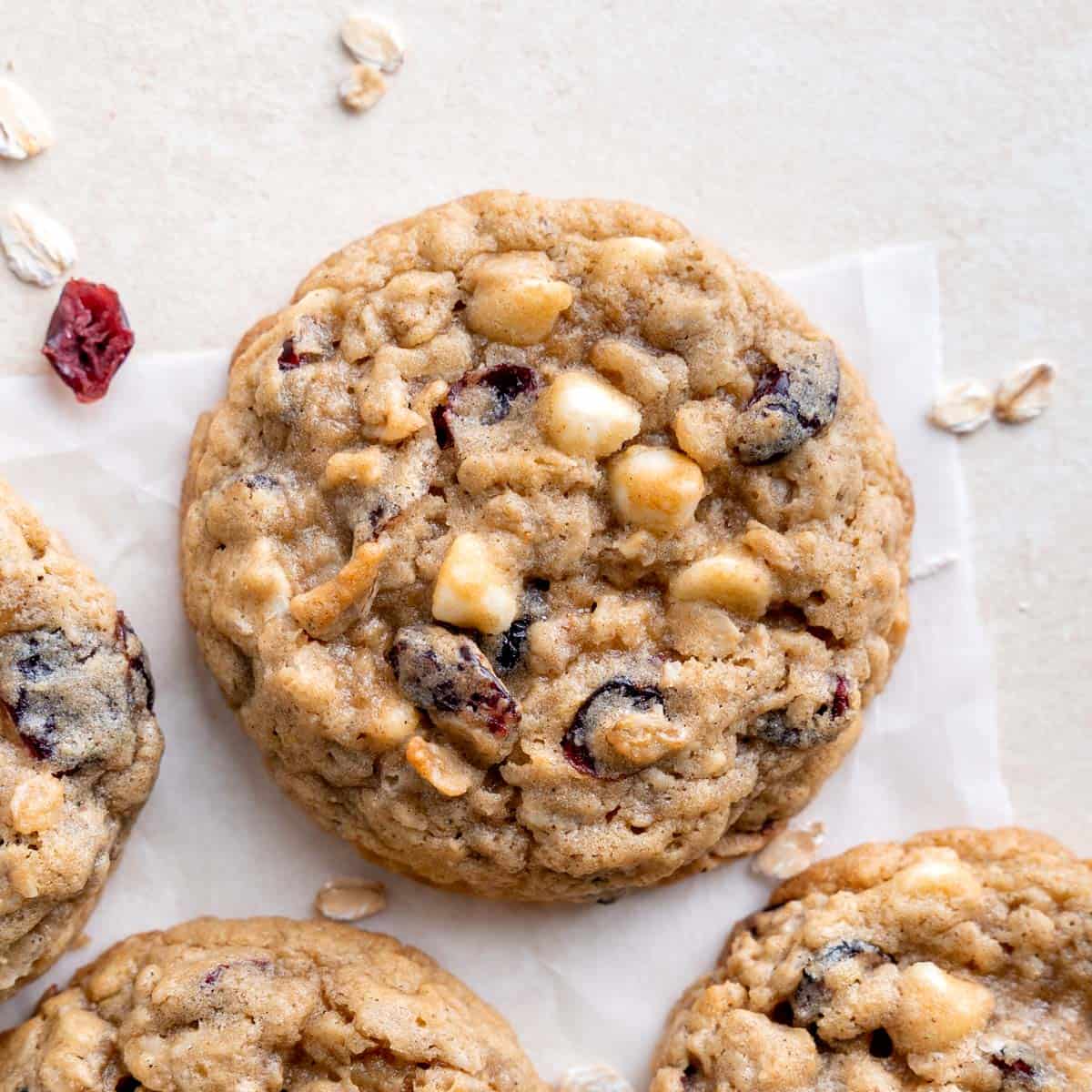 Ingredient Consistency: Ensure that your ingredients, especially butter and eggs, are at room temperature. This promotes even mixing and incorporation into the cookie dough.
Proper Measuring: Accurate measurement of dry ingredients like flour and oats is crucial. Use a spoon to lightly scoop these ingredients into measuring cups and level off with a flat edge.
Rolled Oats Texture: Use old-fashioned rolled oats for the desired texture. Avoid using instant oats, as they can result in a less satisfying texture.
Creaming Butter and Sugar: Cream the butter and sugars together until light and fluffy. This step creates a base for the cookie dough that aids in achieving a tender texture.
Gradual Mixing: When adding dry ingredients, mix just until combined. Overmixing can lead to tough cookies.
FAQs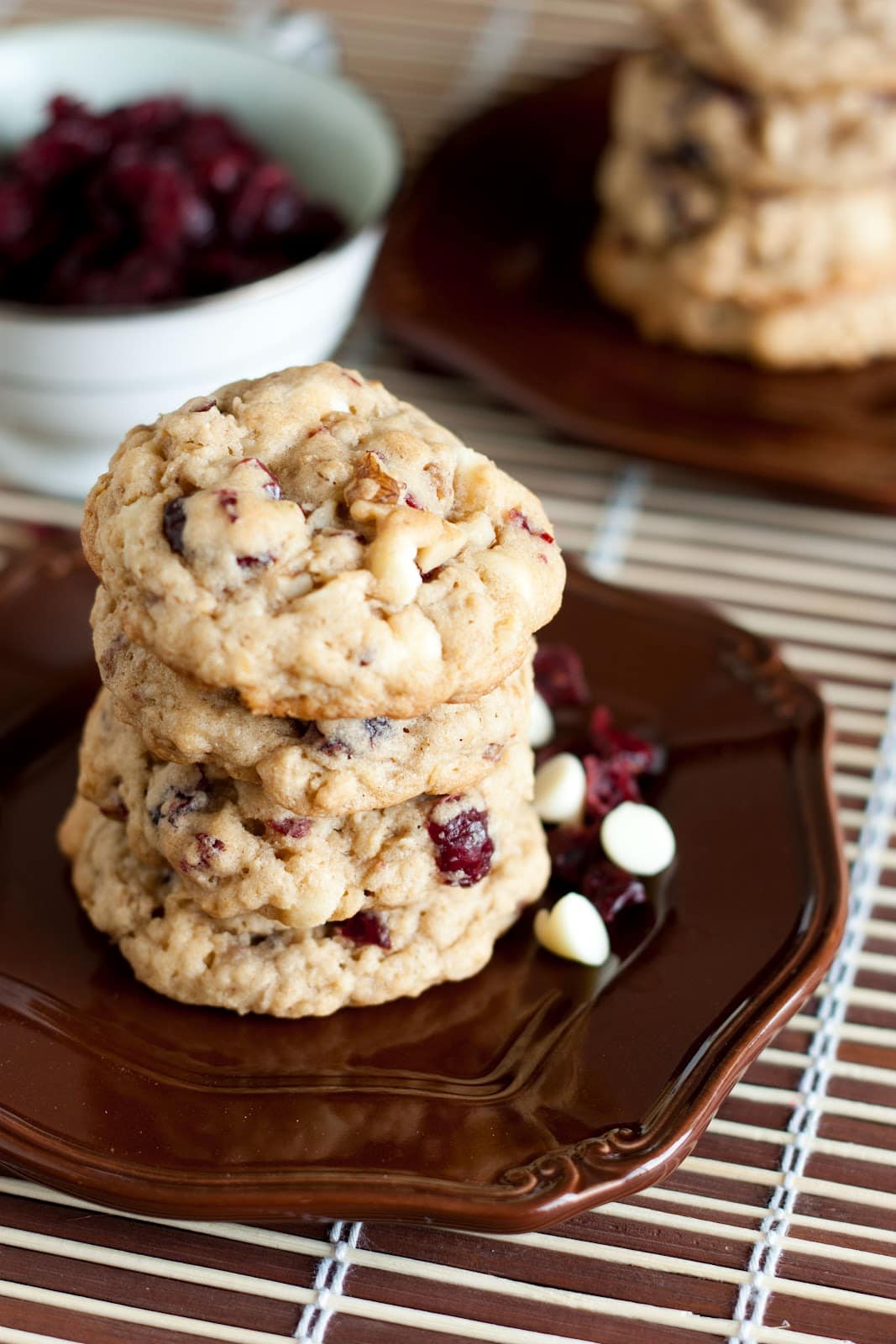 Can I use dried cranberries instead of fresh ones? Absolutely! Dried cranberries work beautifully in this recipe, offering concentrated sweetness and chewiness.
How do I achieve the perfect texture? The key is to slightly underbake the cookies. They will continue to set as they cool, resulting in chewy centers and crisp edges.
Can I use different types of chocolate? Certainly! You can experiment with dark chocolate, milk chocolate, or even semi-sweet chocolate chips based on your preferences.
Can I freeze the dough for later use? Definitely. Portion the dough into cookie-sized scoops, freeze them on a baking sheet, and then transfer to a freezer bag. Bake straight from the freezer when the craving strikes.
How do I store leftover cookies? Store the cookies in an airtight container at room temperature for up to a week. To maintain freshness, add a slice of bread to the container.
With your final bite of Oatmeal Cookie with Cranberry and White Chocolate, cherish the blend of flavors and textures that define these treats. Every cookie is a testament to your culinary prowess and the joy of sharing homemade delights. So, here's to more baking adventures and the happiness they bring.