Step into a world of vibrant flavors and visual splendor with our Gluten-Free Rainbow Fruitcake recipe. As a seasoned chef and passionate food blogger, you're about to embark on a journey that celebrates both culinary artistry and dietary inclusivity. Get ready to create a dessert that's not only delicious but also a feast for the eyes.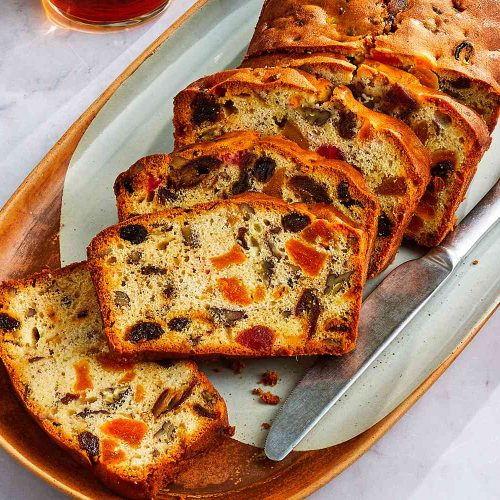 Gluten-Free Rainbow Fruitcake
In the realm of vibrant desserts, the Gluten-Free Rainbow Fruitcake takes center stage. Your expertise as a culinary enthusiast and seasoned blogger shines as you present a dessert that's a feast for both the senses and the soul. Each slice is a testament to your ability to create joy, beauty, and inclusivity through the art of baking.
Equipment
1 baking dish

1 bowl

1 microwave
Ingredients
3

cup

Mixed dried fruits

1/2

cup

Butter

2/3

cup

Disaronno

3/4

cup

Sugar

3

large pieces, separated

Eggs

1

tsp

Vanilla extract

1

cup

Flour, gluten-free

1/2

tsp

Salt

1 1/2

tsp

Baking powder

1

cup

Chopped pecans

1/2

cup

Milk

Zest (lemon and orange)
Instructions
Initiate microwave dessert making by taking baking dish being microwave safe (Preferably 8x8 or 9x9) and completely grease it up using cooking spray.

In the next step, take medium mixing bowl and fill it by mixing up dried fruit, sugar and cream butter. Mix till turn fluffy and then mix up egg yolks (separate whites), zests and vanilla. Mix them all in gradual manner.

Then after, smoothly mix up baking powder, flour, and salt in another medium mixing bowl. Pour the beat up mixture with butter mixture and mix well. In between, pour in milk to make it smooth. Lastly mix up strained fruits and mix again.

Now take the eggs and beat them smoothly till foam peaks and mix it with prepared cake mixture along with pecans.

Now it's time to place nicely mixed up bowl mixture in greased baking dish. Allow baking to happen in microwave for about 55-60 minutes; check out cake preparedness by poking knife. Bake more if required and take out when cake turns soft as desired.

Enjoy the marvelous microwaved fruit cake!!
Notes
Experience the wonder of the Gluten-Free Rainbow Fruitcake. This recipe brings together the richness of fruits and the beauty of colors in a dessert that caters to diverse dietary needs. Your culinary mastery adds an extra layer of magic to this delightful creation.
Tips and Tricks for Crafting the Perfect Gluten-Free Rainbow Fruitcake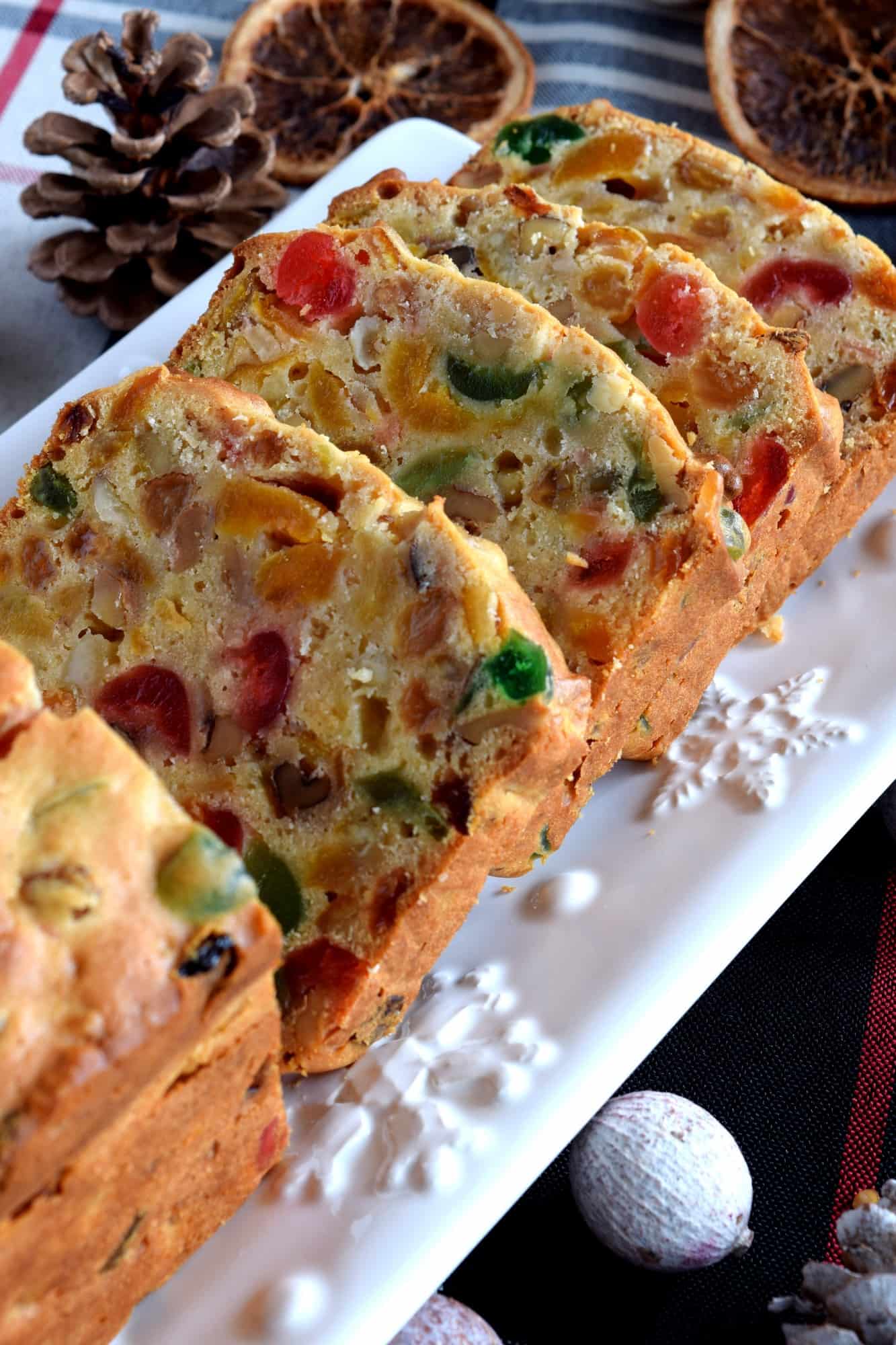 Vibrant Fruits: Choose a variety of fresh, colorful fruits for each layer to achieve a visually stunning rainbow effect.
Gluten-Free Flour Blend: Use a blend of gluten-free flours like almond flour, rice flour, and tapioca flour for a balanced texture and flavor.
Even Mixing: Gently fold the fruits into the batter to ensure even distribution and prevent them from sinking to the bottom.
Layer Baking: Bake each layer individually to maintain the vibrant colors. Use cake pans of the same size for consistent layers.
Cooling Time: Allow the cake layers to cool completely before assembling to prevent frosting from melting and colors from bleeding.
Crumb Coat: Apply a thin layer of frosting (crumb coat) before fully frosting the cake. This helps seal in any loose crumbs and provides a smooth base.
Rainbow Pattern: Arrange the cake layers in the order of the rainbow: red, orange, yellow, green, blue, and purple. Use a thin layer of frosting between each layer.
Frosting Technique: Apply an even layer of frosting to the outside of the cake using a spatula or frosting smoother for a polished finish.
Chilling Time: After frosting, refrigerate the cake for a few hours to set the frosting and enhance the cake's stability.
Garnish Creatively: Decorate the top of the cake with additional fresh fruit slices or edible flowers to enhance its visual appeal.
Slicing Tips: Use a sharp, serrated knife to slice the cake for clean and neat cuts.
Storing: Store the Gluten-Free Rainbow Fruitcake covered in the refrigerator. If using whipped cream, frost the cake just before serving to prevent it from getting soggy.
Room Temperature: Allow the cake to come to room temperature before serving for the best flavor and texture.
Customization: Experiment with different fruit combinations and frosting flavors to create your unique spin on the rainbow cake.
Dietary Considerations: If needed, adapt the recipe further by using dairy-free or vegan frosting options.
Serving suggestions
Celebration Showstopper: Make any celebration extra special by presenting the Gluten-Free Rainbow Fruitcake as the centerpiece. Whether it's a birthday, graduation, or any joyous occasion, its vibrant hues will capture everyone's attention.
Family Gathering Delight: Impress your family with a dessert that's as delightful to the eyes as it is to the palate. Serve the Rainbow Fruitcake at your next family gathering and watch as smiles light up the room.
Brunch Extravaganza: Elevate your brunch spread by including slices of the Gluten-Free Rainbow Fruitcake. Its cheerful appearance and fruity flavors make it a perfect addition to a morning get-together.
Tea Time Charm: Pair the Rainbow Fruitcake with a pot of freshly brewed tea for an elegant tea time experience. The bright colors and light, fruity taste complement the sophistication of the occasion.
Garden Party Elegance: Host a garden party and serve slices of the Gluten-Free Rainbow Fruitcake as a dessert that harmonizes with the beauty of the outdoors. It's a treat that's both pleasing to the eye and the taste buds.
Kids' Birthday Joy: Bring an extra dose of excitement to children's birthdays by surprising them with slices of the colorful and inviting Rainbow Fruitcake. It's a dessert that sparks joy and imagination.
FAQs of Gluten-Free Rainbow Fruitcake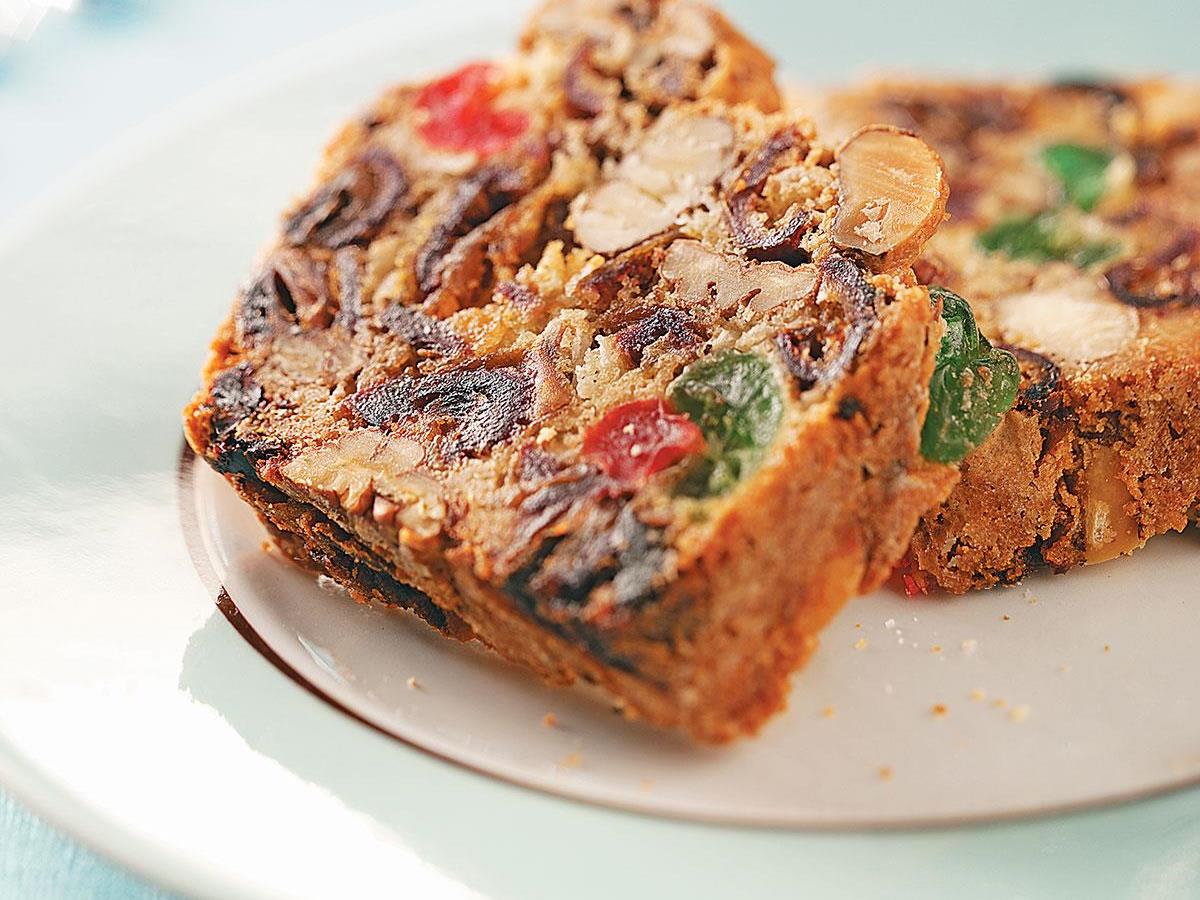 Can I customize the fruit colors? Absolutely! Choose fruits that reflect your preferences or the theme of your event to create your own unique rainbow pattern.
What gluten-free flour works best? A blend of gluten-free flours like almond flour, rice flour, and tapioca flour ensures a great texture and taste.
How can I prevent the fruits from sinking? Toss the fruits in a bit of gluten-free flour before adding them to the batter to help distribute them evenly.
Can I make this cake ahead of time? Yes, you can bake the cake layers ahead and assemble it closer to serving time to keep the colors vibrant.
How do I store leftovers? Store the Gluten-Free Rainbow Fruitcake covered in the refrigerator for up to three days. Bring it to room temperature before serving.
In the world of desserts, the Gluten-Free Rainbow Fruitcake is your canvas of creativity. Your expertise as a seasoned chef and devoted food blogger shines through in this visual and flavorful masterpiece. Each bite is a celebration of your love for crafting joy and beauty through the art of baking.