Panna cotta is one of my favorite desserts for 3 reasons. One – the texture is to die for. A properly made panna cotta has a smooth, creamy texture that just melts in your mouth. Two – it is so easy to make. There is no special technique involved in making it. As long as you get the ratio of ingredients right, you will have yourself a creamy dessert a few hours (of refrigeration) later. Three – you can customize the flavour however you want. I have made so many variations of panna cotta over the years – chocolate, coffee, strawberry, coconut, the list goes on.
Today I'm sharing with you my recipe for cardamom panna cotta, inspired of course by my Indian heritage. Now you can serve this as is, and it would be a really good dessert. But if you want to take it up a notch, I definitely recommend the rose syrup. The rose syrup complements the cardamom beautifully. I mean, there must be a reason why this combination is used in so many Indian desserts, right? And don't forget the pistachios! They add color, texture and a lovely nuttiness to the dish.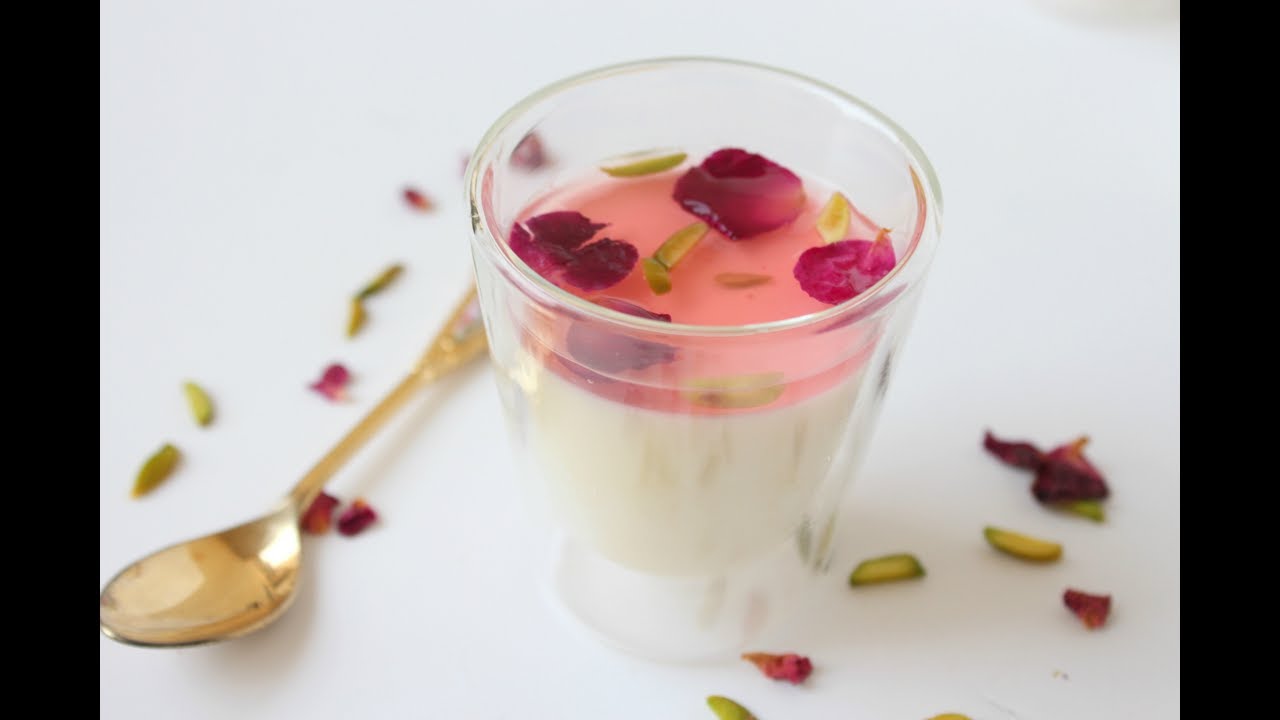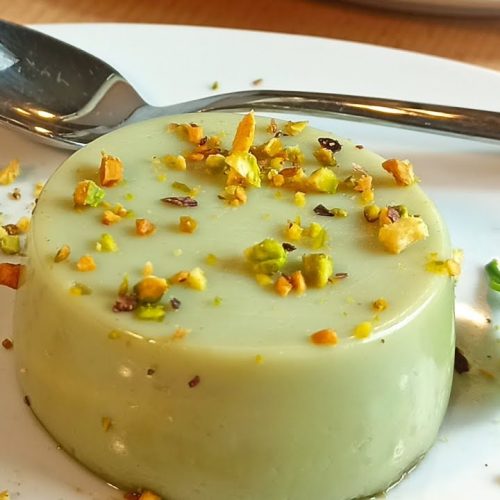 Cardamom Panna Cotta with Pistachios and Rose Syrup
Cardamom Panna Cotta with Pistachios and Rose Syrup is an embodiment of culinary artistry. The delicate fusion of flavors and textures creates a dessert that's not only a treat for the taste buds but a feast for the senses. Prepare to be transported to a realm of indulgence and elegance with every spoonful.
Equipment
2 pan

1 toothpick 

1 bowls

1 stove
Ingredients
250

ml

heavy cream

125

ml

milk

3/4

tbsp

gelatin powder

1.5

tbsp

water

4

tbsp

sugar

1/2

tsp

cardamom powder

1/4

cup

white sugar

2 

tbsp

water

1/4

tsp

rose essence

1/4

 tsp

 lemon juice

1 

drop

pink gel food colour (maybe even less)

2

tbsp

chopped pistachios
Instructions
Make the panna cotta
 Fill a small pan with the water and sprinkle the gelatin over it. Set aside for 10 minutes so that it can bloom.

In a larger pan, heat milk, cream, sugar and cardamom powder on medium low, stirring occasionally until the sugar is fully dissolved.

Once it comes to a boil, immediately remove from heat.

Now place the small pan with the bloomed gelatin on low heat and cook until the gelatin is fully dissolved.

Add the gelatin to the cream mixture and stir well. Strain the mixture to get rid of large pieces of cardamom and lumps of undissolved gelatin if any.

Allow to cool completely and pour into 4 individual bowls or ramekins. Refrigerate overnight or for at least 8 hours.
Make the rose syrup
Place all ingredients together in a clean saucepan.

Use a toothpick to add a little swipe of food colour.

Only a little bit is required.

Heat the ingredients in the pan until the sugar is fully dissolved.
To serve
Dip the bowls in hot water for a few seconds and quickly invert onto a plate. Pour some rose syrup over each panna cotta and top with some chopped pistachios.
Notes
Cardamom adds a warm, exotic undertone to the creamy panna cotta base.
Toasted pistachios offer a delightful crunch and nuttiness that contrasts the silky texture.
Rose syrup lends a delicate floral aroma and a touch of sophistication.
Tips and tricks
Infusing Cardamom: To extract the maximum flavor from cardamom pods, gently crush them before adding them to the cream mixture. Simmer the cream with the crushed pods and strain them out before pouring into molds.
Balancing Sweetness: Adjust the amount of sugar in the panna cotta base to suit your preference. Keep in mind that the rose syrup adds sweetness too, so aim for a balance that's not overly sugary.
Even Distribution: When adding crushed pistachios to the panna cotta, distribute them evenly to ensure each spoonful contains a delightful crunch.
Setting Time: Allow the panna cotta to set in the refrigerator for at least 4 hours or overnight for the best texture. This ensures a creamy, smooth consistency.
Unmolding Techniques: To unmold the panna cotta easily, briefly dip the molds in warm water to loosen the edges. Gently slide a knife around the edge to release it from the sides before inverting onto a plate.
Rose Syrup Drizzling: Drizzle the rose syrup over the panna cotta just before serving for a visually appealing presentation. A steady hand or a small spoon will help create beautiful patterns.
Serving suggestions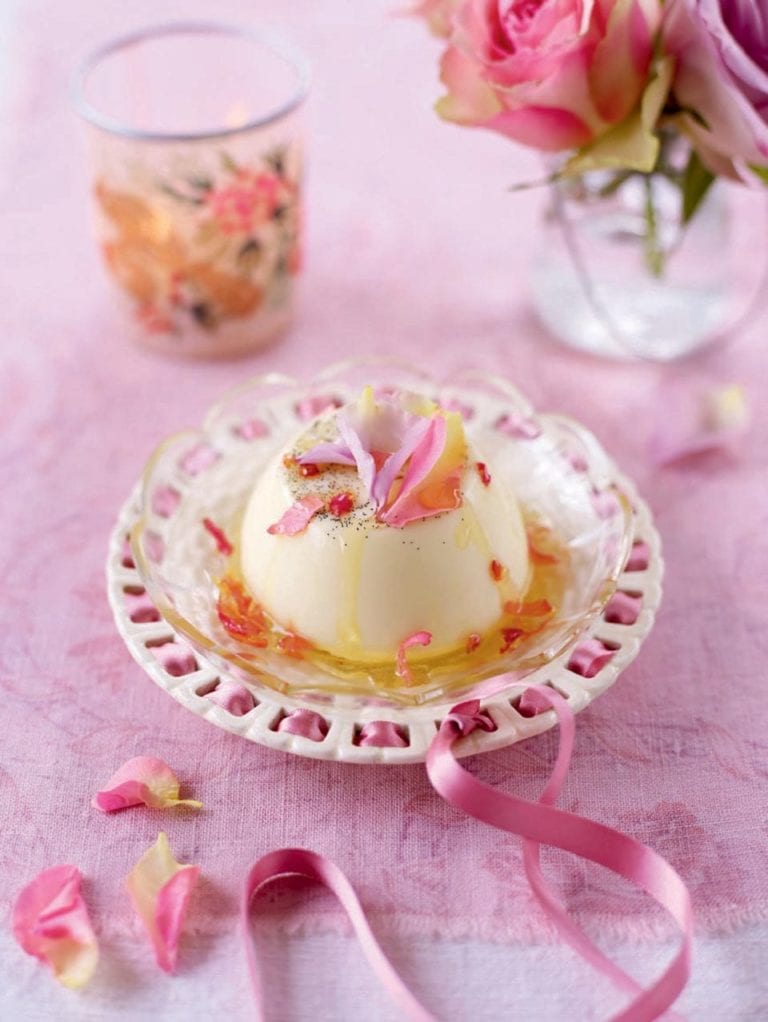 Romantic Dinners: Create a mesmerizing finale for a romantic dinner by serving individual portions of this dessert. The delicate flavors and elegant presentation add an intimate touch to the evening.
Elevated Gatherings: Impress your guests at upscale gatherings or dinner parties with the sophistication of Cardamom Panna Cotta. Its unique blend of flavors and artistic appearance make it a showstopper.
Bridal Showers: Elevate the bridal shower experience with a dessert that embodies elegance and beauty. The floral notes of rose syrup add a touch of femininity to the occasion.
Celebratory Brunches: Make brunch celebrations truly special by offering this dessert as a sweet conclusion. Its light yet indulgent nature is perfect for daytime festivities.
Afternoon Tea Affairs: Pair small servings of Cardamom Panna Cotta with cups of delicate tea for an afternoon of refined indulgence. The combination is a delightful balance of flavors.
Intimate Anniversaries: Celebrate milestones such as anniversaries with a dessert that symbolizes the harmony of flavors and the passage of time. It's a thoughtful way to honor cherished moments.
Fine Dining Nights: When hosting a fine dining experience at home, this dessert serves as an exquisite way to conclude the meal. It complements the elegance of a multi-course menu.
Cultural Celebrations: Add a touch of cultural diversity to your dessert offerings during cultural celebrations or festivals. The blend of cardamom, rose, and pistachios resonates with various traditions.
Gourmet Gift Giving: Present Cardamom Panna Cotta with Pistachios and Rose Syrup in elegant glass jars as a gourmet gift. It's a thoughtful gesture that embodies the spirit of sharing unique culinary experiences.
Personal Indulgence: Treat yourself to a moment of luxury by enjoying a serving of this dessert alongside a cup of fragrant herbal tea or a glass of dessert wine.
FAQs of Cardamom Panna Cotta with Pistachios and Rose Syrup
Can I use ground cardamom instead of pods? Yes, you can use ground cardamom. However, using whole cardamom pods and crushing them before infusing in the cream provides a fresher and more aromatic flavor.
Can I make the rose syrup at home? Absolutely! Homemade rose syrup is simple to make by simmering rose petals, sugar, and water. Strain the mixture before drizzling over the panna cotta.
How do I prevent air bubbles in the panna cotta? To avoid air bubbles on the surface of the panna cotta, pour the mixture into the serving glasses slowly and gently, and tap the glasses lightly on the counter to release any trapped air.
Can I make this dessert in advance? Yes, Cardamom Panna Cotta is an excellent make-ahead dessert. Prepare it a day before serving and refrigerate. The flavors meld beautifully over time.
How long does the rose syrup keep? Homemade rose syrup can be stored in an airtight container in the refrigerator for up to two weeks. Shake well before using.
Delve into the world of divine indulgence with our Cardamom Panna Cotta. Infused with fragrant cardamom, adorned with pistachios, and drizzled with rose syrup, this dessert is a masterpiece of flavor, texture, and elegance.