Step into a world where every slice tells a story of joy, color, and pure delight. Welcome to the enchanting realm of the Funfetti Fun Time Cake, a recipe that's more than just a dessert – it's a celebration embodied in layers of sweetness. As a devoted food blogger and experienced chef, I'm thrilled to guide you through the magic of creating a cake that not only tantalizes the taste buds but also brings out the childlike wonder in all of us.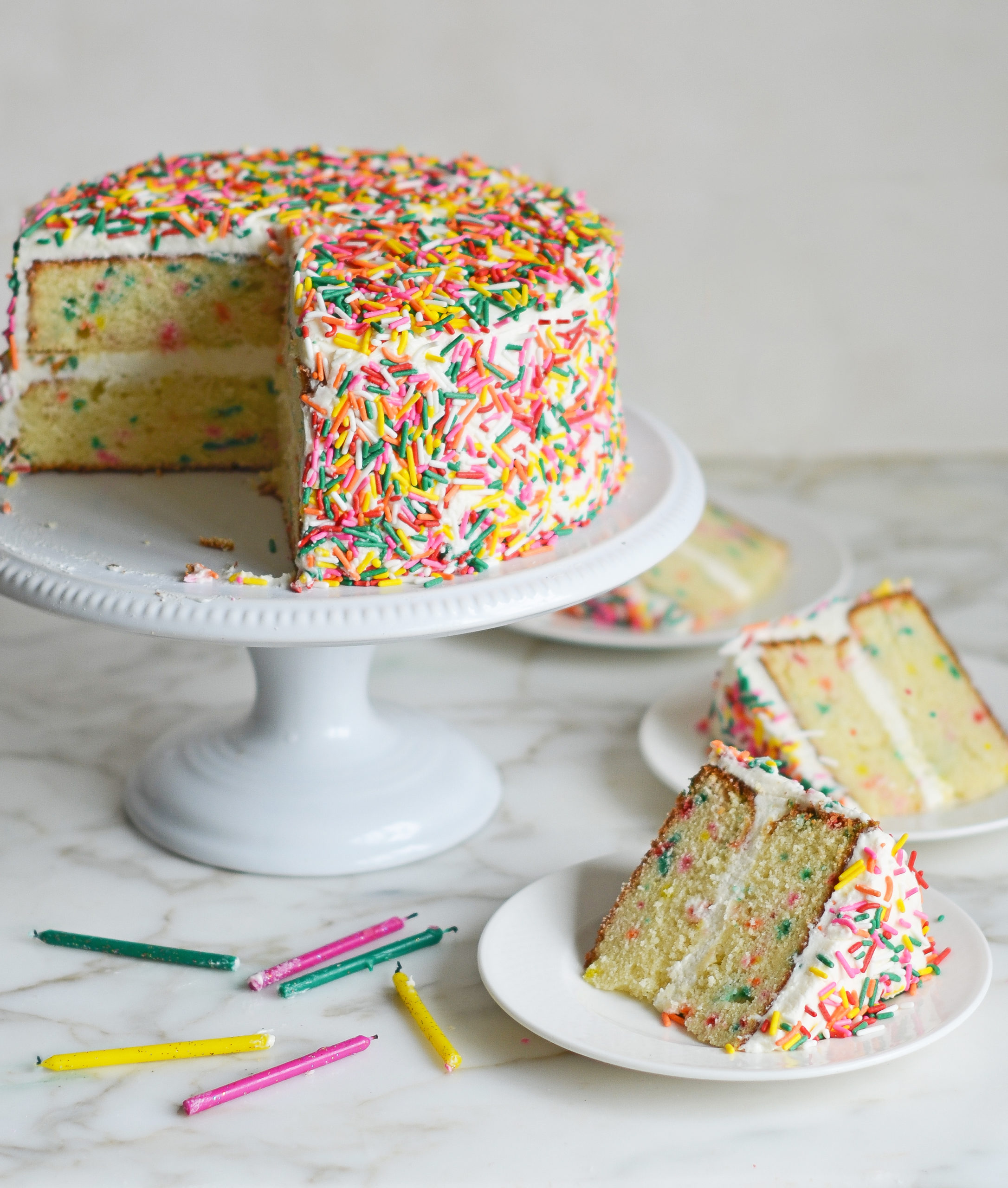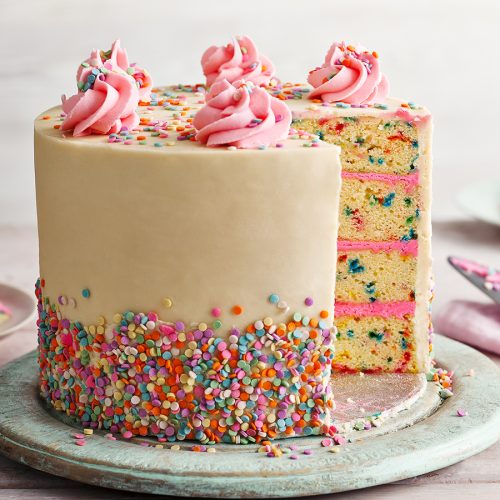 Funfetti Fun time cake
Our journey through the world of Funfetti Fun Time Cake comes to an end, but the magic of this dessert will linger in your culinary repertoire. It's not just a cake; it's a celebration captured in layers of sweetness and vibrant colors. May your baking endeavors be filled with sprinkles of happiness, and may you continue to create moments that are as joyful and bright as the Funfetti Fun Time Cake itself.
Equipment
1 bowl

1 microwave

1 toothpick 
Ingredients
2

large pieces

Eggs

1-1/2

cups

Yellow cake mix

1

can of 8 oz

Sour cream

1/4

cup

Rainbow sprinkles
Instructions
Initiate microwave dessert making by taking a medium bowl being microwave safe and nicely grease its bottom part.

Then take another medium mixing bowl; fill it by mixing up sour cream and eggs. Mix them all in gradual manner. Then mix up sprinkle and cake mix. Incorporate well.

Pour the beat up mixture over microwave proof bowl.

Then allow it to gradually microwave for the next 7-8 minutes. Microwave till a toothpick emerges out clean and you get desired softness.

Take out and allow few minutes for the lovely dessert to cool down.

You can top your dessert with favorite icing enhance its look and taste. Enjoy freshly made microwave cake!!
Notes
Funfetti Fun Time Cake is a delightful masterpiece that combines moist cake layers with the playful allure of rainbow sprinkles. Its appearance is as captivating as its taste, making it a dessert that brings out the childlike joy in everyone.
Tips and Tricks for Baking the Perfect Funfetti Fun Time Cake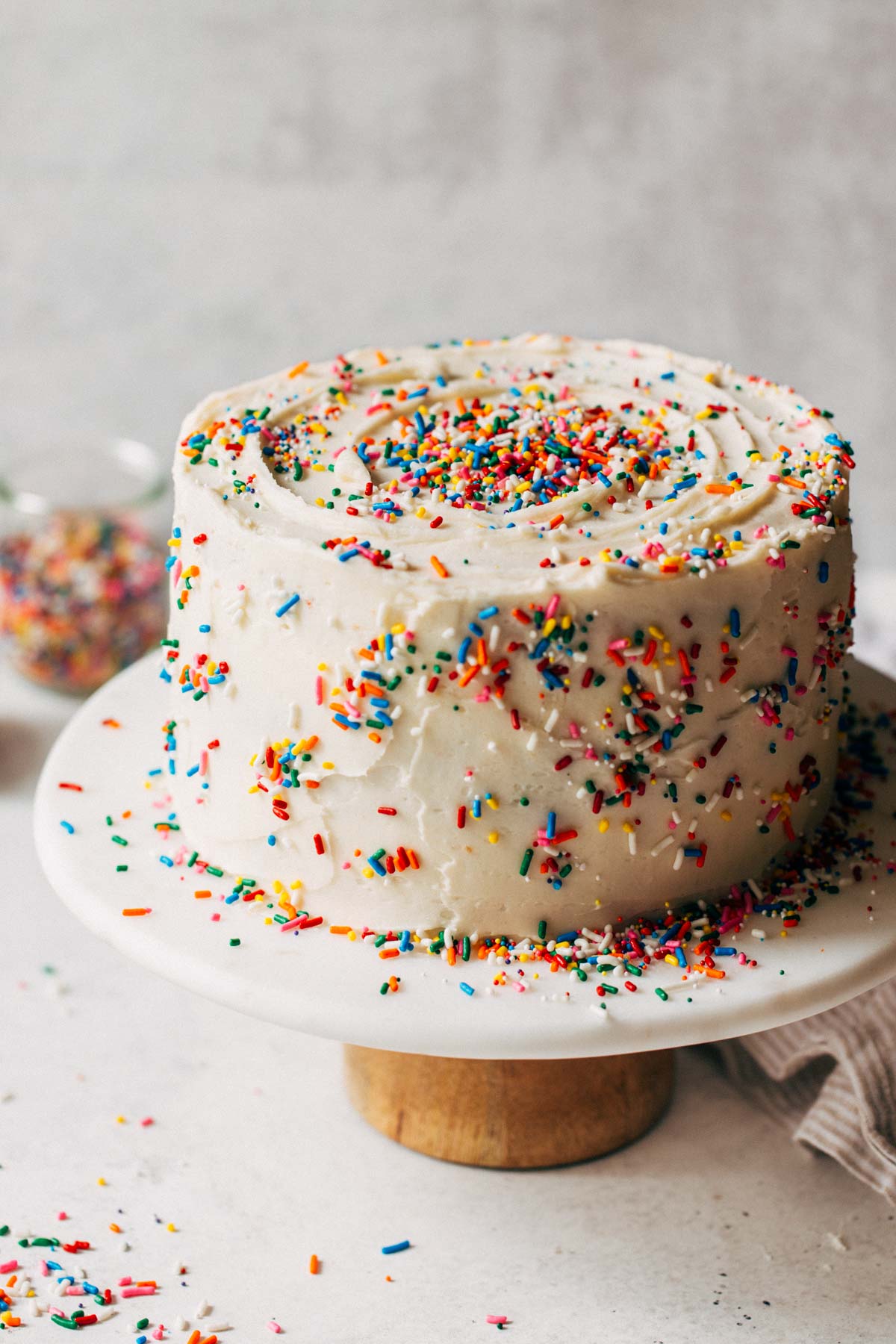 Quality Sprinkles: Use high-quality rainbow sprinkles that are vibrant and won't bleed their colors into the batter while baking.
Even Distribution: Toss the sprinkles with a bit of flour before folding them into the batter. This helps prevent them from sinking to the bottom.
Room Temperature Ingredients: Ensure all dairy, eggs, and butter are at room temperature. This promotes even mixing and a smoother batter.
Gentle Mixing: When incorporating the sprinkles, fold them into the batter gently to avoid overmixing and maintaining the vibrant colors.
Cake Strips: Use cake strips around the cake pans to ensure even baking and to prevent doming.
Cooling Time: Allow the cake layers to cool in the pans for about 10 minutes before transferring them to a wire rack. This prevents them from sticking.
Leveling the Layers: To ensure your cake stacks evenly, level the tops of the cooled cake layers using a serrated knife or a cake leveler.
Crumb Coat: Apply a thin layer of frosting, known as a crumb coat, before the final layer. This helps to lock in any loose crumbs and create a smooth finish.
Chilling Time: After applying the crumb coat, chill the cake in the refrigerator for about 20-30 minutes. This makes it easier to apply the final layer of frosting.
Frosting Techniques: Use an offset spatula for a smooth finish or experiment with piping techniques for a more decorative look.
Sprinkle Garnish: Decorate the frosted cake with an extra sprinkle of rainbow goodness for a pop of color and whimsy.
Sharp Slices: For clean and neat slices, use a sharp knife dipped in warm water. Wipe the knife between each cut for a polished presentation.
Room Temperature Serving: Before serving, allow the cake to come to room temperature for the best flavor and texture.
Storing Leftovers: Store any leftover cake in an airtight container in the refrigerator. For longer storage, consider freezing individual slices wrapped tightly in plastic wrap and then placed in an airtight container.
Serving suggestions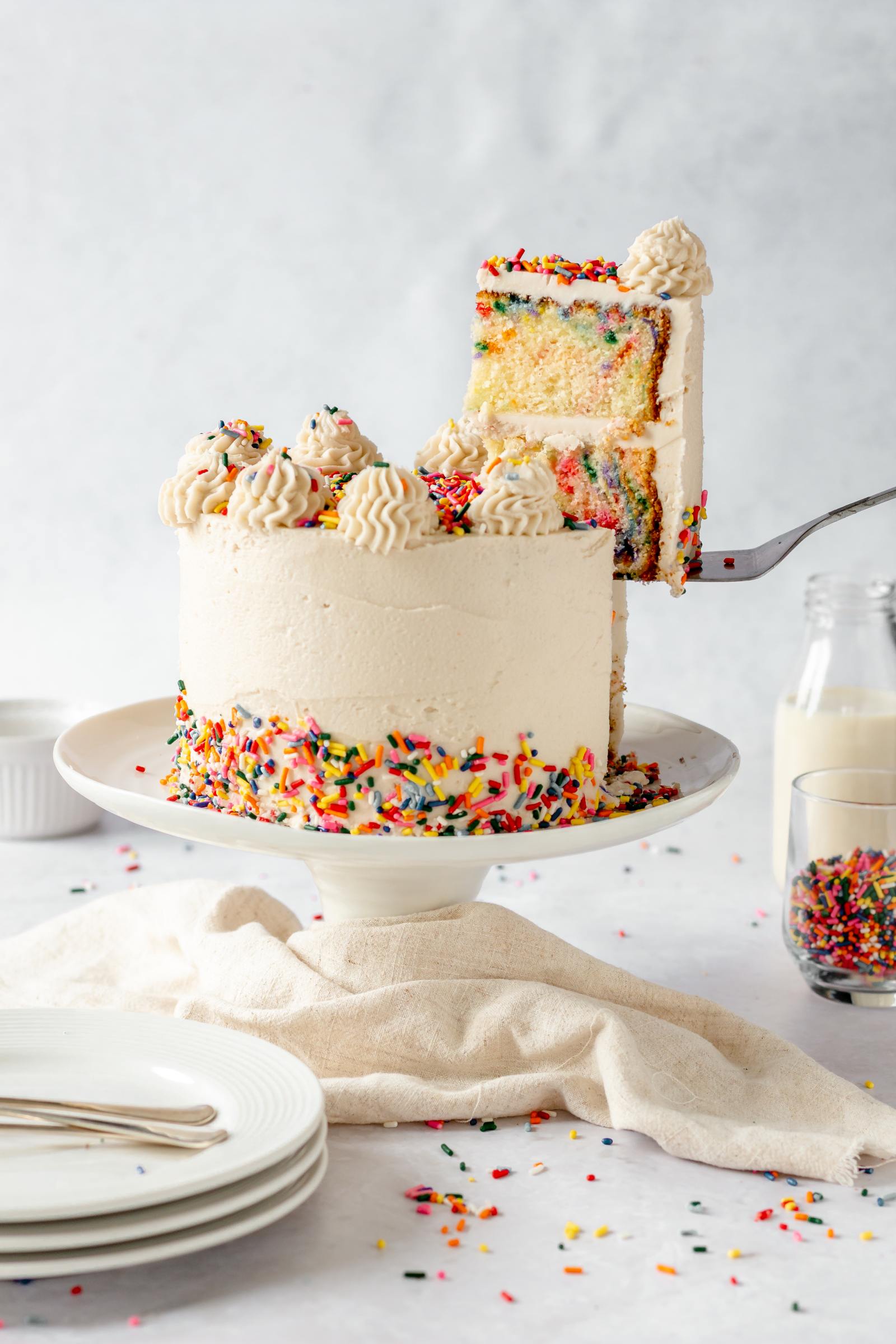 Birthday Celebrations: The Funfetti Fun Time Cake is the ultimate birthday treat. Serve it as the star dessert at birthday parties to bring smiles to faces of all ages.
Kids' Playdate Delight: Make kids' playdates extra special by offering slices of this whimsical cake. The vibrant colors and playful sprinkles are sure to capture their imagination.
Dessert Buffet: Add a splash of color to your dessert spread at gatherings. Place the Funfetti Fun Time Cake alongside other treats for a visually captivating dessert table.
Tea Time Extravaganza: Pair slices of the cake with a selection of herbal teas or even a classic Earl Grey. The cake's sweetness and the tea's warmth create a delightful balance.
Ice Cream Match: Create the ultimate indulgence by serving the Funfetti Fun Time Cake with a scoop of vanilla or birthday cake-flavored ice cream. It's a match made in dessert heaven
FAQs of Funfetti Fun Time Cake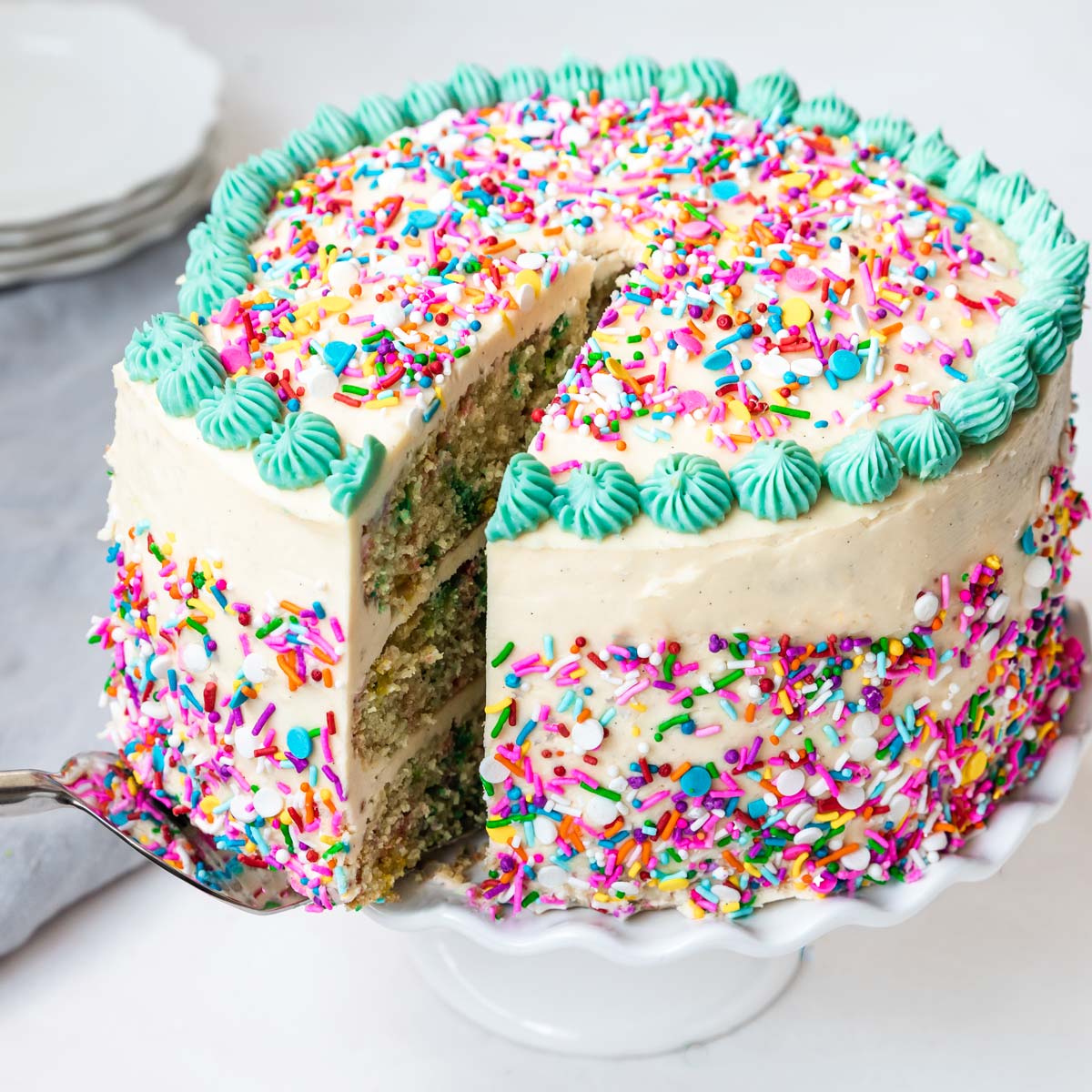 Can I use homemade sprinkles? Absolutely! Homemade sprinkles add a personalized touch and a burst of flavor. Just ensure they're completely dry before folding into the batter.
Can I make this cake ahead of time? Certainly! Bake and cool the cake layers, then wrap them tightly and store at room temperature for a day or in the freezer for longer.
How do I prevent the sprinkles from sinking to the bottom? Toss the sprinkles with a bit of flour before folding them into the batter. This helps distribute them evenly and prevents sinking.
Can I use different frosting flavors? Absolutely! Experiment with vanilla, chocolate, or even a cream cheese frosting to match your preferences.
How do I get the perfect slice? For clean slices, use a sharp knife dipped in warm water. Wipe the knife between each cut for picture-perfect servings.
So, whether you're gearing up for a birthday bash, a lively get-together, or simply craving a slice of pure happiness, the Funfetti Fun Time Cake is your answer. Get ready to infuse your kitchen with color, laughter, and the aroma of baking joy. Let's embark on this baking adventure, where the ordinary becomes extraordinary and each slice is a canvas of celebration.