These coconut thumbprint cookies are a cross between shortbread cookies and the coconut biscuits that you get at Indian bakeries. They were so buttery, coconut-y and yummy that they lasted just 2 days in my home. They are the perfect accompaniment to a cup of black coffee (or tea).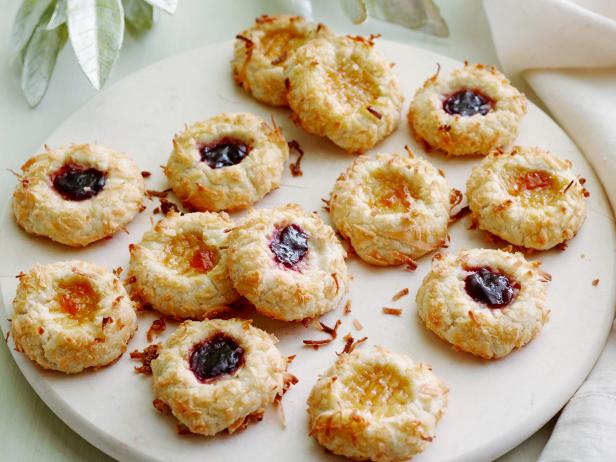 Super Easy Coconut Thumbprint Cookies Recipe
Our Coconut Thumbprint Cookies Recipe encapsulates the essence of tropical paradise in every delectable bite. Baking these cookies isn't just about crafting treats; it's about sharing a taste of joy and simplicity with those around you. From cozy gatherings to solo indulgence, these cookies promise to evoke smiles and create cherished memories. So, whisk, create, and enjoy the magic of baking that brings comfort and delight to your kitchen.
Equipment
1 baking sheet

1 oven

parchment paper

1 spoon
Ingredients
113

gam

unsalted butter, cold but softened

75

gam

powdered sugar

150

gam

all purpose flour

50

gam

desiccated coconut

2

T

jam, room temperature
For Version 1
1

egg whisked

1

T

water

25

gam

desiccated coconut
Instructions
Preheat oven to 180 C. Line 2 baking sheets with parchment paper.

Cream butter and powdered sugar together until smooth.

Add all purpose flour and desiccated coconut and mix with a spoon until fully incorporated. If you find it difficult to mix the dough with a spoon, you can use an electric beater.

Divide the dough into 22 equal sized balls.
Version 1
Dip a ball of dough into the egg wash and roll it in desiccated coconut. Repeat this step for half of the dough.

Refrigerate the remaining dough while the first batch bakes.

Flatten each piece of dough between your palms until it is about 3/4 inch thick. 

Place the flattened pieces on the prepared cookie sheet, leaving about an inch of space between each cookie. 

With the back of a wooden spoon, make slight hollows in the centre of each cookie.

Fill each hollow with about 1/8 tsp of jam.

Bake for about 18 minutes until the cookies are golden brown on top.
Version 2
Take the remaining dough out of the refrigerator and flatten each piece between your palms until it is about 3/4 inch thick.

Place the flattened pieces on the prepared cookie sheet, leaving about an inch of space between each cookie.

With the back of a wooden spoon, make slight hollows in the centre of each cookie.

 Fill each hollow with about 1/8 tsp of jam.

Bake for about 13 minutes until the cookies are golden brown around the edges.
Notes
The dough's coconut undertones lend a tropical flavor that beautifully complements the jam.
Experiment with different jam flavors to create an array of delightful combinations.
Chilling the dough before shaping helps maintain the cookies' structure while baking.
Tips and tricks
Quality Ingredients: Opt for high-quality ingredients, especially when it comes to coconut and jam. Fresh, premium ingredients elevate the overall taste and texture.
Creaming Butter and Sugar: Cream the butter and sugar until light and fluffy. This step not only creates a smooth base but also aids in achieving the desired cookie texture.
Measuring Flour: Use the spoon-and-level method to measure flour accurately. This prevents overly dense or dry cookies.
Gentle Mixing: Once you add the dry ingredients to the wet mixture, mix until just combined. Overmixing can result in tough cookies.
Coconut Delight: Add shredded coconut to the dough for a pronounced tropical flavor. This ingredient adds both taste and texture.
Chilling the Dough: After mixing the dough, give it a brief chill in the refrigerator. Cold dough is easier to handle and results in cookies that hold their shape during baking.
Serving suggestions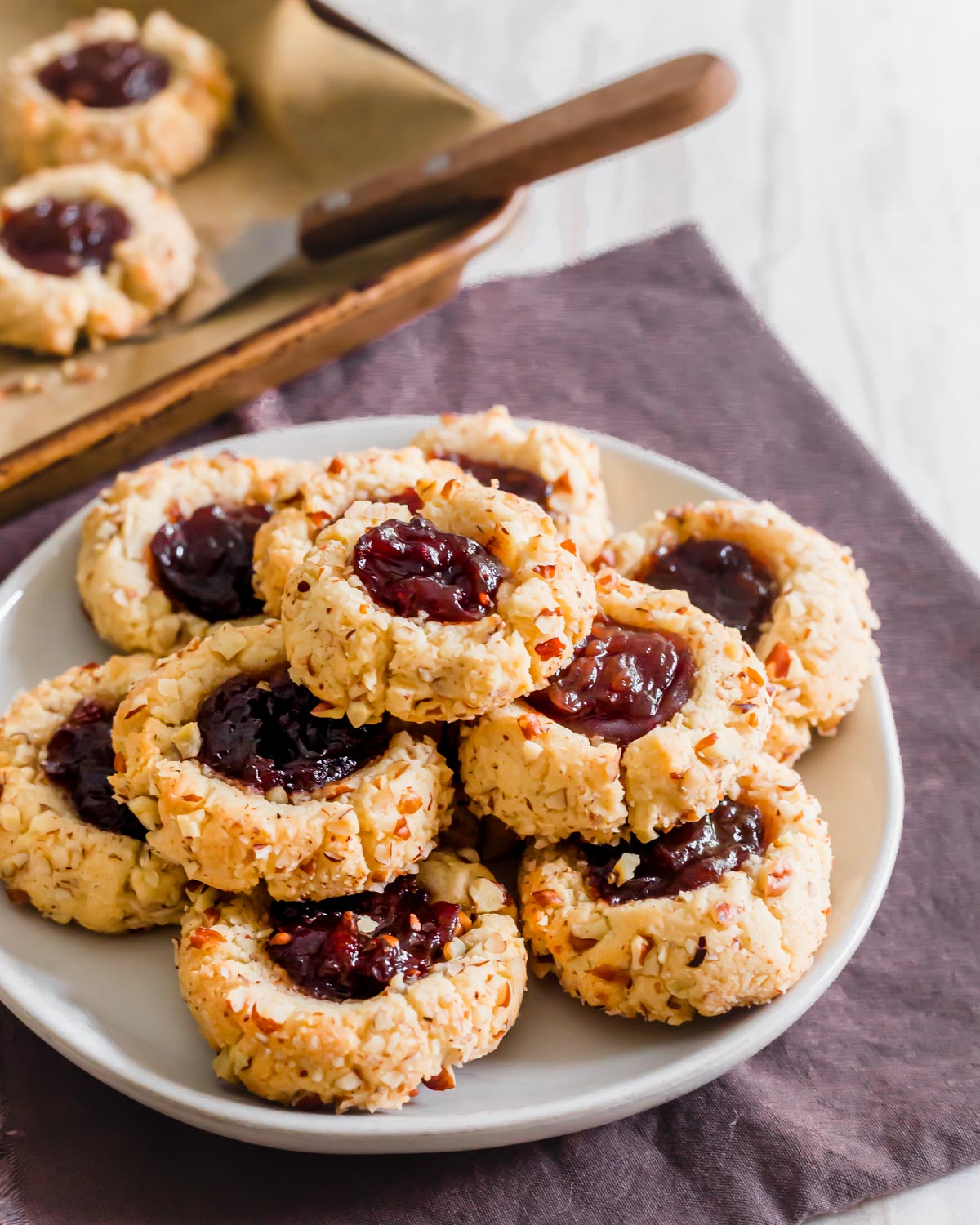 Tea Time Delight: Pair these cookies with your favorite tea – be it a classic black tea, soothing herbal blend, or fragrant green tea. The subtle coconut notes complement the tea's warmth for a comforting experience.
Coffee Companion: Enjoy the contrast between the cookies' tender crumb and the bold flavors of coffee. Whether it's a latte, cappuccino, or a simple brew, these cookies add an exquisite touch to your coffee break.
Brunch Brilliance: Introduce these cookies as a brunch item that adds elegance to your spread. Serve them alongside fresh fruits, yogurt parfaits, and other breakfast delights.
Dessert Extravaganza: Transform these cookies into an elegant dessert by serving them with a dollop of whipped cream or a scoop of vanilla ice cream. The combination of textures and flavors will impress your guests.
Gifting Grace: Wrap a batch of these cookies in a beautiful box or jar to create a heartfelt edible gift. They're perfect for expressing appreciation or spreading joy on special occasions.
Party Platter: Include Coconut Thumbprint Cookies as part of a dessert platter at gatherings. They effortlessly complement an array of sweets and treats, creating a visually appealing and scrumptious spread.
Afternoon Indulgence: Treat yourself to a moment of relaxation with a few of these cookies and a good book. Their bite-sized nature makes them perfect for those serene solo moments.
Picnic Perfection: Pack these cookies for a picnic adventure. Their portable nature and delightful flavors make them an ideal outdoor treat.
Family Baking Activity: Engage the family in a baking session and let everyone customize their own thumbprint cookies with their preferred jams. It's a fun way to create memories together.
Cookie Exchange Darling: Participating in a cookie exchange? Impress your fellow bakers with these Coconut Thumbprint Cookies – a unique twist that stands out on any cookie platter.
FAQs of coconut thumbprint cookies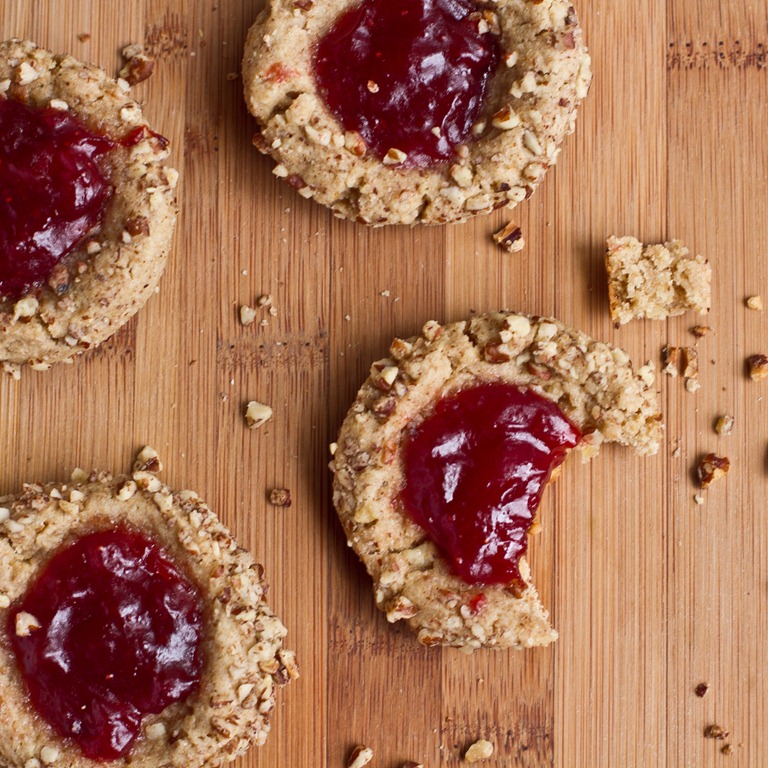 Can I use different types of jam? Absolutely! Try various jams or preserves to create diverse flavor profiles that suit your preferences.
How do I achieve the perfect thumbprint shape? Gently press your thumb into the cookie dough to create a shallow well, ensuring it's deep enough to hold the jam.
Can I add nuts to the dough? Certainly! Chopped nuts like almonds or pecans can be added to the dough for extra texture and flavor.
How do I store leftover cookies? Store cooled cookies in an airtight container at room temperature. To maintain their freshness, you can add a slice of bread to the container.
Can I freeze the dough for later use? Absolutely. Portion the dough into cookie-sized scoops, freeze them on a baking sheet, and then transfer to a freezer bag. Bake directly from the freezer when needed.
As you finish the last crumbs of your Coconut Thumbprint Cookies, let the taste linger as a reminder of the joy that baking and sharing bring. These cookies are more than a treat – they're a testament to your culinary artistry and the happiness of simple pleasures. Keep exploring, baking, and savoring the sweetness of life.