Get ready to elevate your bread game with our Cheesy Stuffed Garlic Bread Rolls recipe. Imagine sinking your teeth into warm, gooey, and aromatic rolls that are the perfect balance of crispy and soft. As a seasoned food blogger and passionate chef, I'm thrilled to share this delectable creation that's not only a feast for the taste buds but also a joy to make.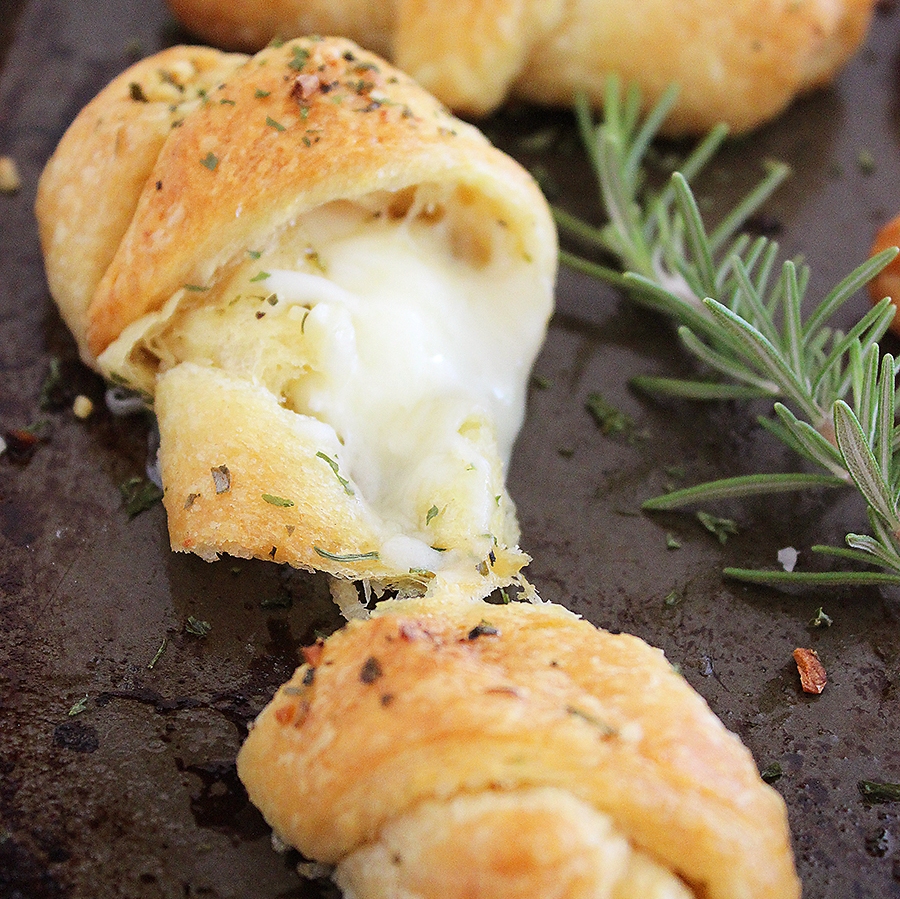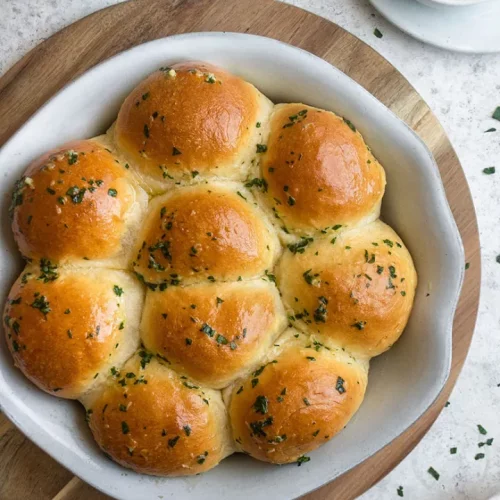 Cheesy Stuffed Garlic Bread Rolls
These Cheesy Stuffed Garlic Bread Rolls are a labor of love that will grace your table with their inviting aroma and irresistible taste. Whether shared with loved ones or enjoyed solo, they promise to turn ordinary moments into extraordinary memories. Try your hand at this recipe and watch as these rolls become a cherished favorite in your culinary repertoire.
Ingredients
Dough
1

tsp

active dry yeast

1/3 

cup 

lukewarm water

1/2

tsp 

sugar

1 

tsp 

salt

1/2

tbsp 

oil

1 

cup 

all purpose flour
Filling
50

gam

cheese (any kind), grated

5

tbsp 

mayonnaise

3 

tbsp 

chopped black olives

5

cloves 

garlic, finely chopped

1/2

tsp 

mixed dried herbs

2 

tsp 

chilli flakes
Glaze
1.5 

tbsp 

unsalted butter, melted

1/2

tsp 

mixed dried herbs
Instructions
Proof yeast with sugar and lukewarm water for 10 minutes or until foamy.

Add rest of the dough ingredients and knead until a smooth, soft dough is formed (about 12 minutes).

Let rise in an oiled bowl until dough is doubled, about 1.5 hours.

Mix all the ingredients for the filling and set aside.

Punch down dough and divide into 12 equally sized balls.

Press each ball of dough into a circle of about 1/4 inch thick. Fill with 1 tbsp of filling and bring the edges together to form a smooth ball.

Repeat for the rest of the dough.

Place all the balls of dough in a greased 8 inch baking pan. Cover and allow to rise until the pan is fully covered (about 1.5 hours.

Mix the herbs with the melted butter and pour most of it over the risen dough. Reserve a small amount for brushing on top of the buns after baking.

Bake the rolls in an oven preheated to 200C for about 20 to 25 minutes or until the top is golden brown.

Brush the reserved melted butter on top before serving.
Notes
These Cheesy Stuffed Garlic Bread Rolls are a delightful fusion of textures and flavors. The combination of golden-brown crust, melty cheese, fragrant garlic, and aromatic herbs will leave you craving for more. The secret lies in the dough, which is meticulously crafted to achieve that perfect balance of softness and crunch.
Tips and Tricks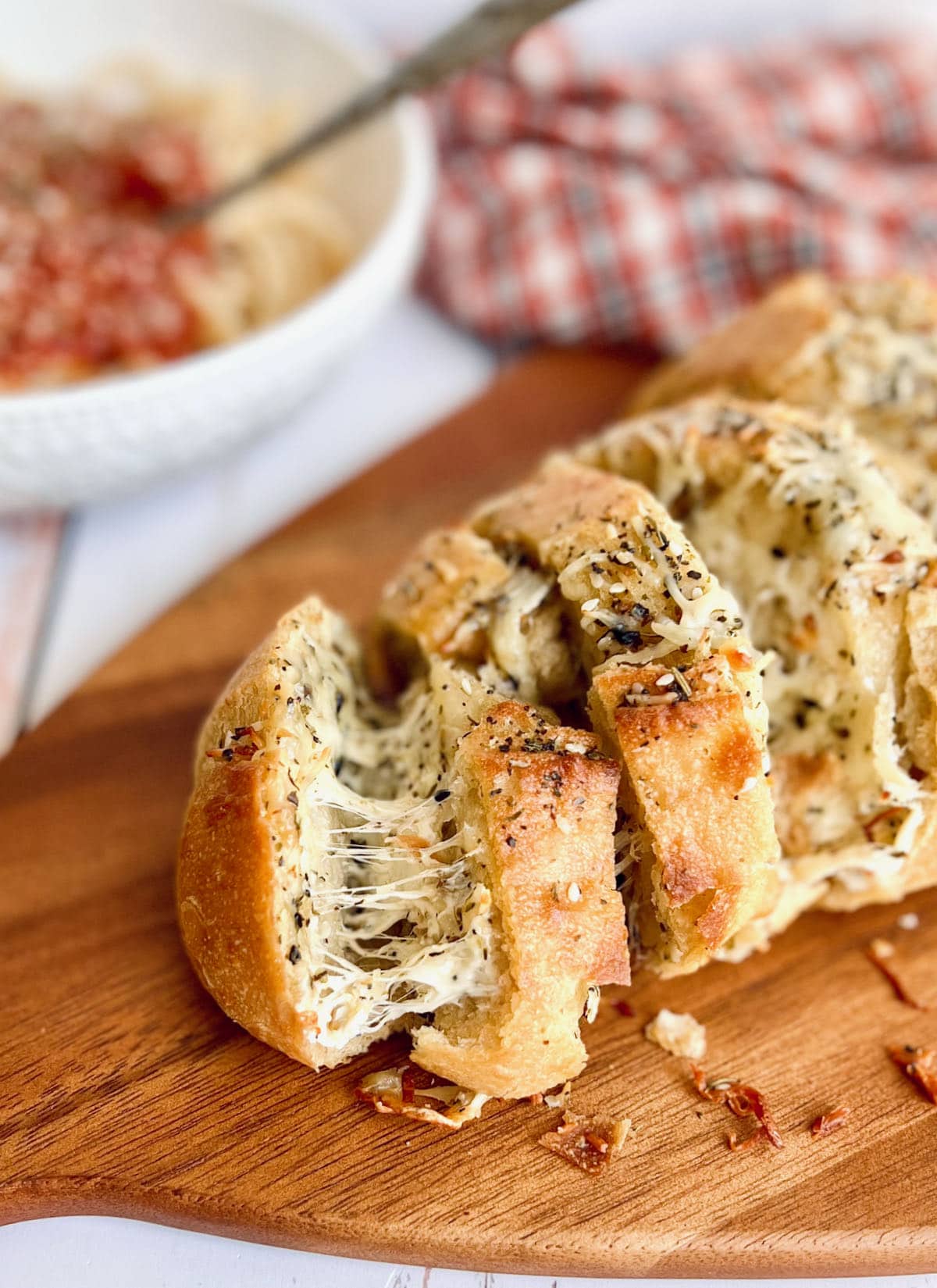 Choose Quality Ingredients: Opt for fresh garlic, high-quality cheese, and aromatic herbs for the best flavor experience.
Proper Rolling Technique: Roll out the dough evenly to ensure uniform layers and a well-balanced filling distribution.
Garlic Infusion: For intense garlic flavor, sauté minced garlic in butter before brushing it onto the dough.
Cheese Melting Point: Mix different types of cheese with varying melting points for a gooey and stretchy interior.
Seal the Ends: Seal the ends of the dough tightly to prevent the cheese from escaping during baking.
Temperature Control: Preheat your oven and bake at the recommended temperature for the perfect golden-brown crust.
Baking Time Awareness: Keep an eye on the rolls while baking to achieve the desired level of crispiness without overcooking.
Resting Period: Allow the rolls to cool slightly before slicing to avoid cheese oozing out excessively.
Experiment with Fillings: Get creative by adding ingredients like cooked bacon, caramelized onions, or even spinach for added flavor and texture.
Serve with Dips: Accompany your rolls with marinara sauce, ranch dressing, or a tangy yogurt dip to enhance the overall taste.
Serving suggestions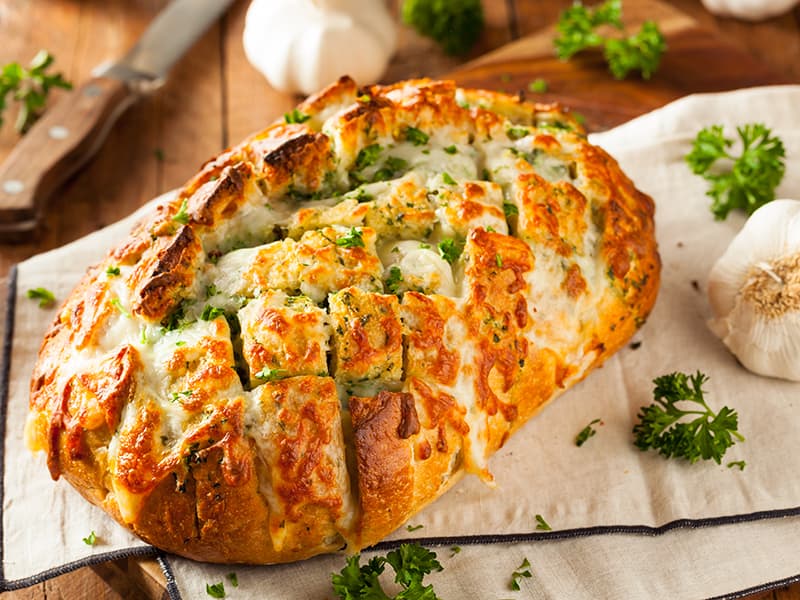 Appetizer Delight: Serve the warm rolls as an appetizer at parties or gatherings. Pair them with marinara sauce, garlic aioli, or a creamy dip for a delightful start to any meal.
Soup Companion: These rolls make a perfect accompaniment to soups and stews. Dip the rolls into the soup to soak up the flavors and enjoy the comforting combination.
Italian Feast: Include the rolls as a side dish for Italian-inspired meals, such as pasta dishes or lasagna. Their garlic and cheese flavors complement the richness of classic Italian cuisine.
Picnic Pleaser: Pack cooled Cheesy Stuffed Garlic Bread Rolls for a picnic. They are convenient to carry and make a satisfying handheld treat while enjoying the outdoors.
Brunch Favorite: Elevate your brunch menu by offering these rolls alongside scrambled eggs, fresh fruit, and a variety of breakfast items.
Game Day Snack: These rolls are perfect for game day gatherings. Their savory and cheesy nature makes them a crowd-pleasing snack to enjoy during sports events.
Kids' Lunchbox: Prepare mini versions of the rolls for kids' lunchboxes. They'll love the cheesy surprise and the burst of garlic flavor.
Holiday Spread: Include these rolls in your holiday feasts as an alternative to traditional dinner rolls. Their unique taste and presentation will be a memorable addition to the table.
Movie Night Treat: Enjoy a cozy movie night at home with a plate of warm Cheesy Stuffed Garlic Bread Rolls. They're a satisfying and comforting snack option.
Culinary Creativity: Experiment with serving suggestions by slicing the rolls horizontally and adding fresh vegetables, grilled chicken, or deli meats to create unique sandwich combinations.
FAQs of Cheesy Stuffed Garlic Bread Rolls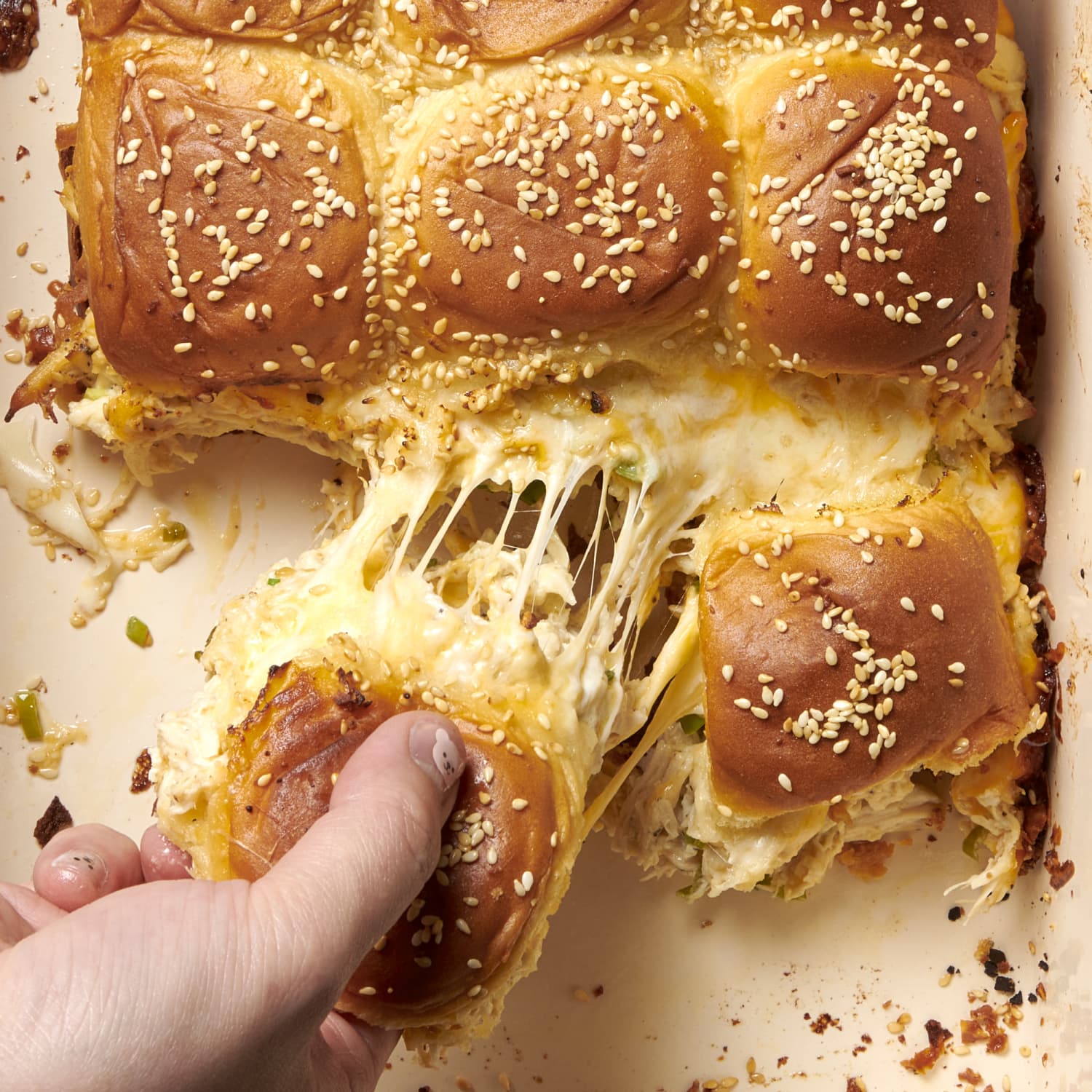 Can I prepare the dough in advance? Absolutely! You can prepare the dough ahead of time and store it in the refrigerator. When ready to bake, let it come to room temperature before proceeding with the recipe.
Can I use different types of cheese? Certainly! Feel free to experiment with various cheeses to suit your taste. Cheddar, mozzarella, and pepper jack are excellent options.
How do I store leftovers? If there are any leftovers (though they tend to disappear quickly!), store them in an airtight container in the refrigerator. Reheat in the oven for a few minutes to regain that wonderful freshness.
Can I freeze the rolls before baking? Yes, you can assemble the rolls and freeze them on a baking sheet. Once frozen, transfer to a freezer-safe bag. When you're ready to enjoy them, bake directly from the freezer, adding a few extra minutes to the baking time.
Can I add extra toppings? Absolutely! Customize your rolls by adding cooked bacon, sautéed mushrooms, or even diced ham before rolling them up. Get creative and make them your own!
Indulge in the heavenly delight of Cheesy Stuffed Garlic Bread Rolls. With their golden crust and gooey interior, they're a flavorful symphony that's perfect for any occasion. Whether as an appetizer, side, or standalone treat, these rolls are sure to satisfy your cravings and leave you wanting another bite.