Get ready to be transported into a world of regal flavors with our Persimmon Prince Cake recipe. As a seasoned food blogger and dedicated chef, I've unearthed a culinary gem that brings the enchanting essence of ripe persimmons into a luscious cake. In this post, I'll share my expertise, serving suggestions, and answer some common questions about this delectable creation. Let's dive into the art of baking fit for royalty!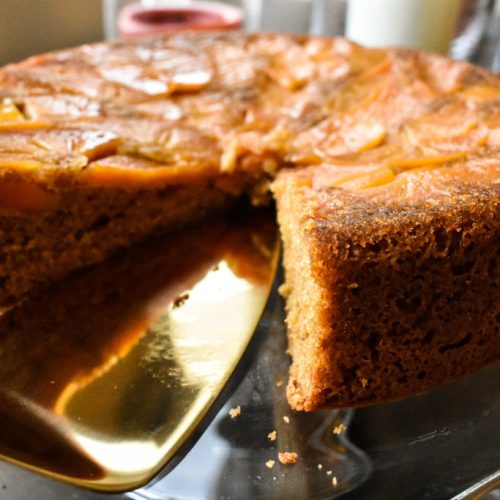 Persimmon Prince Cake
The Persimmon Prince Cake is a creation that brings a touch of regality to your dessert table. With ripe persimmons stealing the spotlight, this cake marries elegance and indulgence effortlessly. As you savor each bite, relish in the harmonious symphony of flavors and textures. So, whether you're hosting an upscale dinner party or simply seeking a slice of edible luxury, the Persimmon Prince Cake awaits to delight your senses. Elevate your baking prowess and let this recipe reign supreme in your culinary repertoire.
Ingredients
1 1/4

cup, cubed

Fuyu persimmons

1

tbs

Coconut oil

1

tbs

Lemon juice

2

tbs

Applesauce, unsweetened

2

cup

Flour, whole-wheat

1/2

cup

Agave nectar

1

tsp

Baking powder

1/2

tsp

Ginger

1/2

tsp

Baking soda

1/2

tsp

Grated nutmeg

1/4

cup

Raisins

1/2

tsp

Salt
Instructions
Initiate microwave dessert making by taking baking pan being microwave safe (Preferably 8x8 or 9x9) and completely grease it up using cooking spray.

In the next step, take medium mixing bowl and fill it by mixing up lemon juice, persimmon, applesauce or coconut oil and agave nectar. Mix them all in gradual manner.

Then take up another fine mixing bowl and mix up other leftover ingredients (do not mix raisins).

Mix content of both bowls to moisten flour as desired. Lastly mix in raisins.

Then allow it to gradually microwave for the next 40-45 minutes or more. Microwave till a toothpick emerges out clean and you get desired softness.

Take out and allow few minutes for the lovely dessert to cool down. Enjoy freshly made microwaved dessert!!
Notes
Embrace the natural sweetness of persimmons to reduce the need for excessive sugar.
Adjust baking times based on your oven's performance to achieve the perfect, moist texture.
Experiment with different spices like cinnamon or nutmeg for added depth to the flavor profile.
Incorporate nuts or dried fruits for a delightful texture contrast.
Things to pay attention to when cooking Persimmon Prince Cake
Ripe Persimmons: Use ripe persimmons that are soft and yielding to the touch. They should have a sweet aroma and vibrant color, indicating they are at their peak of flavor.
Texture Matters: Depending on the variety of persimmon you choose, the texture can differ. Make sure to choose the right type for your desired cake texture – Fuyu persimmons are firmer and work well for diced chunks, while Hachiya persimmons are softer and perfect for purees.
Balancing Flavors: Persimmons have a distinct sweetness, so adjust the amount of added sugar to achieve the desired level of sweetness in your cake. Consider the natural sweetness of the fruit when making this adjustment.
Spice Harmony: Spices like cinnamon, nutmeg, or cardamom can complement the persimmon's flavor beautifully. Be cautious not to overpower the persimmon's natural taste – a subtle hint of spice can elevate the experience.
Texture Enhancements: To add a contrasting texture, consider incorporating chopped nuts like walnuts or pecans. They'll add a delightful crunch to each bite.
Serving Suggestions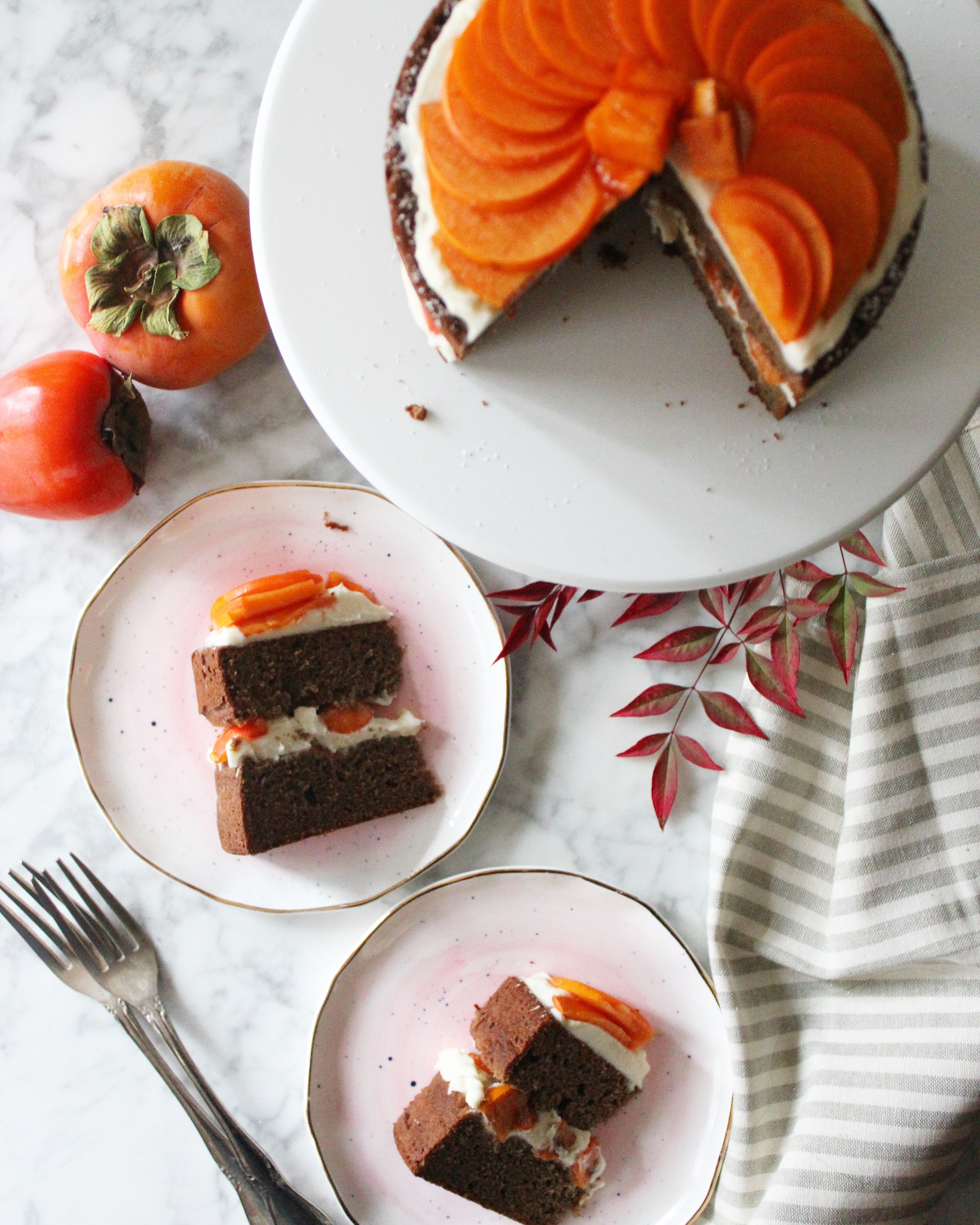 Afternoon Tea Delight: Serve slices of Persimmon Prince Cake alongside a cup of fragrant tea or aromatic coffee for a charming afternoon tea gathering. The cake's natural sweetness pairs beautifully with a cup of Earl Grey or chamomile tea.
Dessert Extravaganza: Elevate your dessert spread by featuring Persimmon Prince Cake as the star attraction. Offer a variety of toppings like whipped cream, vanilla ice cream, or a drizzle of caramel sauce for guests to customize their slices.
Brunch Brilliance: Impress your brunch guests by including Persimmon Prince Cake as a part of the menu. Its warm and comforting flavors make it a perfect addition to a brunch table alongside savory dishes.
Holiday Highlight: Whether it's Thanksgiving, Christmas, or any other festive occasion, the rich flavors of this cake make it a great dessert to celebrate with family and friends. Dust the top with powdered sugar for a snowy effect during the holiday season.
Picnic Pleasure: Pack individual portions of Persimmon Prince Cake for a picnic in the park. Its compact slices are easy to transport, and the cake's fruity goodness will add a touch of indulgence to your outdoor adventure.
Gift from the Heart: Wrap slices of this cake in decorative parchment paper and tie them with a ribbon for a heartfelt homemade gift. It's a thoughtful gesture that your loved ones will truly appreciate.
Cooking Class Treat: If you're hosting a cooking class or food-related workshop, showcasing the Persimmon Prince Cake can be a delightful finale. Your participants will relish the opportunity to taste and learn how to create this delectable dessert.
FAQs of Persimmon Prince Cake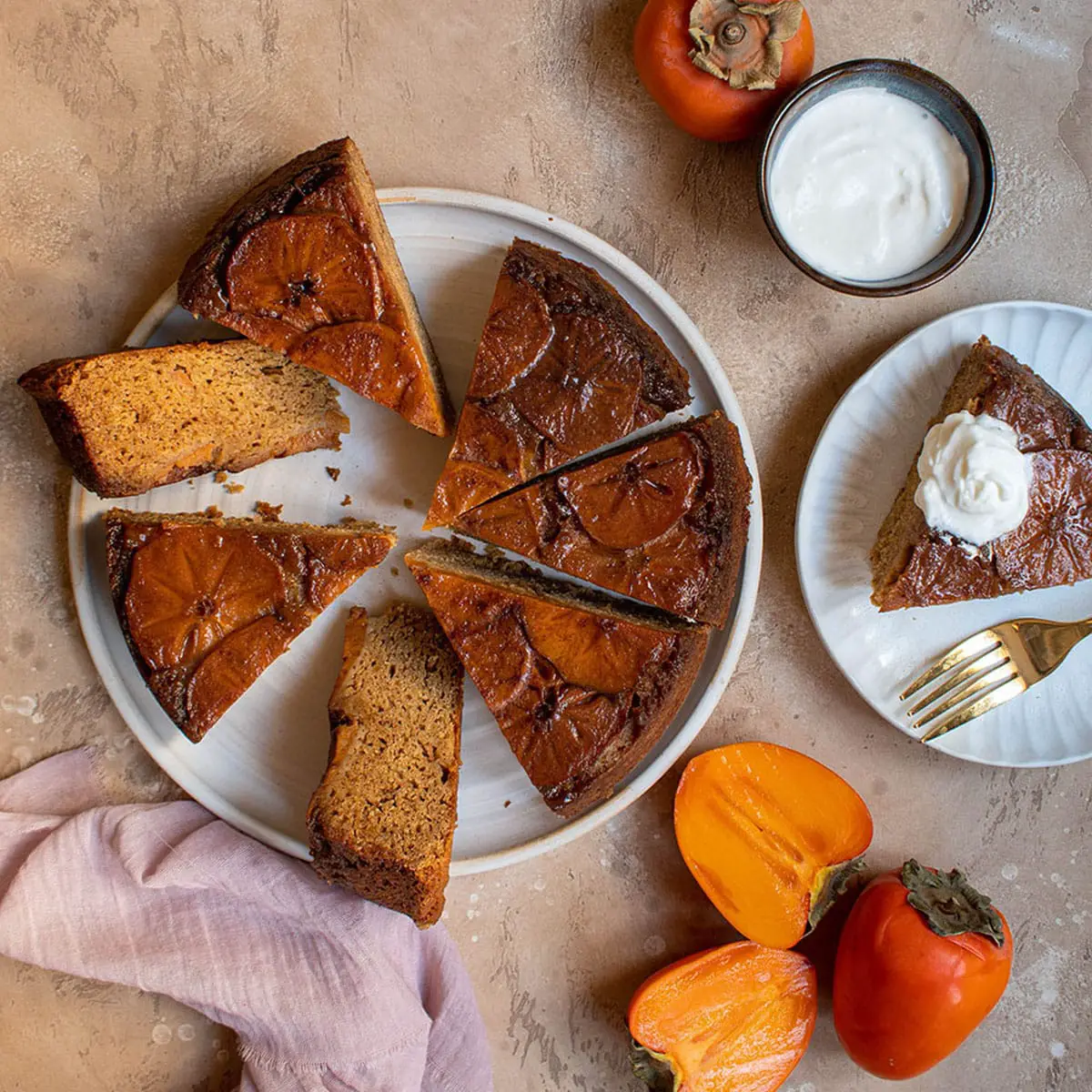 Can I use different types of persimmons for the cake? Absolutely! Whether you opt for Fuyu or Hachiya persimmons, make sure they're ripe and soft for the best results.
How do I store leftovers of the Persimmon Prince Cake? To keep the cake moist and delicious, cover it tightly with plastic wrap or store it in an airtight container at room temperature for up to 3 days.
Can I freeze the cake for later enjoyment? Yes, you can freeze individual slices or the entire cake. Wrap them in plastic wrap and then aluminum foil before freezing. Thaw slices in the refrigerator before serving.
Can I make this cake gluten-free? Certainly! Substitute a gluten-free flour blend for a gluten-free version. Just ensure the blend contains xanthan gum for proper texture.
Can I add a glaze or frosting to the cake? Absolutely, a drizzle of caramel glaze or a cream cheese frosting would be divine complements to the cake's flavors.
Indulge in the exquisite blend of flavors found in every bite of Persimmon Prince Cake. From cozy tea times to festive celebrations, this dessert brings warmth and delight. With its captivating balance of sweetness and spices, this cake is more than a treat – it's a moment of shared joy and culinary artistry. Experience the magic of baking with Persimmon Prince Cake and savor the pleasures it brings to your table.