Bourbon Microwave Balls are super chewy and smooth textured ones along with incredible combination of chocolate and whiskey. The best part of the balls is that it demands no baking at all!!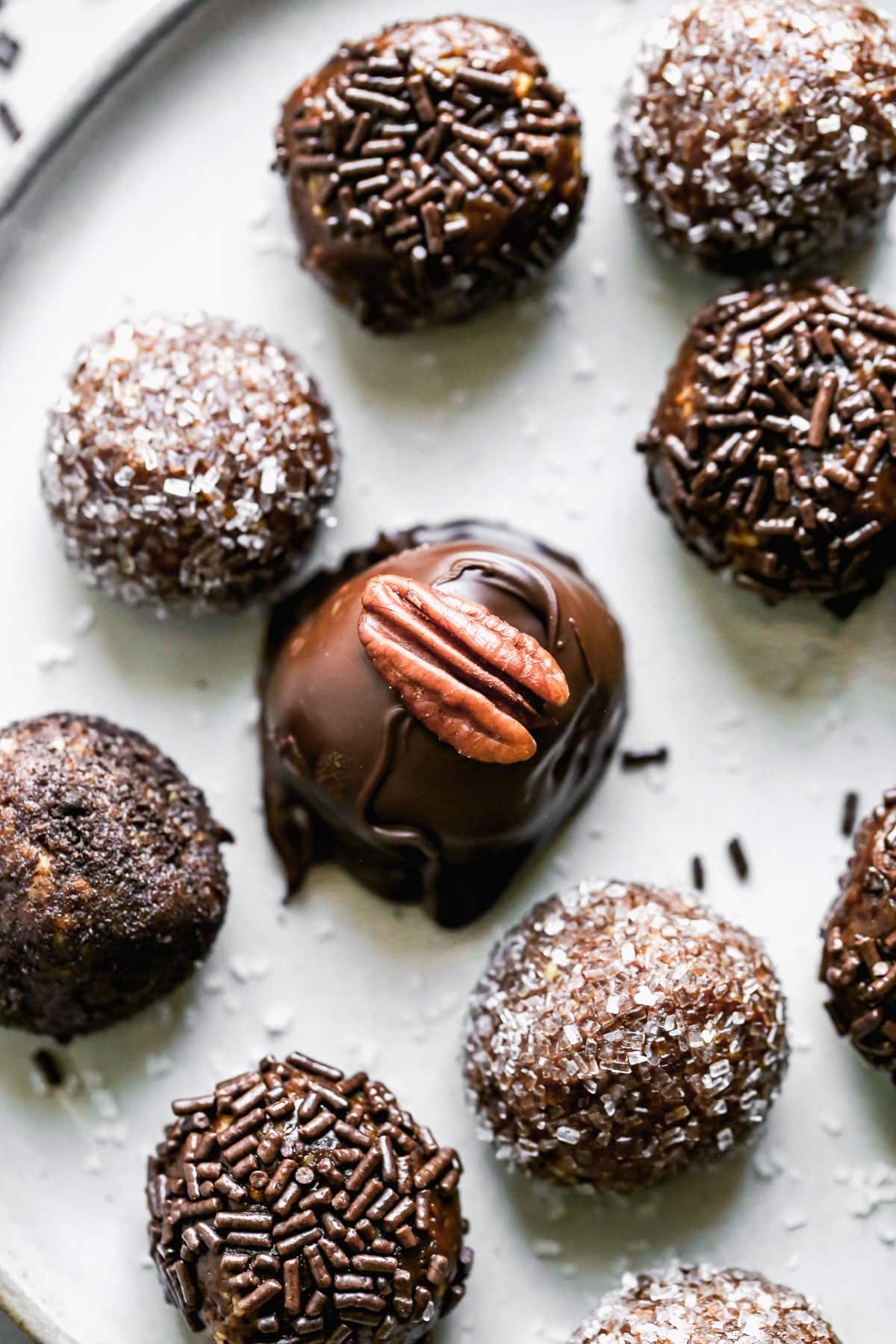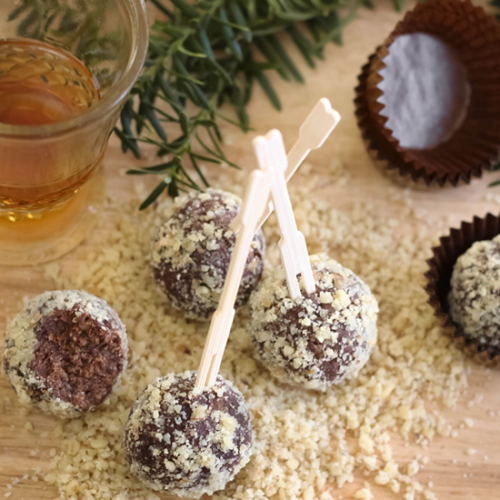 Bourbon Microwave Balls
Embark on a culinary journey that melds expertise and ease with our Bourbon Microwave Balls. Elevate your dessert repertoire and impress your guests with this decadent treat that carries the warmth of bourbon. As a seasoned food blogger and experienced chef, you'll appreciate the simplicity of this recipe without compromising on flavor. Don't hesitate to customize and experiment, infusing your unique touch into this gourmet delight.
Ingredients
12

oz

Vanilla wafers

1

cup

Confectioner's sugar

1

cup

Pecans

2

tbs

Bittersweet cocoa

1/4

cup

Light corn syrup

1/2

cup

Bourbon
Instructions
At first, take vanilla wafers and make fine crumbs from it with the help of food processor. Then allow pecans to toast nicely by putting them to microwave for 4-5 minutes at HIGH setting.

In the food processor, mix up pecans, cocoa, wafers and sugar at pulse mode. Mix them all in gradual manner to make nice mixture.

Then mix in corn syrup, and whiskey with pulse mixture. Then make balls from it with your hands. Enjoy the yummy and savory balls!!
Notes
Crafted with finesse and infused with the charm of bourbon, these microwave balls are a dessert triumph that showcases your culinary mastery. Perfect for those moments when a sweet craving strikes or when you want to impress guests with minimal effort. Enjoy the harmony of flavors as the bourbon notes dance on your palate.
Tips and Tricks for Perfect Bourbon Microwave Balls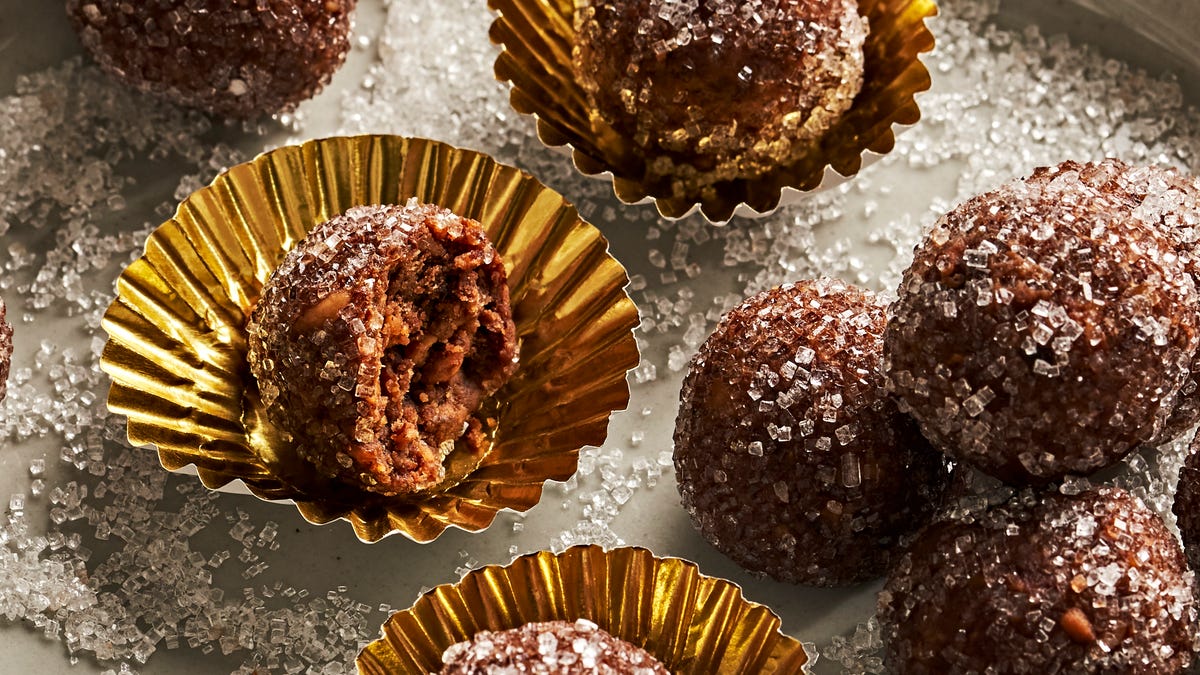 Choose Quality Bourbon: The flavor of your Bourbon Microwave Balls hinges on the quality of bourbon you use. Opt for a smooth and flavorful bourbon that you enjoy sipping as well.
Mind the Microwaving Time: Microwaves vary, so start with shorter intervals and increase gradually if needed. Overcooking can lead to dry microwave balls, so keep a close eye on them.
Play with Add-ins: Elevate your recipe by adding a handful of chopped nuts, chocolate chips, or dried fruits for added texture and flavor complexity.
Consistency is Key: Achieve the perfect consistency by ensuring your mixture isn't too dry or too sticky before forming the balls. Adjust the amount of liquid or dry ingredients as needed.
Chill Before Rolling: Place the mixture in the refrigerator for a short while before rolling into balls. This makes handling easier and prevents the mixture from sticking to your hands.
Dust with a Flavorful Touch: Roll your bourbon microwave balls in cocoa powder, powdered sugar, or crushed nuts for an extra layer of flavor and a delightful presentation.
Seal in Freshness: Store your prepared bourbon microwave balls in an airtight container with parchment paper between layers to prevent sticking and preserve their freshness.
Experiment with Garnishes: Elevate the visual appeal of your bourbon microwave balls by garnishing them with edible flowers, a drizzle of melted chocolate, or a sprinkle of edible gold dust.
Personalize the Serving Experience: Serve your bourbon microwave balls on elegant dessert plates with small forks or toothpicks for easy indulgence. Consider offering a variety of garnishes for guests to customize their treats.
Share the Experience: Engage your friends, family, or guests in the preparation process. Invite them to roll their own bourbon microwave balls, making for an interactive and memorable culinary experience.
Serving suggestions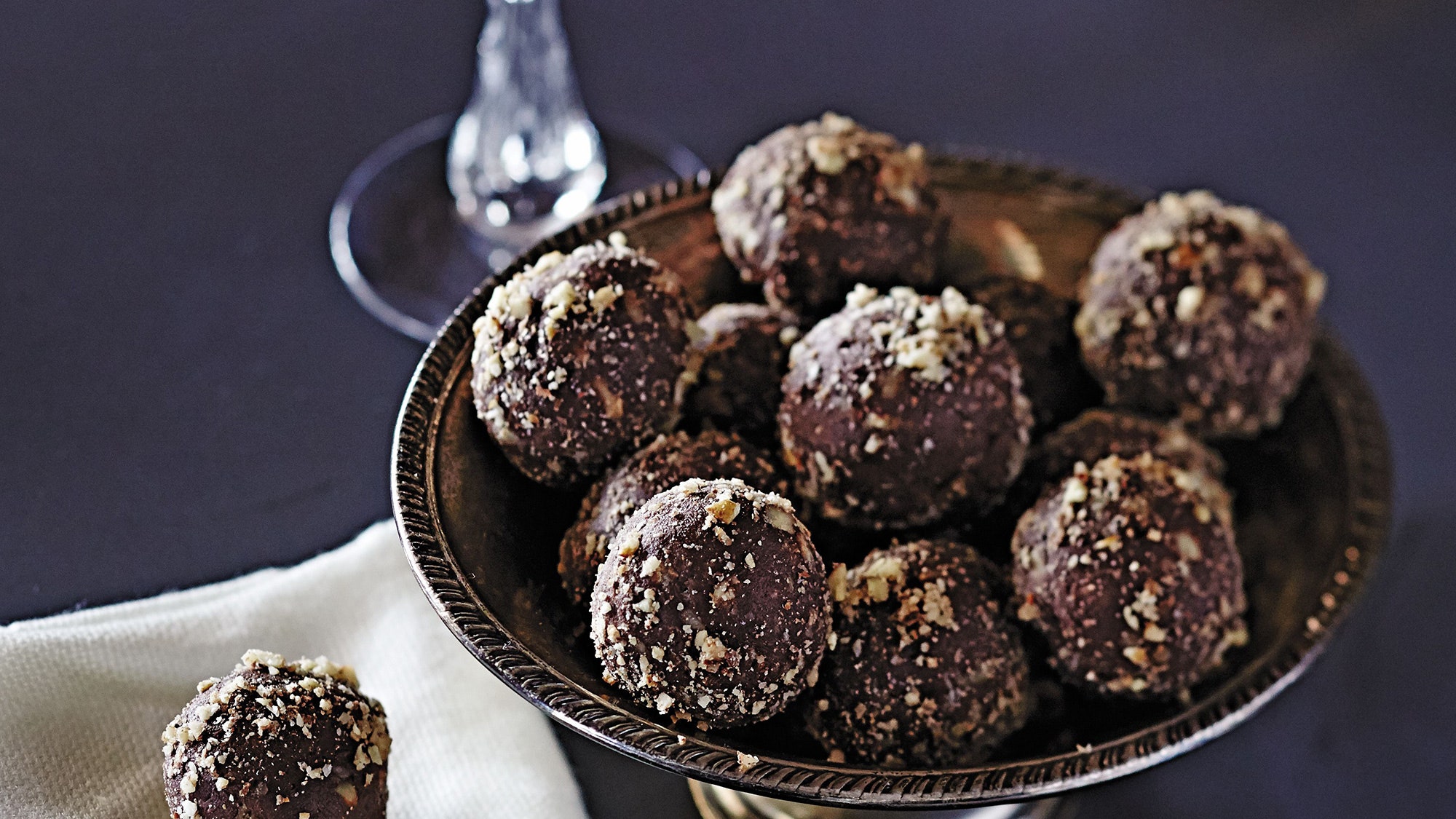 Dessert Extravaganza: Create an unforgettable dessert spread by featuring Bourbon Microwave Balls as the star attraction. Arrange them on a decorative platter alongside fresh fruits like strawberries, raspberries, and sliced figs. Serve with a drizzle of caramel sauce and a dollop of whipped cream for a luxurious touch. Perfect for elegant dinner parties and special occasions.
Whiskey Tasting Night: Host a sophisticated whiskey tasting evening with friends and include Bourbon Microwave Balls as a delightful pairing. Serve them alongside a selection of fine bourbons and whiskies, allowing guests to experience the harmony of flavors between the dessert and the spirits. The sweet notes of the microwave balls complement the complex profiles of the liquors.
Afternoon Tea Delight: Elevate your traditional afternoon tea by adding a contemporary twist with Bourbon Microwave Balls. Arrange them on a tiered stand alongside delicate finger sandwiches, scones with clotted cream and jam, and a variety of tea options. The microwave balls provide a luscious and indulgent treat that contrasts beautifully with the tea's elegance.
Intimate Date Night: Surprise your partner with a romantic home-cooked dinner followed by the seductive charm of Bourbon Microwave Balls. Present them on individual dessert plates, garnished with edible flowers and a sprinkle of powdered sugar. The soft lighting and the bourbon-infused sweetness set the stage for a memorable and intimate evening.
Family Brunch Celebration: Make your family brunch extraordinary by incorporating Bourbon Microwave Balls into the menu. Serve them with a side of vanilla ice cream and fresh mixed berries for a balanced and delectable finish to the meal. The microwave balls' ease of preparation allows you to focus on spending quality time with your loved ones.
FAQs of Bourbon Microwave Balls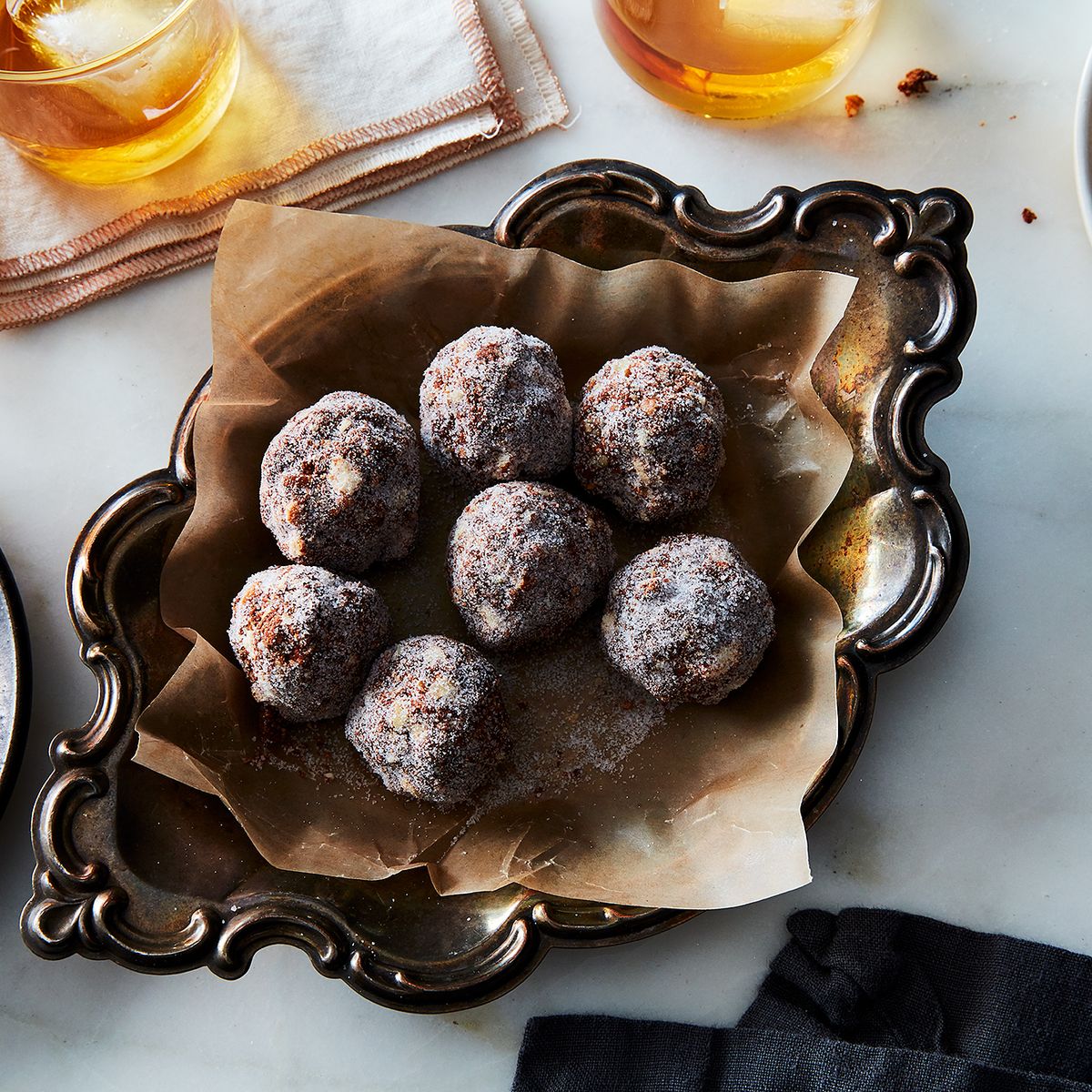 Can I use a different type of alcohol? Absolutely, while bourbon brings a unique charm, feel free to experiment with other spirits like rum or brandy for a different flavor profile.
Can I make these in advance? Indeed, these microwave balls can be prepared ahead of time and stored in an airtight container at room temperature for up to a week.
How do I prevent the balls from becoming too dry? Ensure you don't overcook them; microwave times may vary. Start with shorter intervals, checking the consistency and adjusting accordingly.
Can I make a non-alcoholic version? Certainly, substitute bourbon with a splash of vanilla extract or your preferred flavoring for a delightful non-alcoholic variation.
How should I store any leftovers? Place any leftover bourbon microwave balls in an airtight container and store them in a cool, dry place to maintain their freshness and flavor.
With Bourbon Microwave Balls, you've unlocked a dessert secret that combines your culinary finesse with the allure of bourbon. These indulgent treats are your canvas, ready to impress guests, satisfy cravings, and add a touch of elegance to any occasion. Let your expertise shine as you craft these delectable delights and share the joy of instant gourmet satisfaction.