Indulge in the irresistible fusion of bold flavors with our Peri Peri Chicken Pizza recipe. This fiery delight combines succulent grilled chicken marinated in spicy peri peri sauce, fresh veggies, and gooey cheese on a perfectly baked crust. Get ready to ignite your taste buds and take your pizza game to a whole new level.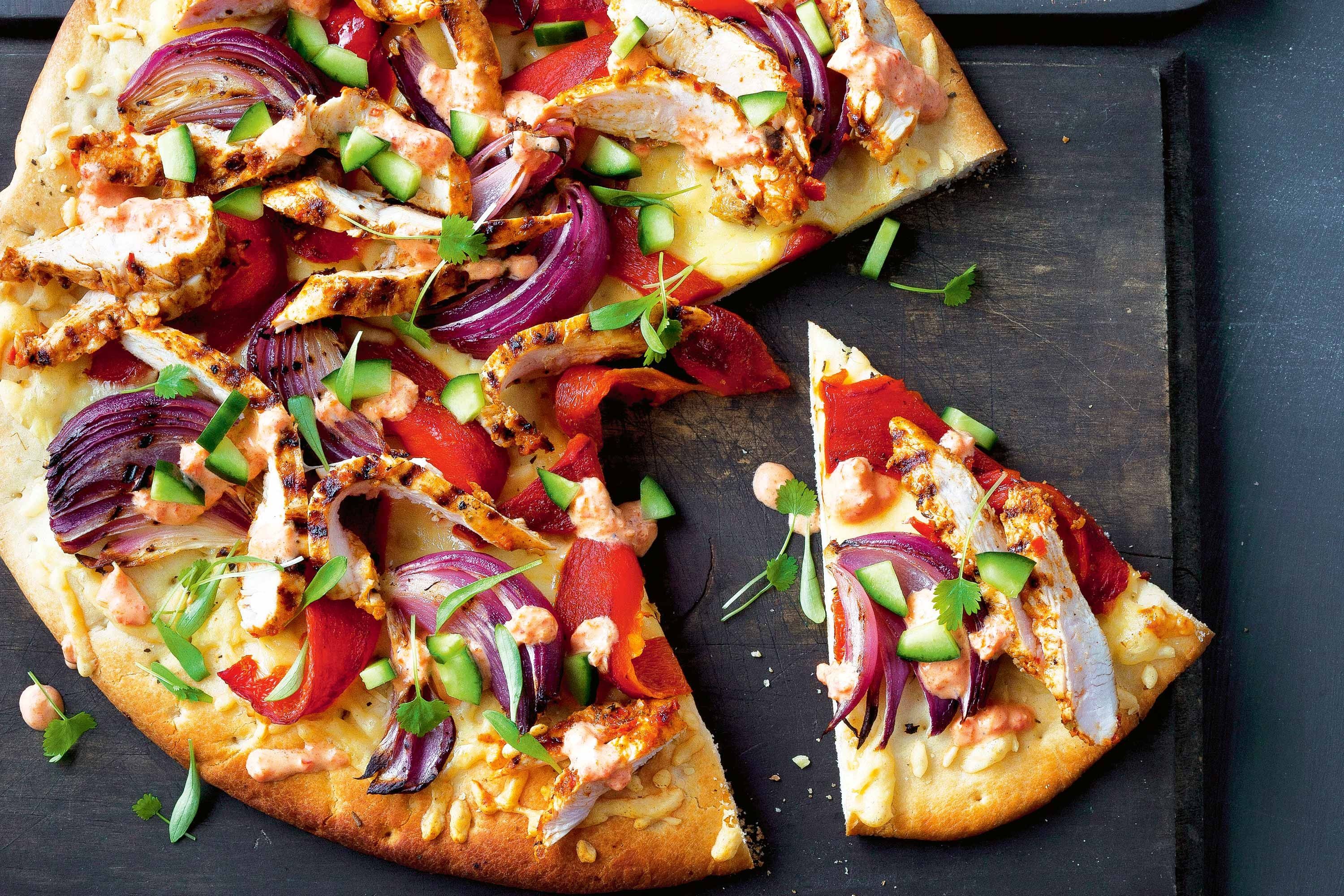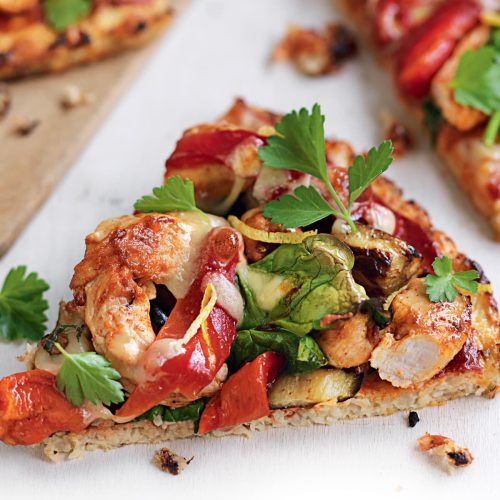 Peri Peri Chicken Pizza
Prepare to embark on a taste journey that combines the fiery allure of peri peri with the comfort of a classic pizza. The Peri Peri Chicken Pizza is an ode to culinary creativity, an invitation to embrace the thrill of spice, and a reminder that even a beloved dish can be reinvented with boldness. From game nights to family feasts, let this pizza be the star that ignites conversations and makes memories, one spicy slice at a time.
Equipment
1 grinding tools

1 blender

1 bowl

1 pan

1 stove

1 oven

1 baking pan

parchment paper
Ingredients
Peri Peri Sauce
1 

small 

red bell pepper

5 

cloves 

garlic

4 

regular dried red chillies

2 

Kashmiri dried red chillies

3/4

tsp 

 red chilli powder

1 

T

mixed dried herbs

1 1/2

tsp 

black pepper powder

2 

T 

vinegar/lemon juice

2 

T

refined oil

1 

T

sugar

salt to taste
Peri Peri Cheese Sauce
2 

T 

Peri Peri Sauce

40

gam

grated processed cheese (I used 2 Amul cubes)
Pizza Sauce
2 

large 

tomatoes, chopped

1/4

cup 

tomato puree

2 

cloves 

garlic, chopped

1 

tsp 

black pepper powder

1 

tsp 

mixed dried herbs

2 

T 

olive oil

salt to taste
Pizza Dough
220

gam

AP flour (about 1.75 cups)

1.75

T

instant yeast

1 

tsp 

sugar

3/4 

tsp 

salt

1.5

T 

olive oil

1/2 C + 1 T

lukewarm water

more olive oil to coat dough
Toppings
250

gam

boneless chicken thighs, cut into 1 inch pieces

300

gam

mozzarella, shredded

onion slices (I used 1/2 onion)

bell pepper slices (I used 1/2 bell pepper)

olive oil for greasing
Instructions
Make the Peri Peri Sauce
Grind all ingredients under Peri Peri Sauce in a blender.
Marinate the Chicken
Reserve 3 T of the peri peri sauce.

 In a bowl, mix the rest of the sauce with the chicken pieces and marinate for 30 minutes.
Make the Peri Peri Cheese Sauce
In a small heavy bottom pan, heat the reserved peri peri sauce and the grated processed cheese on medium low heat.

Cook for about 3 to 4 minutes until cheese is melts into the sauce and the sauce starts to boil.

 Cook for a few more minutes until sauce is thickened.
Make the Pizza Sauce
Heat olive oil in a stainless steel saucepan on low heat.

Add garlic and saute until browned. 

Add the rest of the ingredients and mix well.

Turn heat up to medium and cook covered for 5 to 8 minutes until tomatoes turn soft and mushy.

Grind in a blender until smooth.
Cook the chicken
Preheat oven to 225 C. Line a baking pan with parchment paper and arrange the chicken pieces on top. 

Flip the chicken pieces upside down. 

Turn the temperature down to 125 C and bake for another 15 to 20 minutes until the marinade has cooked off.
Make the dough
While the chicken is cooking, make the dough.

Add yeast, sugar, salt and half of the flour into a large bowl.

Add the warm water and olive oil and stir with a wooden spoon until fully mixed.

Add the rest of the flour a little at a time and continue to stir until you get a slightly sticky dough. 

Oil your hands and knead the dough for a minute.

Form it into a ball and coat it with a little more oil. 

Cover and let rise for 30 minutes.
Divide the Dough
Line a large baking pan with parchment paper and generously oil the parchment. 

Punch the risen dough and divide it into 2 halves.
Bake the Pizza
Place one half on the baking pan and use fingers to form it into an 8 inch circle, about a 1/4 inch thick.

Use your hands to form a small lip around the edge of the circle of dough.

Brush olive oil on top of the dough

Spread half of the pizza sauce on top of the dough.

Sprinkle half of the mozzarella on top of the pizza sauce. 

Drizzle a little bit of the peri peri cheese sauce over the mozzarella (make sure you don't add too much of this as the flavour might be overwhelming).

 Add half of the baked chicken pieces, onion and bell peppers.

Top with a little more mozzarella if you like. 

Place the baking tray on the bottom rack of the oven and bake for 10 to 12 minutes until the bottom of the crust is browned.

Repeat Step 8 for the other half of the dough.
Notes
Marinating the chicken in peri peri sauce infuses it with layers of vibrant flavor and heat.
Opt for a pre-made pizza crust or create your own for a personalized touch.
Balancing the toppings ensures a harmonious blend of textures and tastes in every bite.
Nutritional ingredients of Peri Peri Chicken Pizza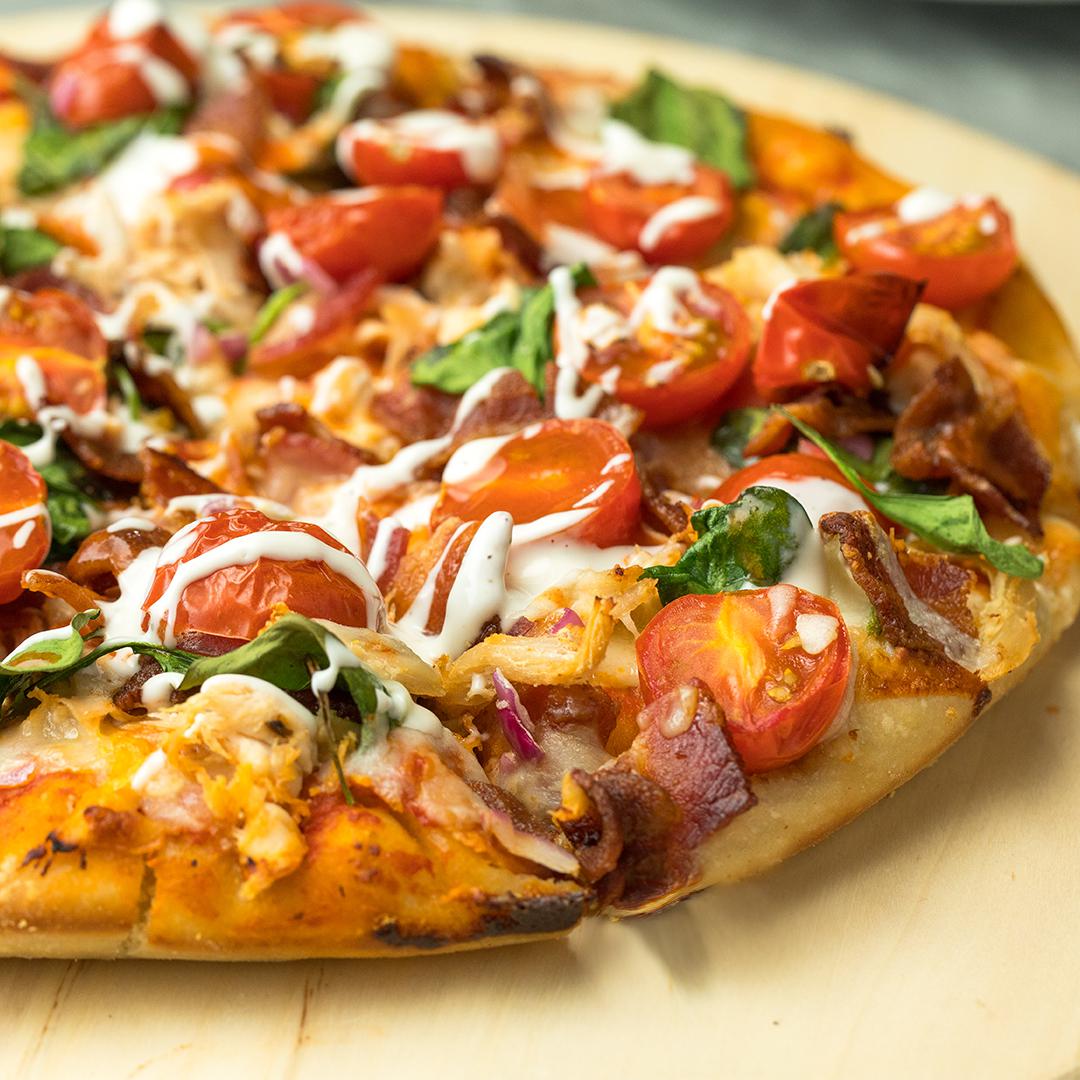 Peri Peri Chicken Pizza offers a tantalizing blend of flavors and nutrients. While nutritional values can vary based on ingredients and portion sizes, here's an overview of what you might find in this delicious creation:
Lean Protein: Grilled peri peri chicken provides a substantial source of lean protein, essential for muscle repair and overall health.
Carbohydrates: Pizza crust contributes carbohydrates, supplying energy for daily activities.
Healthy Fats: If using cheese, you'll benefit from healthy fats, which aid in nutrient absorption and support cell health.
Dietary Fiber: Vegetables like bell peppers and onions bring dietary fiber to aid digestion and promote satiety.
Vitamins and Minerals: The toppings contribute vitamins like vitamin C from bell peppers and minerals like calcium from cheese.
Antioxidants: Certain veggies may offer antioxidants, helping to combat oxidative stress and promote well-being.
Spice Benefits: Peri peri sauce's heat is derived from capsaicin, which may boost metabolism and provide anti-inflammatory effects.
Serving suggestions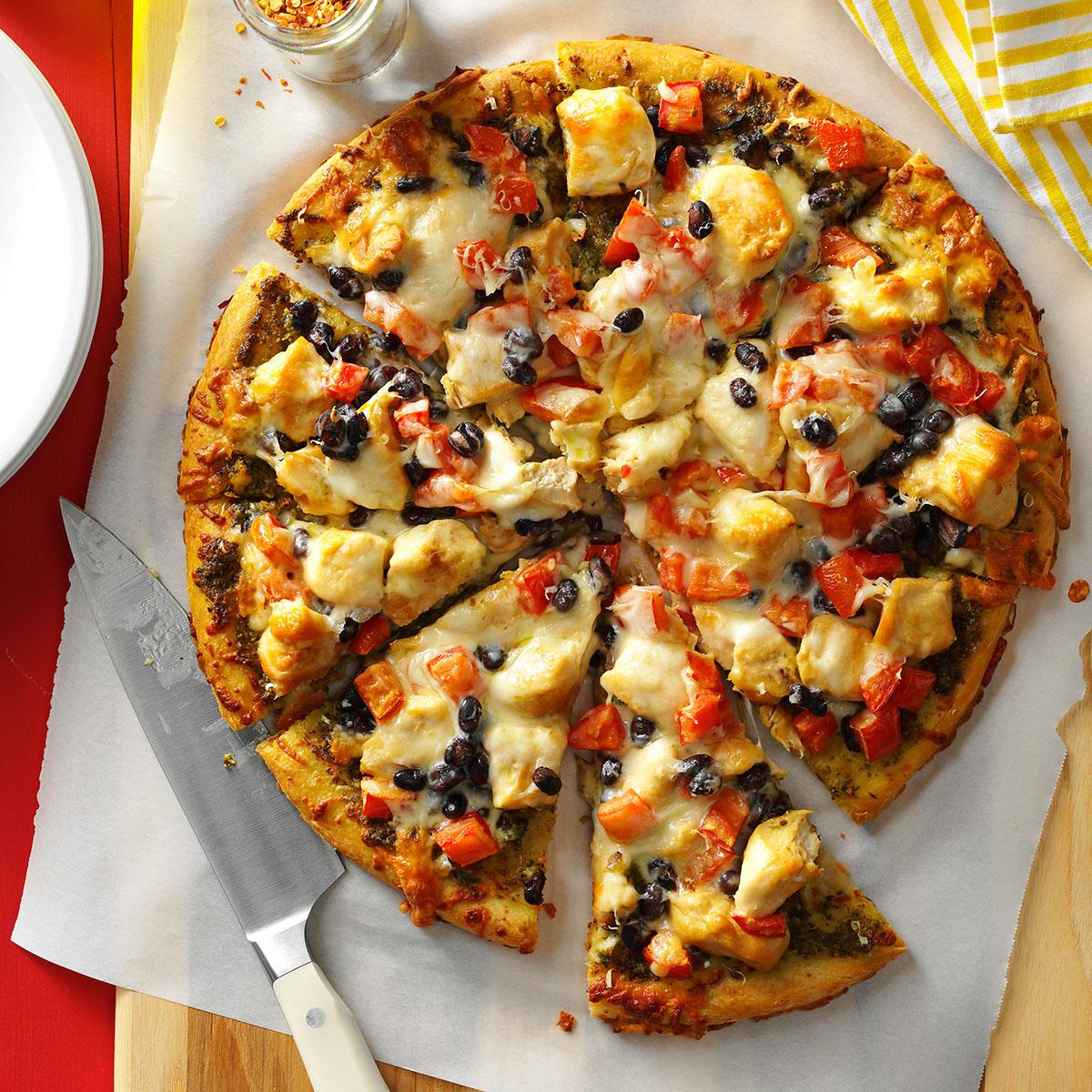 Fresh Garden Salad: Balance the heat with a crisp garden salad dressed in a light vinaigrette. The contrast of cool greens complements the spicy pizza.
Garlic Butter Dipping Sauce: Prepare a side of garlic butter sauce for dipping the pizza crust. This indulgent addition adds a buttery touch to every bite.
Mango Salsa: A fruity and zesty mango salsa brings a refreshing burst of flavors that harmonize with the heat of peri peri chicken.
Cooling Yogurt Dip: Create a cooling dip by mixing yogurt with chopped herbs and a touch of lemon juice. It's a soothing complement to the spice.
Sweet Potato Fries: Satisfy cravings for something crispy with a side of baked sweet potato fries. Their natural sweetness balances the spiciness.
Cucumber Mint Cooler: Quench your thirst with a refreshing cucumber and mint cooler. Its soothing nature counters the heat.
Mediterranean Couscous Salad: Pair your pizza with a Mediterranean-inspired couscous salad laden with olives, feta, and fresh herbs. The flavors harmonize beautifully.
Roasted Vegetable Platter: Roasted vegetables like zucchini, eggplant, and cherry tomatoes make for a colorful and flavorful side.
Citrus-Infused Water: Create a citrusy, infused water with slices of lemon, lime, and orange to cleanse your palate between bites.
Indulgent Chocolate Dessert: For a sweet finale, opt for a rich chocolate dessert like lava cake to contrast the spice with sweetness.
FAQs of Peri Peri Chicken Pizza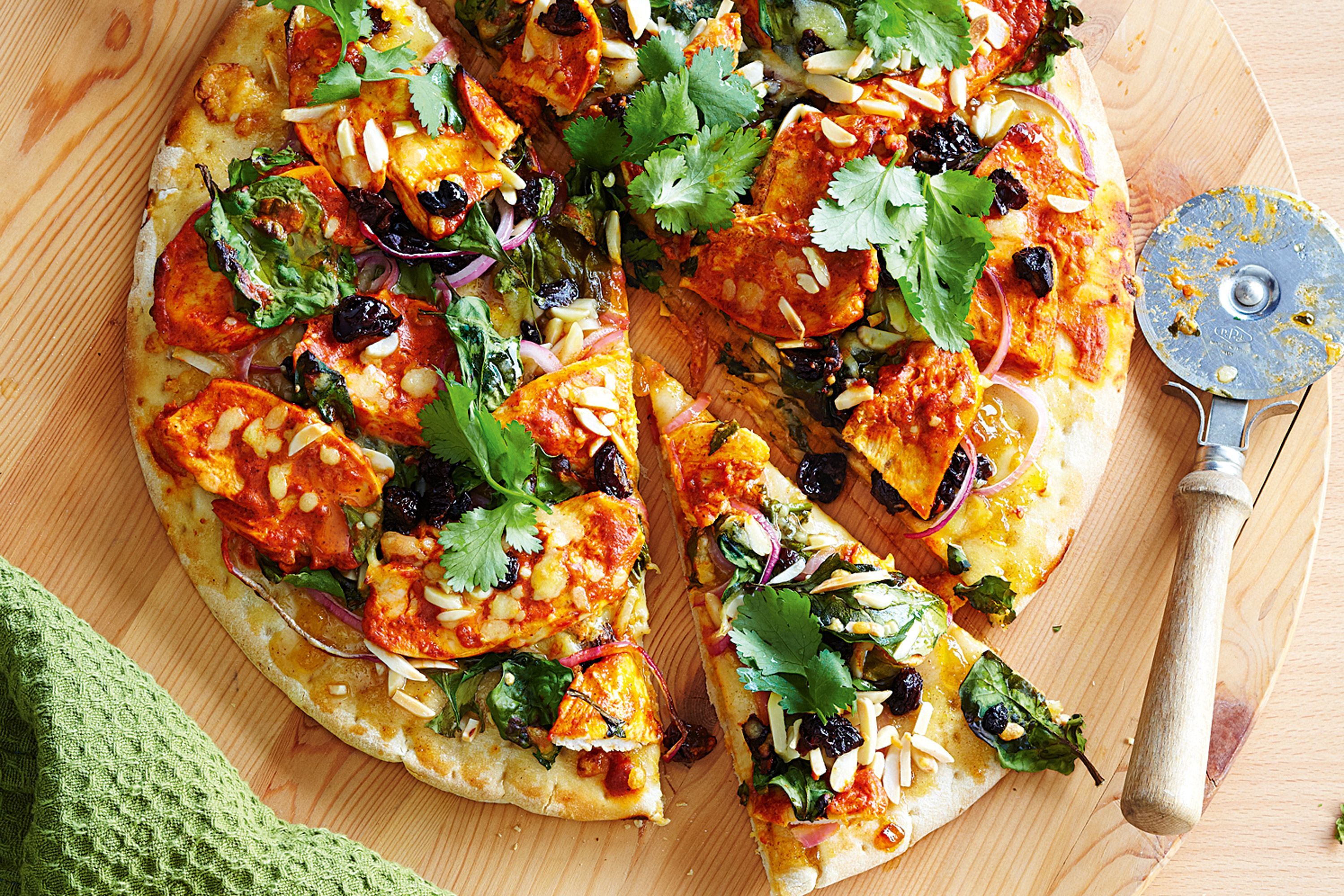 Is peri peri sauce very spicy? Peri peri sauce packs a punch, but you can adjust the spice level by controlling the amount of sauce used in the marinade.
Can I use store-bought pizza crust? Absolutely! Opt for store-bought crust for convenience or experiment with different crust varieties for a unique twist.
What veggies go well with peri peri chicken pizza? Bell peppers, red onions, and tomatoes complement the spicy chicken beautifully, adding color and freshness to each slice.
Can I make it vegetarian? Certainly! Swap the chicken for grilled vegetables or plant-based protein options for a delicious vegetarian alternative.
How can I store leftovers? Place leftover slices in an airtight container in the refrigerator. Reheat in the oven or a skillet for the best results.
As you take the final bite of Peri Peri Chicken Pizza, let its fiery essence linger on your palate. This pizza is a culinary masterpiece that sparks joy and warmth with every slice. So, go ahead, embrace the heat, savor the flavor, and keep your kitchen filled with the spirit of bold exploration.
Enhancing Your Pizza Making Experience: Stand Mixers and Bread Machines for Pizza Dough
In the Peri Peri Chicken Pizza recipe above, everything from making your own pizza dough to creating a homemade peri peri sauce is covered. However, if you're looking for some kitchen tools that can make your pizza preparation even easier and more efficient, consider investing in a stand mixer or a bread machine specifically designed for dealing with pizza dough.
Stand mixers are versatile kitchen appliances that can efficiently knead pizza dough, saving you time and effort. They come with various attachments, making them useful for a wide range of cooking and baking tasks beyond just pizza making. If you're interested in finding the best stand mixer for pizza dough
On the other hand, a bread machine takes convenience to another level. Not only does it mix and knead the dough, but it also allows for a controlled environment for the dough to rise perfectly. Many modern bread machines also have specific settings for different types of dough, including pizza dough. If this sounds like an appliance that would suit your needs, consider checking out our list of the best bread machines for pizza dough.
Both of these kitchen tools can significantly enhance your homemade pizza experience, adding convenience and ensuring consistent results every time. Whether you decide on a stand mixer, a bread machine, or both, you'll be well-equipped to tackle any pizza dough recipe, including our tantalizing Peri Peri Chicken Pizza.