Delve into the world of culinary sophistication with our Malai Kofta Curry recipe. This iconic Indian dish brings together velvety koftas—soft dumplings made from paneer and vegetables—with a luscious tomato-based gravy. Embark on a journey of taste and texture that's sure to captivate your senses and elevate your dining experience.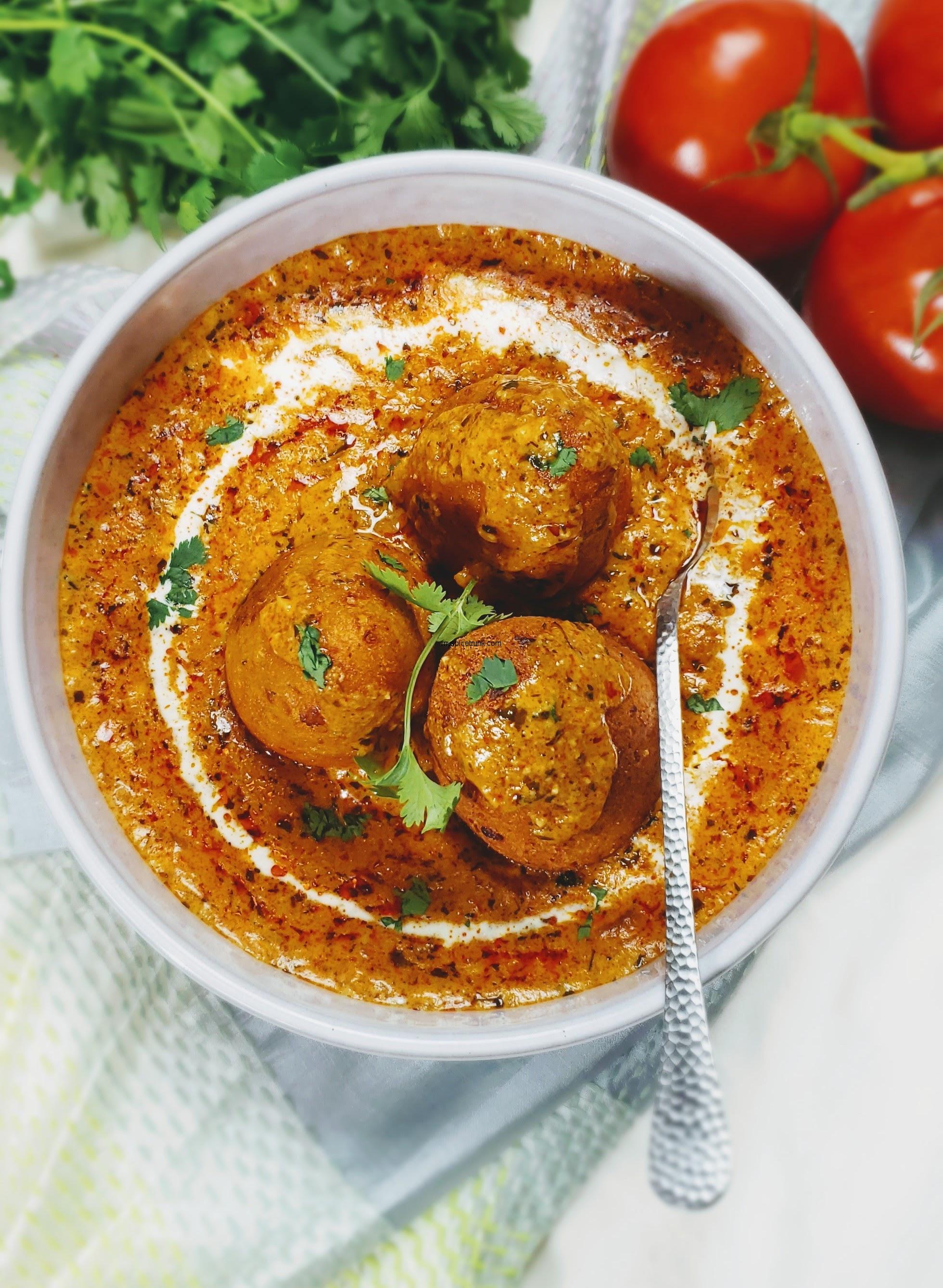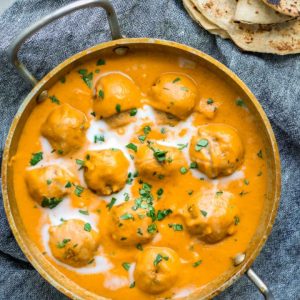 Easy Malai Kofta Curry Recipe
Malai Kofta Curry is a culinary gem that marries indulgence with authenticity. Its soft koftas, bathed in a velvety gravy, offer a sensory experience that transcends taste alone. Whether it's a celebration or a cozy family meal, this dish embodies the essence of Indian cuisine—a celebration of tradition, taste, and the joy of shared meals.
Ingredients
Koftas
125

gam

grated paneer (roughly 1 cup)

2

medium potatoes, boiled and mashed

1 

medium green chilli, finely chopped

1 

tbsp 

cashews, finely chopped

1 

tbsp 

almonds, finely chopped

2 

tbsp 

coriander leaves, finely chopped

1 

tsp 

chilli powder

1/2

tsp 

cumin powder

1/4

tsp 

garam masala

2 to 3

tbsp 

all purpose flour

salt, as required

oil for frying
Curry
2 

dried Kashmiri chillies

1 

tbsp 

cashews, finely chopped

1 

tbsp 

almonds, finely chopped

1 

small cinnamon stick (1 inch piece)

3 

small pods of cardamom, smashed

1 

tsp 

cumin seeds

1 

large onion, chopped

2 

large tomatoes, chopped

1 1/2

tsp 

ginger garlic paste

2 

small green chillies, chopped

1 1/2

tsp 

chilli powder

1/2

tsp 

cumin powder

1/4

tsp 

garam masala

1 

tsp 

kasuri methi

1/4

C fresh cream

1/2

tsp 

sugar

2 

tbsp 

oil

2

tbsp 

butter

1/4

C 

warm water

salt, as required

2 

tbsp 

cream, for garnishing

a few sprigs of mint, for garnishing
Instructions
Mix all ingredients for the koftas together until fully combined. 

 If mixture is too crumbly to form into balls, add water 1 tsp at a time until you're able to form the dough into balls. 

If the dough is too wet, add all purpose flour 1 tbsp at a time until you're able to handle the dough without it sticking to your hands too much.

Be careful while adding the water or all purpose flour. 

Adding too much of the former will make the koftas oily, while adding too much of the latter will make the koftas taste dry and doughy.

Form the dough into 2 inch koftas with oiled hands (I was able to form 12 koftas).

Cover and refrigerate the koftas.

Soak the cashews, almonds and dried Kashmiri chillies in warm water for about 15 minutes.

In a kadai, heat oil until hot. Add chopped onions, ginger garlic paste and chopped green chillies and saute until fragrant, and the onions are soft.

Add chopped tomatoes. Cover and cook for 5 to 8 minutes until tomatoes are mushy. Turn off the heat and let cool.

Blend the onion-tomato mixture, cashews, almonds and red chillies (without the water) into a fine puree.

You can add a few teaspoons of water to help blend it.

Pass the puree through a sieve. 

 If you are not particular about having a smooth curry, you can skip this step, but I recommend sieving the mixture.

In the same kadai used for sauteing the onions and tomatoes, heat butter and oil.

Add cinnamon, cardamom, cumin seeds and cloves.

Fry on medium low heat until aromatic.

Add the puree and cook for about 2 to 3 minutes.

Add chilli powder, coriander powder, cumin powder, salt and sugar. Mix well and cook for 3 to 4 minutes.

Add cream, garam masala and kasuri methi. Simmer for a few minutes before turning off the heat.

Heat a few inches of oil in a large kadai on medium. Fry the prepared koftas until they are a dark golden brown.

Arrange the koftas in a serving bowl and pour the curry over it.

Garnish with more cream and mint leaves, and serve immediately.
Notes
Crafting the perfect koftas requires achieving the right balance of ingredients to ensure both softness and structure.
The creamy and aromatic tomato gravy complements the koftas, creating a harmonious symphony of flavors.
Nutritional ingredients of Malai Kofta Curry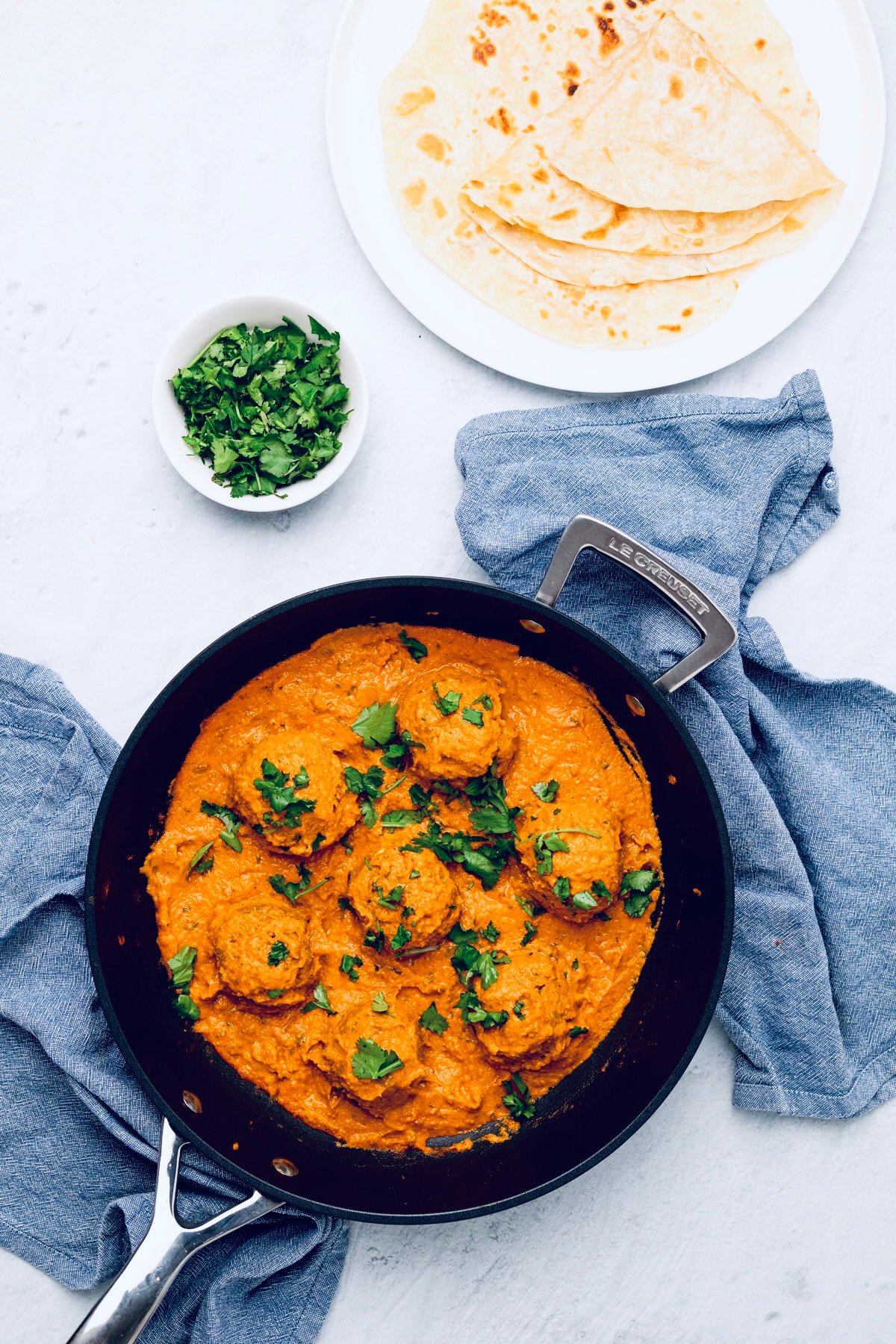 Protein: The paneer and vegetable koftas are rich in protein, which is essential for muscle repair and overall body function.
Carbohydrates: The gravy and koftas contribute carbohydrates, providing energy for daily activities.
Dietary Fiber: The vegetables in the koftas and the tomato-based gravy add dietary fiber, which aids digestion and supports gut health.
Healthy Fats: Paneer and cream used in the gravy add healthy fats that aid in nutrient absorption and provide a source of energy.
Vitamins and Minerals: The dish is likely to contain vitamins like A, C, and K from the vegetables and minerals like calcium and phosphorus from paneer.
Calories: The creamy nature of the dish might contribute to higher calorie content, making it a satisfying and indulgent choice.
Serving suggestions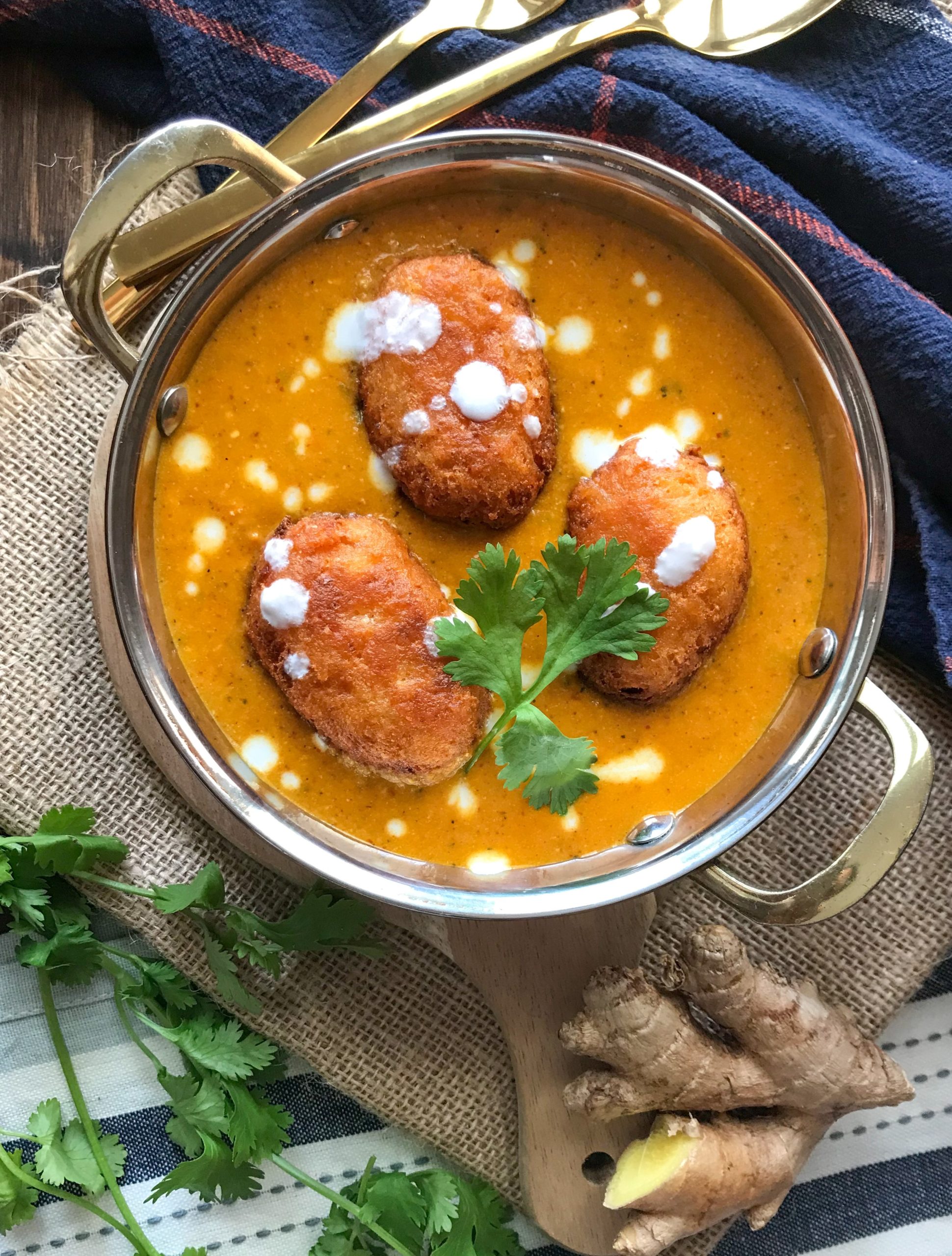 Fragrant Basmati Rice: Serve Malai Kofta Curry with fluffy, aromatic basmati rice. The subtle fragrance of the rice perfectly harmonizes with the creamy gravy.
Naan or Roti: Pair this dish with freshly baked naan or roti. These soft Indian breads are ideal for sopping up the luscious gravy.
Cumin-Infused Jeera Rice: For a twist, consider serving the kofta curry with jeera rice—a flavorful option where cumin seeds infuse their aroma into the rice.
Fresh Mint Chutney: A minty chutney provides a refreshing contrast to the richness of the curry, balancing the flavors on your palate.
Vegetable Pulao: Opt for a vegetable pulao to bring a medley of colors and flavors to the table. The mix of vegetables in the pulao complements the koftas beautifully.
Pickles and Papad: Add a touch of tanginess with a side of Indian pickles, and add a satisfying crunch with papad—a thin, crispy lentil cracker.
Fresh Salad Greens: Balance the meal with a side salad made of fresh greens, cucumber, and tomatoes drizzled with a light vinaigrette.
Yogurt Raita: Creamy yogurt raita with a hint of roasted cumin powder offers a cool and refreshing accompaniment to the rich curry.
Saffron-Infused Rice: For a touch of luxury, prepare saffron-infused rice as an opulent base for your Malai Kofta Curry.
Fruit Dessert: End your meal with a light and refreshing fruit dessert like mango slices or a fruit salad to cleanse your palate.
FAQs of Malai Kofta Curry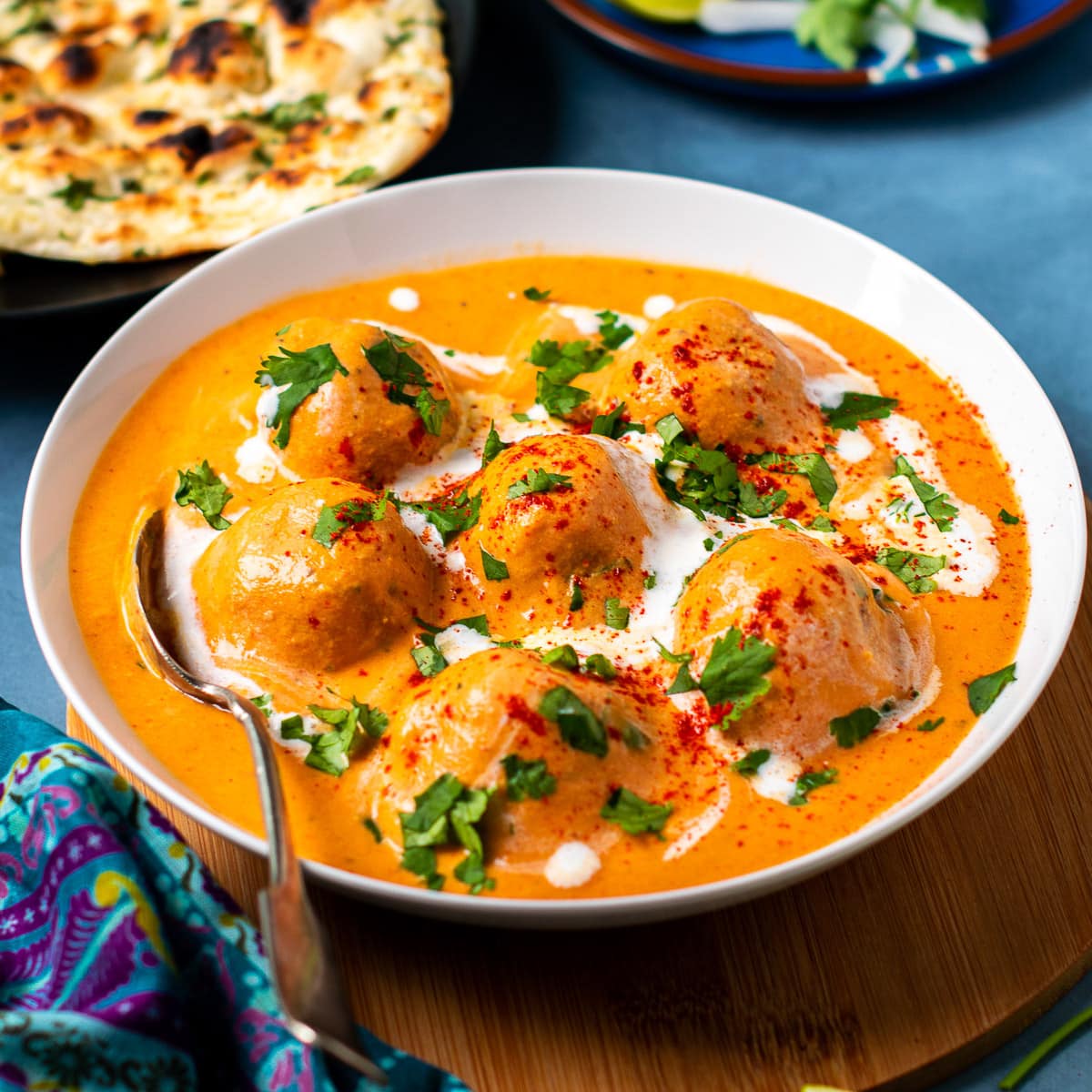 What is Malai Kofta made of? Malai Kofta features koftas made from paneer, mashed potatoes, and vegetables, simmered in a creamy tomato gravy.
Is Malai Kofta difficult to make? While it requires some steps, our detailed recipe simplifies the process, making it accessible for both experienced chefs and enthusiastic home cooks.
Can I make it vegan? Absolutely! Substitute dairy with plant-based alternatives for the koftas and use coconut milk for the gravy.
What's the best side dish for Malai Kofta Curry? Naan, roti, or fragrant basmati rice make perfect companions, allowing you to savor every drop of the flavorful gravy.
Can I prepare Malai Kofta Curry in advance? Yes, you can prepare the koftas and gravy in advance and assemble them just before serving to maintain the texture and flavors.
With each bite of Malai Kofta Curry, you're embracing the richness of Indian flavors and the warmth of tradition. This dish invites you to explore the art of blending ingredients and relish a truly authentic experience. So indulge, share, and let the magic of Malai Kofta Curry transport you to a world of taste and togetherness.