Step into the realm of indulgence with our Raspberry Sexy Shortcake. This exquisite dessert is a playful twist on the classic, infused with passion and flavor. Get ready to ignite your taste buds and charm your senses.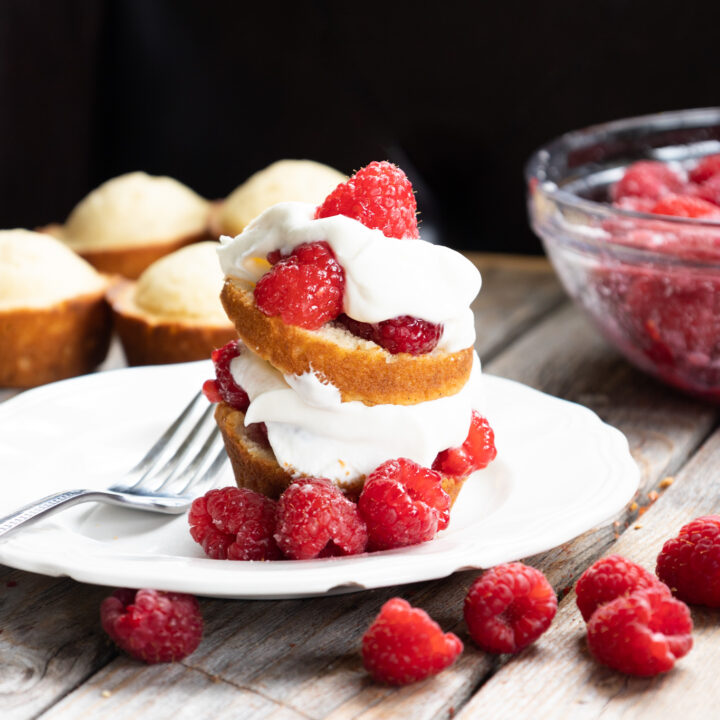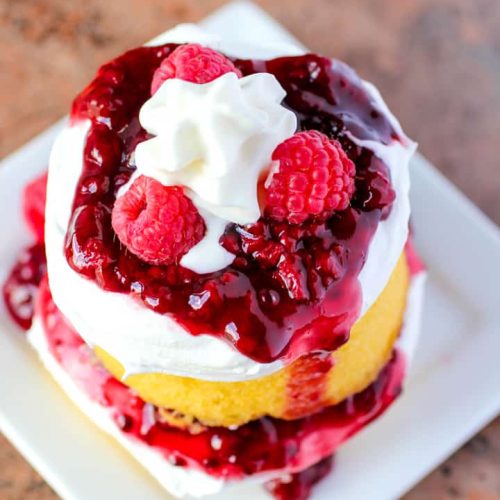 Raspberry Sexy Shortcake
The journey through the world of Raspberry Sexy Shortcake comes to a close, leaving us with a lingering sweetness and a sense of playfulness. This dessert is an expression of love, sensuality, and the art of savoring life's most beautiful moments. Whether shared with a loved one or savored in solitude, it's a reminder to embrace the allure of flavor and indulge in the magic of culinary creation.
Ingredients
1/2

cup

Corn muffin mix

1

large piece

Egg

2

tbs

Granulated sugar

2

tbs

Milk

2

tbs

Granulated sugar

1/2

cup

Raspberries, frozen

Whipped cream
Instructions
Initiate microwave dessert making by taking a ramekins (8-oz.) being microwave safe.

In the next step, take microwave proof medium mixing bowl and fill it by mixing up sugar and corn muffin mix. Then mix milk and eggs. Mix them all in gradual manner.

Place mixed up mixture equally into ramekins.

Then allow it to gradually microwave for the next 2-3 minutes. Take out and allow few minutes for the lovely dessert to cool down. Take out shortcakes from ramekins.

Then after, smoothly beat up sugar and raspberries in another bowl being microwave safe. Then allow it to gradually microwave at HIGH for the next 1-2 minutes.

Take the cakes and slice them in halves. Gradually fill with whipped cream and raspberry syrup. Enjoy the shortcake!!
Notes
The Raspberry Sexy Shortcake is a tantalizing dance of textures and flavors, marrying the sweetness of raspberries with the richness of shortcake. A culinary escapade for those who seek decadent delight.
Tips and Tricks for Crafting Raspberry Sexy Shortcake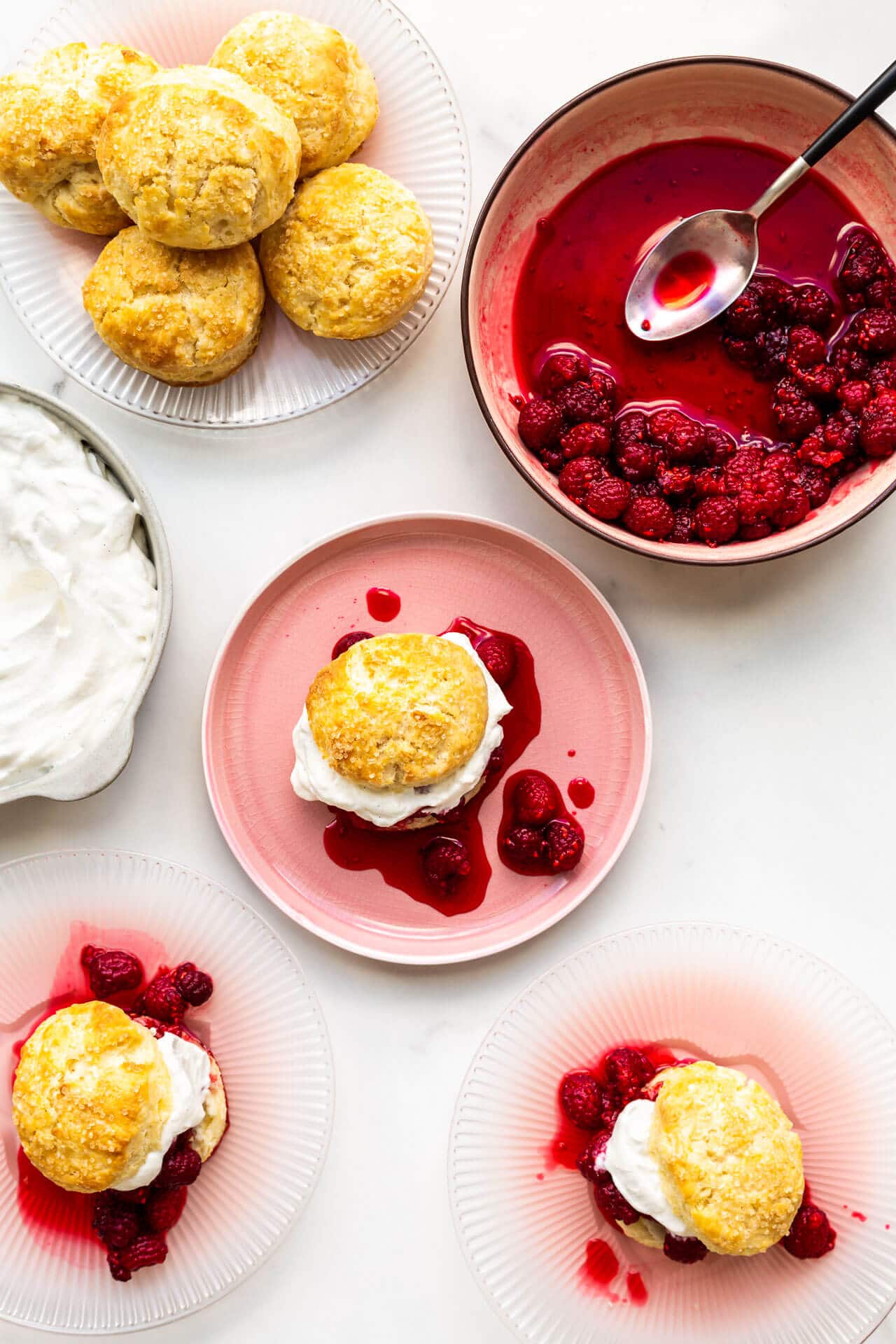 Quality Raspberries: Opt for fresh, ripe raspberries for the most vibrant flavor and color. If using frozen raspberries, ensure they are of high quality and thaw them properly.
Shortcake Consistency: When preparing the shortcake layers, ensure the batter is well-mixed but not overworked. Overmixing can lead to a tougher texture.
Zestful Zing: Enhance the raspberry allure by adding a hint of citrus zest (like lemon or orange) to the shortcake batter. It adds a delightful layer of complexity to the flavor.
Proper Layering: Assemble the shortcake layers with care, ensuring an even spread of raspberry filling between each layer. This ensures a balanced flavor throughout every bite.
Perfectly Whipped Cream: Whip your cream to soft peaks, not stiff. Softly whipped cream complements the tender shortcake layers without overwhelming the delicate flavors.
Chilled Utensils: When whipping cream, ensure your mixing bowl and beaters are well-chilled. Cold tools help the cream whip up more effectively.
Drizzle with Finesse: When drizzling the raspberry sauce, do it in an artful and deliberate manner. Let the sauce flow gracefully to create an inviting visual appeal.
Garnish Gracefully: Garnish with fresh raspberries and perhaps a dusting of powdered sugar or a sprig of mint. Keep it simple yet elegant.
Chill Before Serving: Allow the assembled Raspberry Sexy Shortcake to chill for a brief period before serving. This helps the flavors meld together beautifully.
Share the Moment: The Raspberry Sexy Shortcake is not just a dessert; it's an experience. Share it with someone special and savor the moment of indulgence together.
Serving suggestions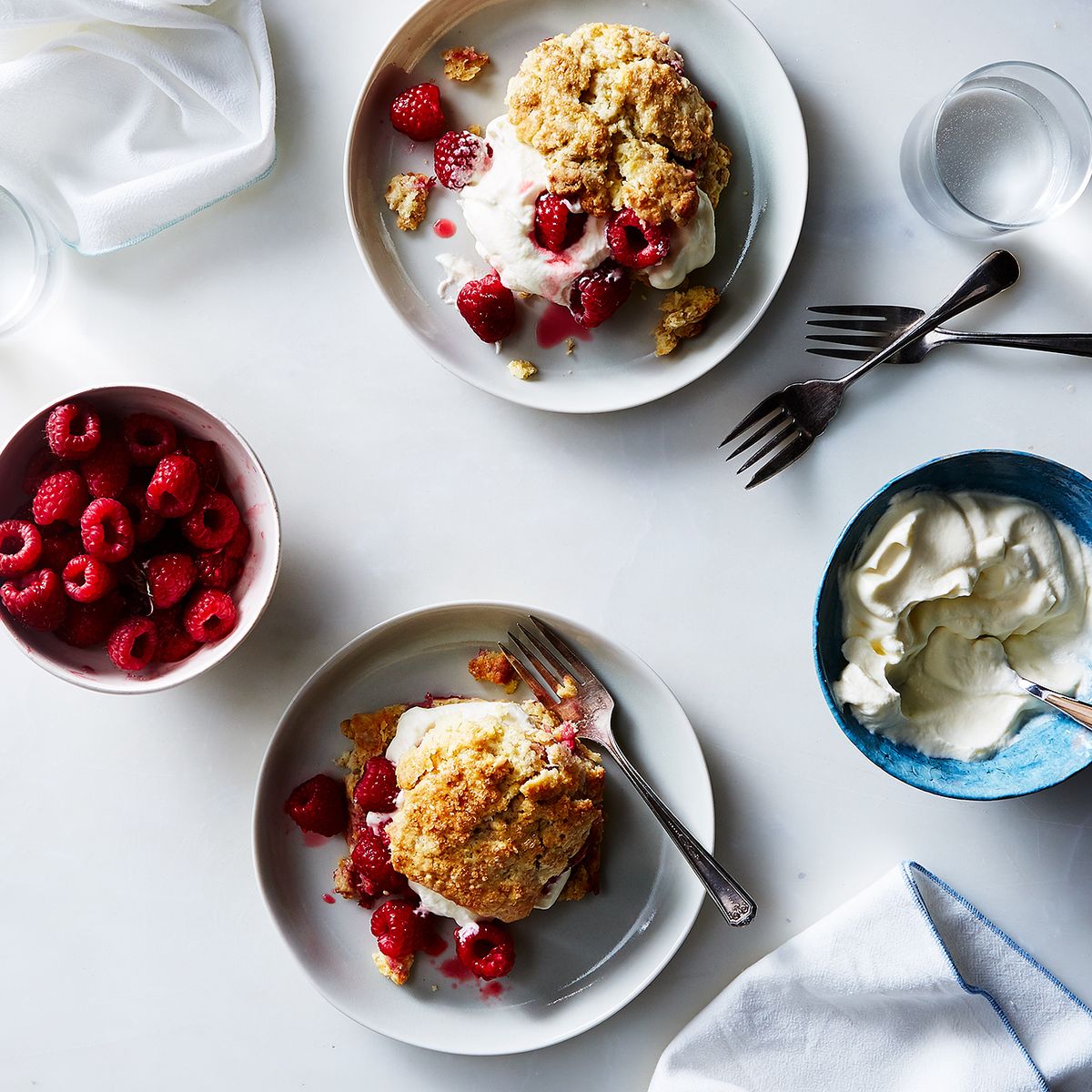 Romantic Dinners: Elevate romantic evenings by serving Raspberry Sexy Shortcake as the grand finale to your dinner. The alluring flavors set the mood for an unforgettable night.
Brunch Delight: Add a touch of elegance to your brunch spread by offering slices of Raspberry Sexy Shortcake. It's a sweet way to start the day on a luxurious note.
Garden Soirees: Impress your guests at garden parties by presenting a display of Raspberry Sexy Shortcake. Its vibrant colors and delightful taste add charm to any outdoor event.
Date Nights: Surprise your special someone with a homemade Raspberry Sexy Shortcake. It's the perfect gesture to celebrate love and create cherished memories.
Ladies' Night: Treat your girlfriends to a ladies' night in with Raspberry Sexy Shortcake as the dessert centerpiece. It's a delightful conversation starter.
Afternoon Tea: Transform your afternoon tea sessions into elegant affairs with slices of Raspberry Sexy Shortcake. The balance of flavors pairs beautifully with tea.
Self-Care Indulgence: When it's time for self-care, treat yourself to a slice of Raspberry Sexy Shortcake. It's a sweet reminder to cherish your own moments of bliss.
Dinner Parties: Impress your guests with a dessert that marries sophistication and flavor. The Raspberry Sexy Shortcake adds an element of surprise to any dinner party.
Family Celebrations: Whether it's a birthday or a special achievement, Raspberry Sexy Shortcake is a symbol of celebration and joy that the whole family can enjoy.
Picnic Romance: Pack individual portions of Raspberry Sexy Shortcake for a romantic picnic. The mix of berries and shortcake is perfect for al fresco dining.
FAQs of Raspberry Sexy Shortcake
Can I use frozen raspberries? Yes, you can use frozen raspberries, but consider thawing them before using to ensure the right consistency and flavor.
Can I make the shortcake in advance? Absolutely! Bake the shortcake layers in advance and assemble just before serving to maintain the perfect texture.
How do I store leftovers? Store leftover Raspberry Sexy Shortcake in the refrigerator in an airtight container. The flavors may intensify, making it even more delightful the next day.
Can I use a different fruit? Certainly! While raspberries are the star, you can experiment with other berries like strawberries or blackberries for a unique twist.
Can I make mini versions for a party? Absolutely, mini versions are a charming addition to any dessert spread. Consider making individual servings for a touch of elegance.
Thank you for joining me on this flavor-filled journey. Until our next culinary adventure, remember to embrace the joy of cooking, the delight of sharing, and the magic that unfolds when we create from the heart. Cheers to the allure of the Raspberry Sexy Shortcake and the stories it inspires in your own kitchen!